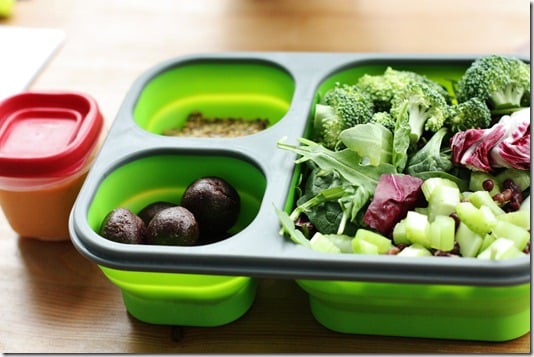 Coming home from a memorial service is no way to begin any week, but it was harder than usual to get into the swing of things on Sunday for two reasons: first, I had a genetics exam this morning, and second, the plumbing in my kitchen was kaput. As I waited for the plumber to visit today, I wasn't able to cook (not without running the risk of a whole lot of dirty dishes piling up). As if by magic, my friend Valerie must have sensed that I was a bit on edge, and she intervened with the most considerate and thoughtful gift I could have asked for:
Food.
And not just any food, but my food! Yes, Valerie whipped up:
In other words, enough food to squeeze into several packed lunches, and to rescue me from a temporarily defunct kitchen.
Now, Valerie assured me that she'd have made a lot of this stuff for herself, to have through the week, and that my kitchen dilemma simply inspired her to do it all in one night, rather than over the course of several nights. But even if this is true, it's still extraordinary that Valerie put so much effort into preparing homemade, nutritious food for me, and incredibly sweet that she prepared three of my own recipes! "When things are really stressful," she said, "you kind of just want your own food, don't you?"
It's true: when I'm busy or emotional, I do gravitate toward some of my "tried and true" recipes. So I'm doubly grateful that Valerie made a bunch of them.
This morning, I woke up and threw together a bowl of quinoa topped with my cinnamon spiced aduki bean dip and a chopped bosc pear. It was delicious: why do I not make this bean dip more often?! I could eat it solo, with a spoon. I do eat it solo, with a spoon. And I love it every time.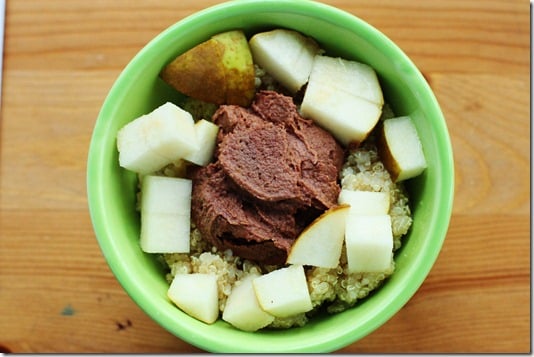 For lunch, I packed up a salad of arugula, radicchio, aduki beans, celery, and broccoli, along with some Flackers and a bunch of my chocolate walnut maca balls (thanks to all those of you who have tried them and raved about them so far!).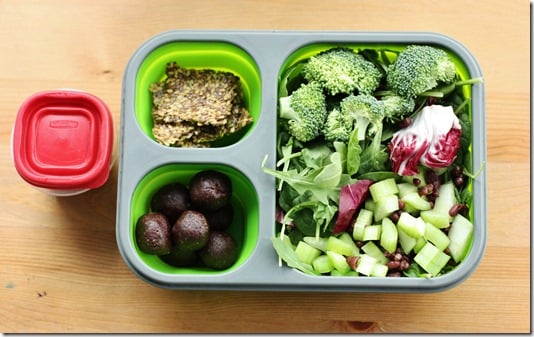 The salad was so crispy and green!
And it was nice to revisit my creamy red pepper, chickpea, and tahini dressing. Sometimes I forget how much I love old recipes—I'll have to do a better job of reusing a lot of mine.
I can't possibly say how much of a help it was to have so much food at the ready today, as I crammed for my exam. You can see my notes on Robertsonian translocation peeking out from behind my tasty breakfast!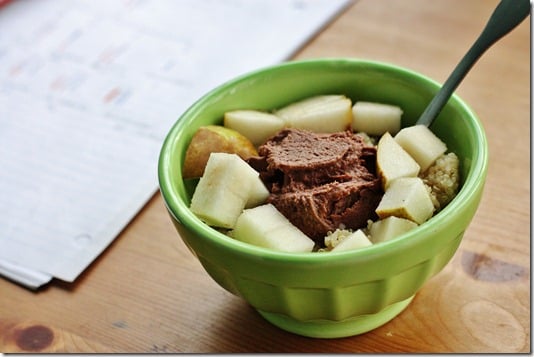 Valerie, thank you for making my life just a little easier. Only a true friend would be so abundantly thoughtful!
Speaking of friends, I wanted to mention that just over a week ago, this lovely lady was visiting DC, and I got to squeeze in two quick, but uproarious, lunches with her:
At SweetGreen, of course: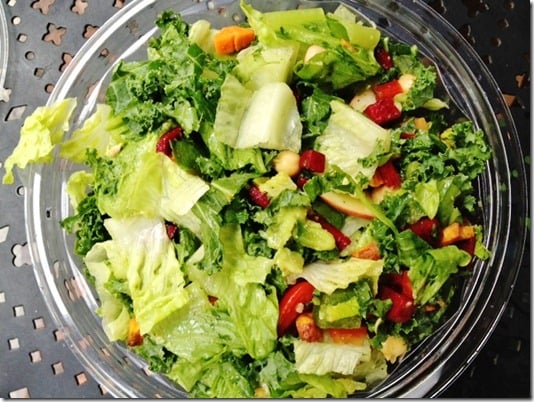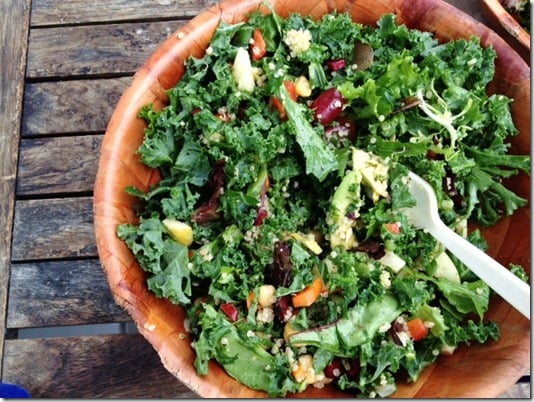 In response to my request for more limericks and haikus (be careful what skills you brag about, Hannah), Hannah just devoted an entire post's worth of chocolate reviews in haiku form to me. Much needed levity in a heavy week! You can check out Hannah's mastery of 17 syllables here.
I'm always grateful for my friends, but I'm feeling especially grateful for them tonight. And for great food, of course. I'll see you back here tomorrow!
xo