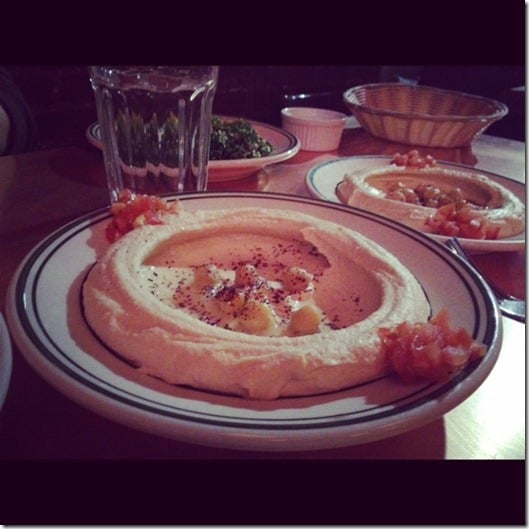 My friend Rose and I have a dinner tradition. We meet at Moustache Pitza in Greenwich Village, and we feast on hummus. A lot of hummus. Unseemly, unladylike, unfathomable amounts of hummus. See this spread, below?
That's a fairly average first course for us. The hummus servings at Moustache are quite liberal. You will notice that we've ordered three of them.
Though technically much more than a hummus joint, Moustache is worth going to solely for its pureed chickpeas, which are perfectly seasoned, silky smooth, brightly flavored with lemon, and dusted with good olive oil. The babaganoush is also a thing of beauty: so incredibly smoky and sweet (I have yet to make a batch of babaganoush the authentic way: I'll have to try). When you're like me, and you consider hummus a food group, dining at a place like Moustache is a rare treat. I usually just order 2-3 hummus servings, and eat them with a simple salad and pita or a chickpea and spinach dish. When food is this flavorful, you don't need it to be fancy.
I found myself at Moustache two nights ago, catching up with Rose for the first time in months. As I've mentioned before, Rose is very dear to me—one of my closest friends, and also one of the smartest and most insightful people I know. I have missed her tremendously in DC, so it was wonderful to sit, to feast on hummus continually for hours (we ordered more tomatoes and pita so that we could keep dipping and dining), and to talk about 2011. And the folks at Moustache allowed us—as they always do—to linger long into the evening.
While not explicitly vegan, Moustache also offers a number of cooked vegan dishes and pitza options—just check out the menu, here. If you're in NYC or visiting, and you want to dine someplace that's omni friendly but focused heavily on pureed legumes, I can't recommend this cozy, charming space enough. It's always a first stop when I get home.
Today, I traded cumin for curry, and came up with the following oh-so-simple slaw. As I've mentioned, my Mom hasn't got any fancy raw kitchen gear here, so I've been focusing on salads, soups, and slaws. This salad—curried carrot and raisin slaw—isn't exactly creative, but I'd never made one like it before, and it was very tasty. I made it to serve 2, but you could double the recipe easily. And like most slaws, flavors will improve and deepen if you let it sit overnight.
Curried Carrot Raisin Slaw (vegan, raw, gluten and soy free)
Serves 2
8 carrots, grated
2 oz raisins (about a heaping 1/3 cup)
1 tbsp olive oil
1 tbsp apple cider vinegar
1 tsp curry powder
1 tsp agave
1/4 tsp sea salt
pepper
1) Mix carrots and raisins. You may need to give the carrots a squeeze to remove some excess moisture.
2) Whisk together oil, vinegar, curry, agave, and salt.
3) Pour dressing over carrots and let marinate for at least a few hours.
Simple and delicious.
Though not a meal sized salad by any means, this could go nicely in another salad, or you can serve it as a fresh, raw side dish to any raw or cooked meal. It's tangy, sweet, and hits an unexpected note with the curry—no boring mayo slaw dressing here!
With that, I get to meet the wonderful Melissa for dinner at Blossom tonight. Can't hardly wait. Thanks for the great feedback I've gotten so far on the new FAQ's—please keep it coming! Very helpful to me. See you back here tomorrow.
xo