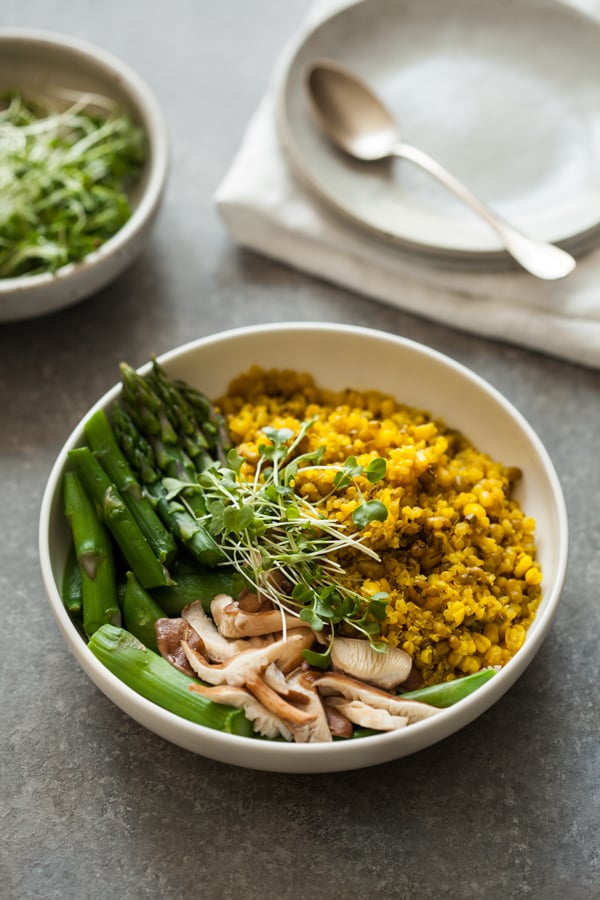 When I hear the words "healing foods," this recipe for mung bean & quinoa bowls with spicy ginger turmeric broth is pretty much exactly what springs to mind. It's a simple, warming, nourishing meal that demands little effort, but offers up plant protein, the anti-inflammatory powers of turmeric, and a bevy of freshly steamed spring vegetables. It's neither flashy nor fancy, but it's food for body and soul.
I—and probably you, too—have been cooking with ancient grains for such a long time that I don't even really think of them as being especially exotic. "Ancient grains" is the label usually given to grains that have remained unchanged for the last several hundred years (as opposed to modern wheat, for example, which is constantly being bred and changed). Ancient grains include quinoa, amaranth, millet, sorghum, and teff, as well as certain wheat varieties, such as spelt, emmer, kamut, and Einkorn.
I love most of the ancient grains, but quinoa is probably my favorite, thanks to its quick cooking time, it's nutty flavor, and its light, fluffy texture. As popular as quinoa has become, it's still a pretty foreign ingredient to a lot of people; clients often tell me that they've seen or heard of it, but they don't know what to do with it. And I so I appreciate the work of brands that are trying to make quinoa more approachable and easy to prepare. truRoots ® is one of them.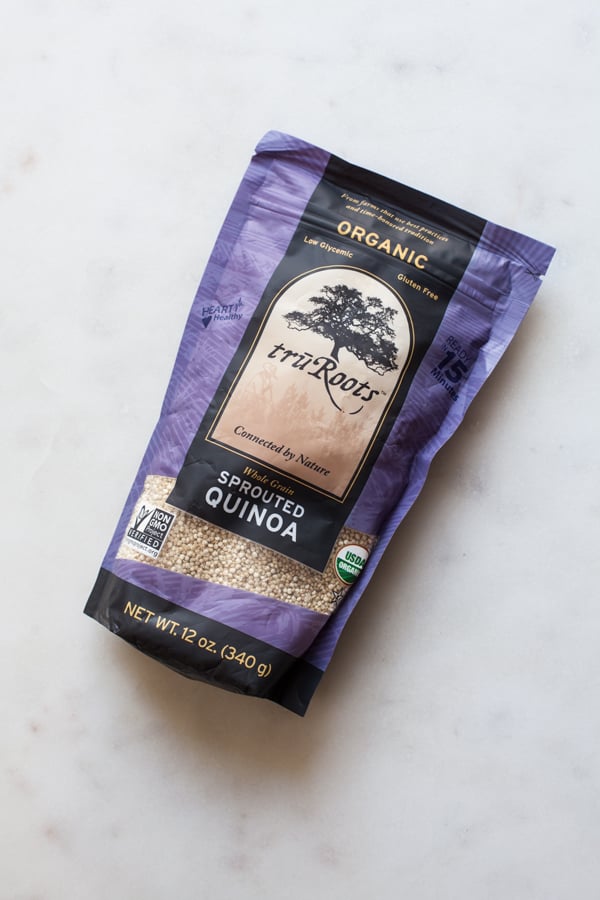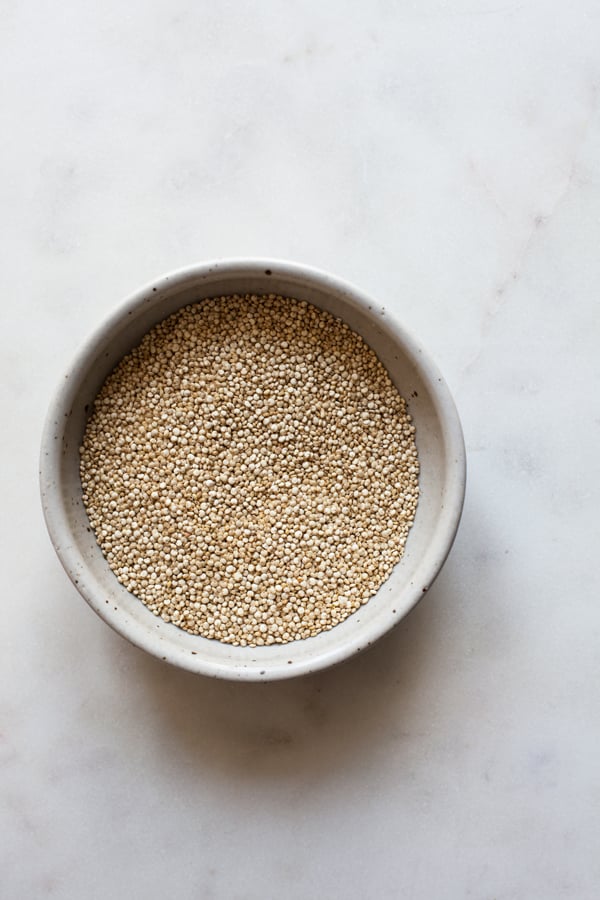 truRoots produces organic whole grains and legumes, as well as pastas and pilafs made with ancient grain ingredients. All of the brands products are organic, GMO free, and gluten-free. The brand works to support sustainable farming practices and transparency at every step of the way. You can read more about its ingredients, sourcing, supply, and the farmers it works with here.
What makes truRoots products particularly cool is that many of them are sprouted. This works not only to decrease some of the naturally occurring antinutrients in the grains and legumes, but also to ensure that they cook up quickly! The sprouted mung beans and lentils cook in about 5 minutes—yup, five—and all you need to do is submerge them in boiling water (sort of like making couscous).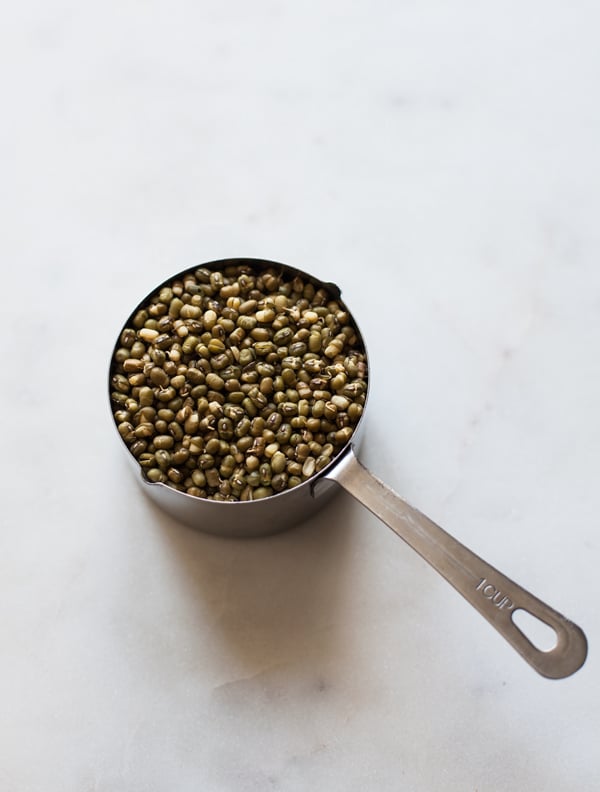 The folks at truRoots are passionate about making ancient grains and healthful legumes feel accessible to any home cook, and I'm proud to be teaming up with them for today's recipe and a few others in the coming year. I love working with their products—I've been enjoying the signature originals and the "accents" blends for years now—and I'm so excited to try the pastas, too!
This bowl meal is a perfect example of how quickly ancient grains and protein-rich legumes can come together for a wholesome meal. In essence, making the recipe is as easy as making the fragrant, golden turmeric broth. You can adjust the ginger in the broth to suit your taste, but I used quite a bit of it, and I loved the spicy results (you can increase or decrease the garlic, too, to suit your tastes).
I can't wait to experiment with using the broth as a base for soups and pilafs, and I plan to make it my first line of comfort the next time I feel a cold coming on.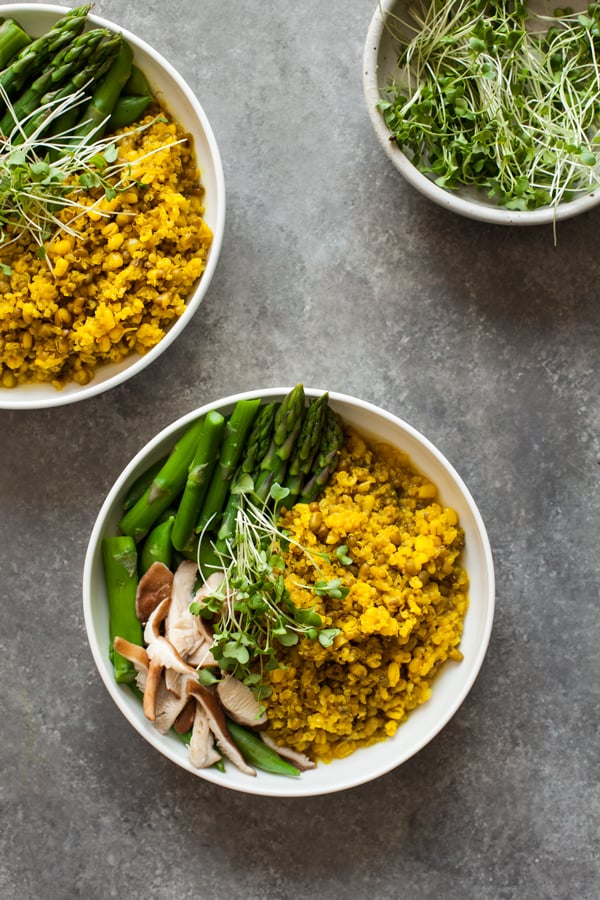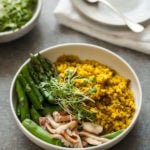 Mung Bean & Quinoa Bowls with Spicy Ginger Turmeric Broth
Author -
1

tablespoon

olive oil

1 1/2-2

tablespoons

grated ginger

adjust to taste

2

cloves

garlic

crushed

2

teaspoons

ground turmeric

1

teaspoon

ground coriander

6

cups

water

1

teaspoon

sea salt

1/4

teaspoon

freshly ground black pepper

1

cup

truRoots organic

sprouted quinoa (or regular quinoa)

1

cup

truRoots organic

sprouted mung beans (or regular mung beans)

4-6

cups

chopped vegetables of choice

broccoli, snap peas, carrots, cabbage, asparagus, bell pepper, shiitake mushrooms, etc.—whatever you have and love

1

heaping cup sprouts

optional
Heat the olive oil in a medium sized pot over medium low heat. Add the ginger and garlic. Cook, stirring constantly, for two minutes, or until the garlic and ginger are very fragrant. Add a few tablespoons of water and then stir in the turmeric and coriander. Whisk everything together in the pot as the spices heat up (almost as if you were making a roux). Then add the water, salt, pepper, quinoa, and mung beans. Bring the mixture to a boil, and reduce to a simmer. Cover and simmer for 15 minutes if using truRoots sprouted quinoa and mung beans, or 20 minutes if you're using regular quinoa and mung beans. Uncover and simmer for 5 more minutes. The mixture should be thick, but there should be turmeric broth visible (in other words, you don't want the grains and beans to absorb all of the liquid).

While the broth cooks, bring a medium sized saucepan of water to boil, or set up a pot of boiling water with a steamer attachment. Blanch the vegetables for 1-2 minutes, or until crisp tender, or steam them until crisp tender.

When the mung beans and quinoa are ready, divide them into bowls for serving. Add about a heaping cup of veggies to each bowl, and then add a small handful of sprouts, if desired. Serve.
Leftover mung bean and quinoa mixture will keep for up to four days in an airtight container in the fridge.
In some ways, this dish is reminiscent of kitchari, albeit with quinoa in place of rice and a shortcut cooking method. It has an earthiness that I love, which is complemented by the nutty flavor of quinoa. There's something pleasantly grounding about it, even as a springtime recipe. I used asparagus and snap peas in the bowl, but I can imagine using all different sorts of seasonal greens and vegetables throughout the year.
And I have no doubt that this is the sort of recipe I'll enjoy often—one of those templates that doesn't get old.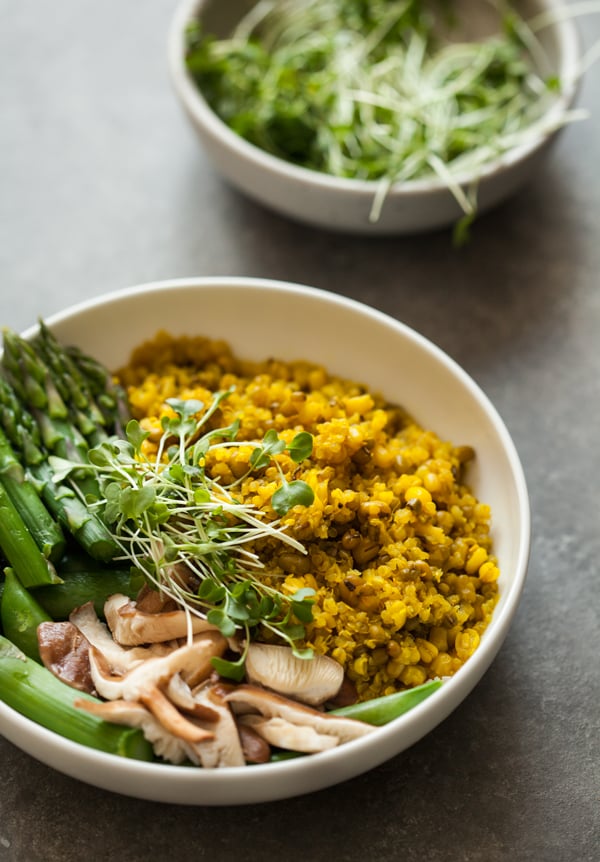 I hope you'll take the time to get to know truRoots grains, legumes, and grain blends. And I hope you'll be inspired to play around with the spicy broth. I'll see you this weekend for weekend reading!
xo
This post is sponsored by truRoots. All opinions expressed are my own, and I truly love this brand and its high quality, plant-based products. Thank you for supporting The Full Helping's sponsors!