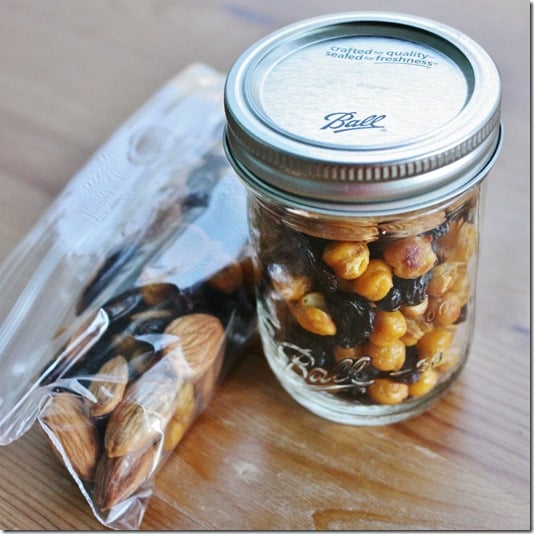 In my new life (is it still my "new" life? It still feels that way…) as a perpetual student, I'm always on the hunt for new snack ideas. I spent the first year of my post-bacc living off of snack bars and apples. I still love bars and fruit as snack food, and certainly they're the snacks that are easiest for me to find anyplace I go, but I also love savory snacks, veggie-ful snacks, and unconventional snacks. My favorite snacks of all are those that are both a little savory and a little sweet (because savory/sweet combos are my jam). Today's snack—a really simple mix of nuts, roasted chickpeas, and raisins—is both savory and sweet, and it also gets points for being incredibly easy to prepare, easy to transport, healthy, and satisfying. In short, it rocks my world.
The last time I featured roasted chickpeas, it was in my tortillas with creamy kale and toasted chickpeas, but I eat them all the time. Sometimes I make a big batch of them over the weekend and devour it as the week goes along.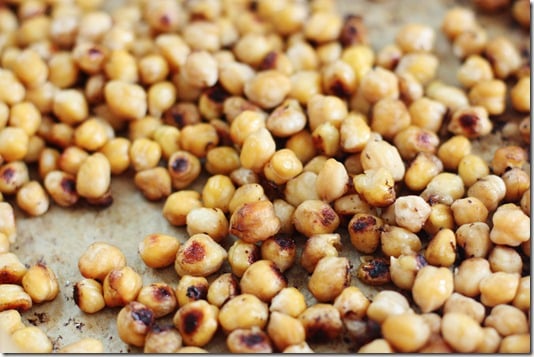 Roasted chickpeas are so versatile: you can enjoy them in salads, stir fries, on top of soups, or all on their own. You can flavor them with whatever combinations suit you. And they're great sources of protein and fiber. Sometimes I dehydrate them after I roast them for an hour or two; this makes them especially crunchy.
To make this snack, you simply mix:
1 cup of roasted chickpeas
1/2 cup of almonds
1/2 cup of raisins.
You can vary those proportions as you like, and you can double or triple the batch as needed. For me, this yields four snack servings or so.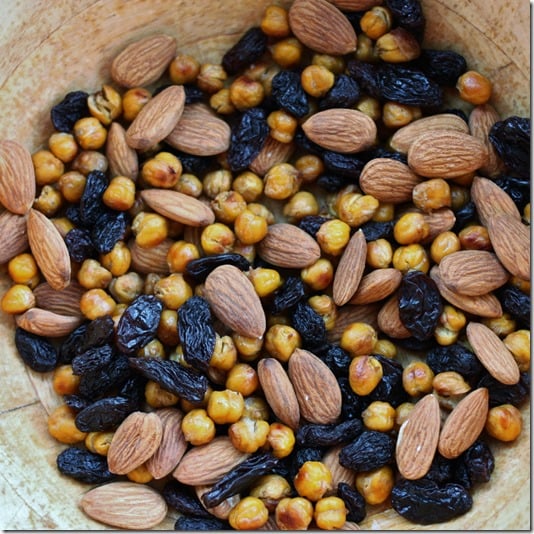 My roasted chickpea standard is:
2 cups cooked chickpeas
1 tbsp olive, coconut, or avocado oil
1 tbsp tamari, nama shoyu, or Bragg's liquid aminos
1 tbsp lemon juice, balsamic vinegar, or apple cider vinegar
Mix all ingredients and bake in an oven set to 375 for about 35 minutes, moving the chickpeas around with a spoon halfway through. You want them to get nice and brown! After you're done roasting the chickpeas (and dehydrating, if you wish), simply mix them with the almonds and the raisins.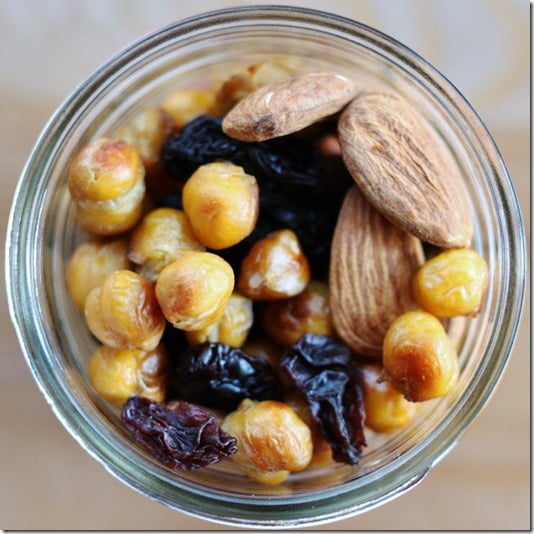 And voila! A perfect snack. You can pack it up in mason jars or in snack bags. I store mine in the fridge to be safe, and it lasts four days at least (longer if I dehydrate the chickpeas after roasting).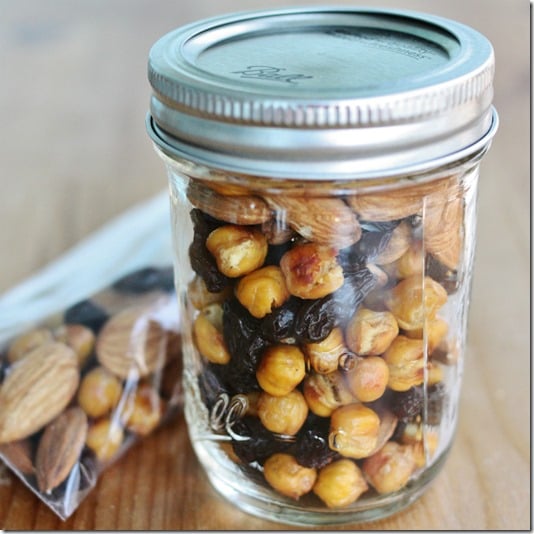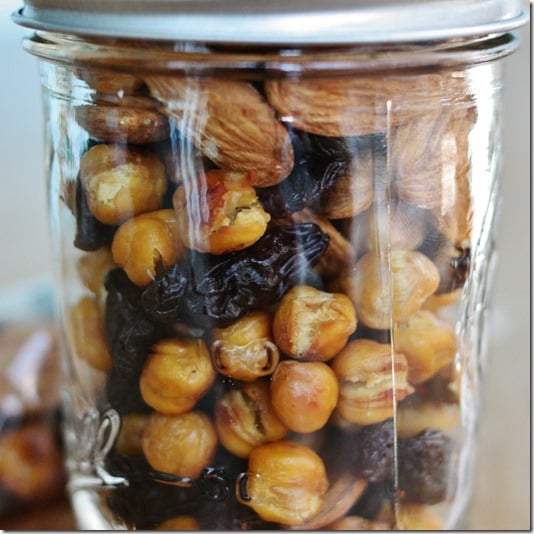 This snack appeals to me because it has a little bit of everything. It's a little salty and a little savory. It's got protein (nuts + beans), healthy fat (nuts + oil), simple sugars (raisins), and complex carbs (beans). It keeps me satisfied for a while, in part because it's so well rounded in terms of taste, texture, and nutrients. And once the chickpeas are roasted, there's no real prep involved!
I hope you'll give it a try. I've only been making it with the combo shown, but I bet you could experiment with a lot of different legumes, nuts, and dried fruits. I may need to revisit the idea and show you some more variations.
With that, I'm signing off. Today I woke up, jogged a little in the sun, went to the farmers' market, and have spent the rest of the day with friends (and more friend time later tonight). It feels very luxurious, but it's been almost two years since I had a Sunday like this, and I just had to share my gratitude for it with you all.
xo