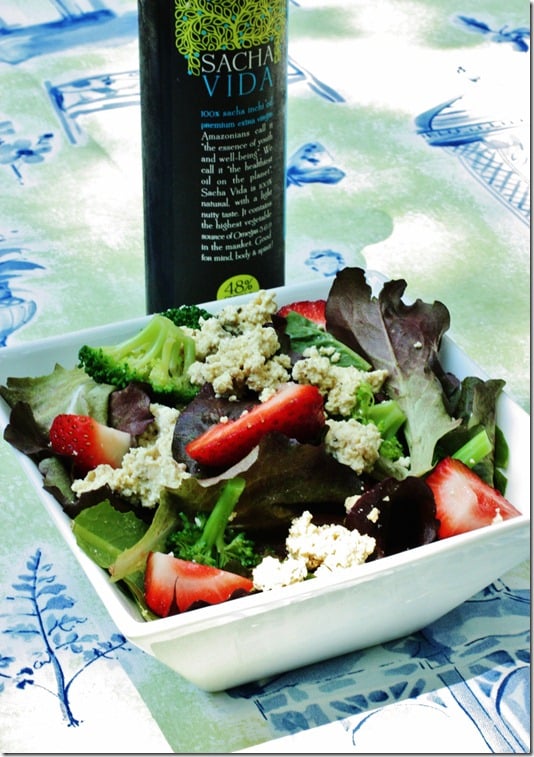 A while back, I mentioned on the blog that tofu ricotta is one of my favorite vegan staples. One of my readers commented to ask whether I might please share the recipe? I said I would, of course, and today, I am, though I should begin by saying that I can take no real credit for this recipe! It is a very thinly veiled version of Isa Chandra Moskowitz's tofu ricotta, which I learned to make after I purchased Vegan with a Vengeance–my first official vegan cookbook.
As you may have noticed, I make a lot of cashew cheese and other nut cheeses. When all is said and done, nut cheese is my favorite cruelty-free cheese. I think it's tastier than Daiya or other name brands, and I love to make it from scratch because I can play around with different flavors and herbs. I also like that the texture of nut cheese is often so close to that of soft cheeses, which makes them nice for spreads and salads, and I like that they have the fattiness and acidity of the "real thing."
That said, nut cheese has it's downsides. It's not suitable for people with nut allergies, for one thing. It's rich in fat–healthy fat, sure, but fat nonetheless–which means that people who are trying to moderate their fat intake may not feel comfortable with it (not an issue for me, someone who thrives with a lot of healthy fat, but certainly something I'm mindful of as I develop recipes for a broad readership with varying constitutions). And from my own personal perspective, nut cheese can get a little repetitive, only because I may it so often!
Which is why tofu ricotta is often a nice alternative to my norm. Tofu ricotta is basically a soft, crumbly cheese substitute flavored with salt, herbs, and nutritional yeast. It's easy to make, quick, protein rich, and–if you are being mindful of your fat consumption–a lower fat alternative to cashew ricotta or sunflower seed ricotta.
This tofu recipe, and all tofu recipes, should begin with the process of pressing tofu. This simply means placing your block of tofu between two plates, and layering a few heavy books on top of the top plate to press water out of the tofu. I literally never make any tofu dish without this step: I can't stand watery tofu (even watery extra firm tofu), and find that even 10 minutes of pressing makes an enormous difference. Part of why so many people have an aversion to tofu is that they've only had waterlogged tofu: I promise you that pressing will change the way you think about tofu, if you've never tried it before. (If you want, you can also invest in a Tofu XPress!)
Press your tofu for as long as you can: if you have only 15 minutes, fine. If you can do it overnight (in the fridge), great. Once you finish, you're ready to make your "ricotta."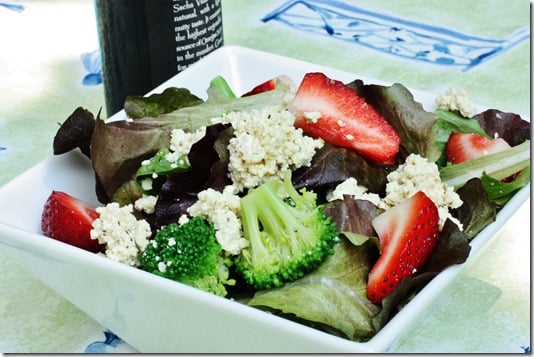 Tofu Ricotta (inspired by Isa Chandra Moskowitz's recipe in Vegan With a Vengeance)
Makes 4 servings
1 block firm or extra firm tofu, pressed
1 tbsp lemon juice
3 scant tbsp nutritional yeast
1 1/2 tsp dried oregano or Italian seasoning blend
1/4 tsp sea salt
Black pepper to taste
Optional: fresh basil chiffonade
1. Place all ingredients into a mixing bowl.
2. Using your hands, crumble tofu and seasonings together so that they combine well and take on a crumbly, even texture.
That's it!
You can sprinkle this into salads, serve it in tea sandwiches, use it with whole grain pastas, and use it in homemade, vegan lasagna! I particularly like using it my eggplant rollatini.
If you like, you can try this salad, which I enjoyed yesterday! I adore the combination of fresh, summery berries and salty ricotta, mixed with a touch of basil and a simple vinaigrette. Quick, easy, and seasonal!
Quick Strawberry and Tofu Ricotta Salad with Basil and Balsamic Vinaigrette
Serves 1
2 heaping cups baby greens (I like spinach or baby romaine)
1 cup steamed broccoli florets, chopped small
3/4 cup strawberries, sliced
1/2 cup tofu ricotta
2-3 tbsp freshly chiffonaded basil
2 tsps flax, sacha inchi (pictured above) hemp, olive, or avocado oil
Splash balsamic vinegar
Salt and pepper to taste
Mix greens, broccoli, strawberries, basil, and tofu ricotta in a salad bowl. Toss with oil, vinegar, and season to taste with salt and pepper. Serve.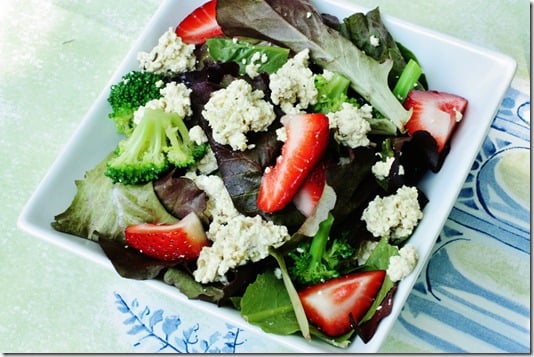 If you want to add extra oomph to this already fairly nutrient dense salad, go ahead and add some edamame or navy beans, both of which will work nicely!
So there you have it: a classic vegan recipe that's quick and easy. It's also worth noting that the recipe is fairly cheap: organic tofu can be had for $1.99 per block, nutritional yeast is very cheap if you buy it from a bulk bin or in bulk online, and dried oregano is a relatively inexpensive herb. Our conversation about "veganism as a luxury" has recommitted me to giving you plenty of affordable food options. This doesn't mean I won't also feature fun and nourishing superfoods or special ingredients (and in fact, I got a great comment yesterday in defense of Irish moss, explaining how far a bag of the stuff goes, which is true), but I will also try to keep us all aware of the fact that most foundational vegan recipes don't have to cost a fortune.
Happy Monday! Don't forget to enter my Breville Juice Fountain Plus giveaway if you haven't yet!
xo