One of the most consistent questions I've gotten since I started blogging is this, "Gena, could you tell us about your skincare regimen?"
There's a very good reason I haven't bothered to answer: I find the topic of skincare a major snooze. Gah–sorry! Was that an affront to women everywhere? It just isn't something that interests me, mostly because my skincare routine is so darn simple. Every morning, I wash my face with some sort of organic, vegan skin cleanser—or plain hot water. Then I rub it with coconut oil (enough to leave me a tiny bit shiny–but believe me, it soaks in right away). And yes, I definitely have separate cooking oil and face oil containers!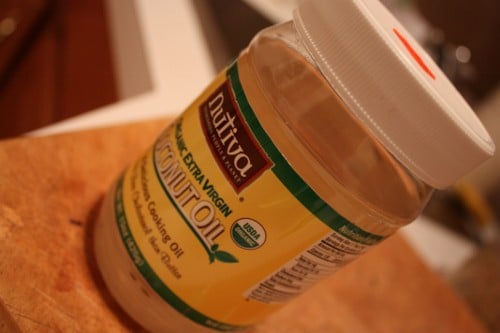 Sometimes, I have a vegan, organic moisturizer handy, and I use that instead of the oil. And I do it all again before I go to bed.
The end.
Should I exfoliate more regularly? Should I use a good eye cream? Well yes, probably. I'm twenty-eight, which I'm told is the time of life in which a woman's skin begins to show the signs of age. But guess what? I'm too lazy to think about this stuff very hard. When I'm given a skin cream or soap or other personal care item as a gift, I'm always excited to use it, and perhaps I'll go through a phase where I'm more attentive to my skin than usual (this happened last year, when I got a box of Simply Divine Botanicals products to sample—for about four weeks, I was a total skincare diva). I'll also never say "no" to a facial (who would?). For the most part, though, my skin asks little of me.
Do I attribute my low-maintenance skin to diet and lifestyle? For the most part, yes,—my skin certainly got clearer when I became vegan, and then it got rosier and brighter when I went higher raw. But it's also worth saying that a great many women suffer from terrible breakouts when they add more vegan and raw foods to their diets. Some people claim that this is all detox—the skin eliminating stored toxins. I believe there's some truth to this, but I don't think it's the whole story. Why, for instance, does it happen to some and not to others? The hows and whys of skin imbalance, at least with regard to vegan and raw diets, are mysterious.
Perhaps one day doctors will have the funds to study these connections closely. In the meantime, I do have a few inexpert skin tips, all born of personal experience:
Healthy fats rank high in my book for many reasons, but foremost among them is the fact that they contribute so much to skin health! Essential fatty acids have been linked to reduced inflammation (which can combat acne) and they help to keep the skin's natural oil barriers healthy. Seek out sources of Omega-3s and Omega-6s, such as safflower oil, flax seed, walnuts, almonds, and hemp. And don't skimp on our other favorite fat sources: avocado and coconuts.
Moisturize heavily. When I was a teenager, and prone to breakouts, I always thought that if I used oil-free moisturizers and slather my skin with drying lotion at night, then I'd clear away the zits. Not so! Depriving your skin of moisture is about as silly as clearing your diet of all healthy fats. Chronically under-moisturized skin gives oil glands a signal to produce more of their stuff, causing more breakouts. Moisturize well.
Watch out for commonly addictive substances, such as caffeine, alcohol, and nicotine. I'm no advocate of living like a monk. Have your morning coffee, drink a glass of wine, or indulge whatever tender little vice you have now and then. But keep in mind that any toxin will start to take a toll on your skin if you aren't enjoying it moderately
Hydrate, hydrate, hydrate. Raw diets are exceptionally hydrating—in fact, most high raw foodies find that they can drink less water than some others, because they get so much water from their foods. But it's still important to get a decent amount of water each day. Doesn't have to be 8 cups, but do make sure that you're drinking water regularly, and whenever you feel thirst.
Sleep. We all lead busy lives, and sleep is often the first health necessity to be sacrificed. (I myself have been pushing 5-6 hours for a while now, and it's absolutely no bueno.) Healthy skin is just one of many reasons we need sleep. But it's a good reason. Get your zzz's on.
Ultimately, I find that the lifestyle habits above are far more crucial to my skin's health than any cream, product, herb, or supplement. And since I'm also on a tight budget, I have neither the inclination nor the funds to fool around with expensive skincare items.
With all of that said, I did recently have a chance to sample a few new ones. The very lovely Stephanie wrote to me from a site named AmericasNutrition.com. They have a very wide, variety of products, from fitness gear to skincare, which can be found here. At first, they were interested in sending me some supplements, but I quickly explained that I'm just not into supplements and superfoods. I asked if I might try some skincare items instead: my readers are always asking, I figured, so why not oblige?
Stephanie promptly said they'd be glad to, and asked me to pick a few out. Now, whenever I pick a skincare item, it has to fill 3 criteria: 1) Cheap, 2) Cruelty-free (and vegan), 3) No parabens or sulfates. There are some rawbies who get a lot more purist than that, but this is the level of discrimination I can handle (and believe me, it excludes a huge number of products as it is). What I found on AmericasNutrition.com that worked for me was the Dermae line of products: decent price range, cruelty-free, and (at least the three products I sampled) paraben and sulfate free. I got the glycolic facial cleanser:

And the hydrating day cream, which I didn't photograph for you yesterday because it's in my gym bag!
So far, I've loved all three of these! They smell nice (not always true of vegan/organic skincare products), and they're all very effective. The glycolic acid wash is a little drying (and per my advice above, you have to watch out for such products), but it wasn't a bad choice for a very hot summer. If I learned anything from using these guys, it's that I really should get into exfoliating. The microdermabrasion scrub leaves my skin feeling so soft, and a little goes a long way, so it's a good investment. I'd recommend this line of products to anyone, and I certainly suggest that you all take a peek at AmericasNutrition.com—they have a ton of stuff that's of interest to the health minded.
If you're curious about further skincare tips for vegans and raw foods lovers, I also recommend you turn to my two favorite natural skincare experts, Kristen and Sarma. Kristen has written tons of awesome posts on her favorite earth and animal-friendly products (my fave is this one). And Sarma is not only an expert on "getting the glow," but also sells a number over her fave products over at One Lucky Duck!
What about makeup, you ask? Well, that's easy: I don't wear it. I do wear blush in the winter (usually a cream brush—I like Tarte's cheek stain and Bare Ecsentuals all over face color). Aside from that, I'm a no makeup kinda gal. In general, I try to avoid the whole merry-go-round of female "upkeep"—excessive hair styling, makeup, tanning, waxing, nail painting, etc. I'm not entirely au naturel—I shave my legs (err, sometimes), and I blow dry my hair pretty often. But I'm low-maintenance.
For this reason, I had nothing to fear, really, when I read about Heather's wonderful "faces of beauty" project. Heather, who writes so eloquently about body image over at her blog, is encouraging her blogger friends to take photos of themselves–sans too much makeup or fuss, and without any editing–and say a word or two about what they think makes them beautiful. As soon as I read about this initiative, I was its biggest fan, and vowed to get a photo in soon.
Of course, I am only human, and we all have our foibles. Participating in this project meant overcoming my massive shyness about photographing myself. Yes, even after a year and a half of blogging, I still hate taking pics of myself. Hate. It. Can you tell that I was feeling a little ambivalent?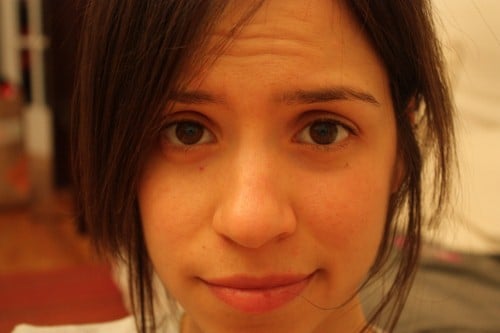 But I did it anyway.
This is me, guys, just the way I am. It's me at 9:30 on a weeknight, and in the middle of cleaning my apartment (you'd be horrified to hear how long it had been since I'd done this).

Nothing screams "sexy" more than a woman who's just been scrubbing her toilet.
We can buy all the creams and scrubs we want, but in the end, they have little impact on our beauty. Thanks, Heather, for having the wisdom to know that.
For more on Faces of Beauty, check out Heather's frequent blog posts.
Have a great Thursday!
xo