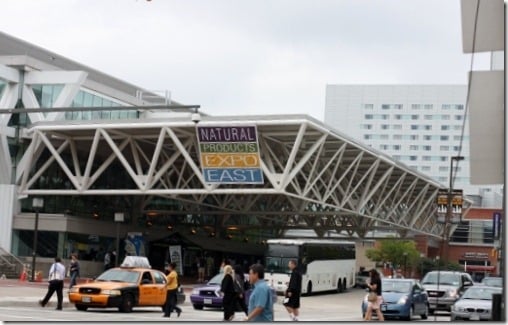 Twice a year, makers of healthy, organic, and natural foods, supplements, and personal care items meet and greet at the Natural Products Expo. This trade show—which meets once on the west coast, and once on the east—is a carnival for the healthy-food obsessed. Like strolling through Whole Foods? Imagine that experience multiplied tenfold: that about sums up what the Expos are like.
Yesterday was my first Expo experience, and it was just as overwhelming as I had expected! My main purpose in going was to support my friend Brendan at the Vega booth at Expo East:
And pay homage to the publication of his new book, Thrive Foods:
I'll be reviewing the new title soon, but for now I'll just say that the book looks fantastic (and very classy). I snagged goodies from Brendan's new Vega Sport series (which includes prep, fuel, and recovery steps), then made my way to the personal care section of the event, where I picked up some fun new skin and body care items and checked out a few new brands I hadn't seen:
After collecting quite a few samples of natural deoderant and muscle balm, I got to my real destination: the food.
I began with chocolate. Lots and lots of chocolate:
I had never tried this brand (Salazon) before. They're all dusted with sea salt, and they're all totally outstanding. Chocolate for lunch has never tasted so good.
Next up, I paid a visit to my friends at Coconut Bliss—the people who prove to the world that vegan ice cream can put the idea of "the real thing" to shame: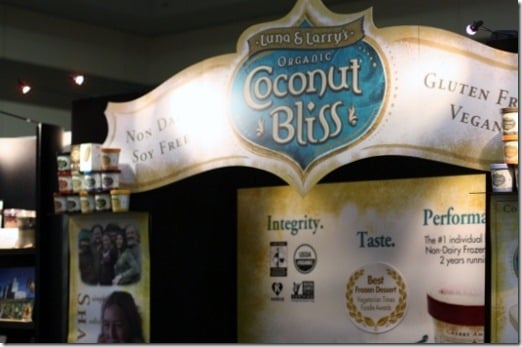 While I was there, I sampled two of the blissful new flavors: graham cracker caramel, which was just about as good as it sounds, and mocha maca, which is my new favorite way to eat maca without thinking that it tastes like feet.
As I yanked myself away from the ice cream booth—and it wasn't easy, believe me—I stumbled on one of my favorite raw snack companies: Two Moms in the Raw.
I've been supporting this company since its inception, but I hadn't ever had a chance to shake hands with its inspiring founder, Shari. When Shari heard that I'm a pre-med student, she told me all about her health story (Shari received an MS diagnosis before discovering raw foods and founding her brand), and told me to call her in ten years when I'm practicing. What lovely words to hear! Shari, a fellow New Yorker, doesn't hesitate to share her passion for raw foods and mindful living. It was fun to connect.
Soon enough, I'd found another raw company—this time one I hadn't heard of before. Just Pure Foods is a line of raw, dehydrated veggie stacks that was nestled into the Ojio booth (which was itself selling an impressive collection of raw vanilla, oils, yacon, maca, and hemp). 
I'm a little bit in love with the Just Pure Foods snacks now! Best dehydrated onion rings I've ever tasted, hands down, as well as some wildly innovative heirloom tomato chips. Impressive stuff; be sure to check out the company's Facebook page!
Now, Expo East is a natural/healthy food event, and not an AR/vegan event. This means that there were plenty of non-vegan foods in the house, ranging from yogurt to beef. I took a moment to cheer on the Whole Soy and Co yogurt stand, which was nestled among a ton of kefir and cow's milk yogurt booths:
And I also said hi to the good people at Vegenaise, who were showing off a pretty amazing vegan cheesecake:
Averie, I thought of you!
Next up was a visit to Natural Zing, makers of superfoods galore:
And Blue Monkey coconut water, which is hands down my new favorite coconut water, rivaled only by Nirvana (my all time fave).
These guys were located conveniently close to the Brad's stand.
Hi, Brad! Your kale chips are just as delicious as ever.
And finally, I strolled by the Justin's stand, just to pick up a sample of the amazing new peanut butter cups:
The day ended with a visit to the Navitas booth, where I was so excited to finally meet my friend Julie that I basically forgot to take a single photo. Ooops! I did leave, however, with some chia, hemp, and camu powder. Not bad for a day's work.
Later that day, I managed to squeeze in an hour at DC VegFest. I was a little too tired to take advantage of the food vendors, but I did manage to see some friends (including Matt and Valerie!) and I enjoyed the change of scene. Expo was all about health; VegFest was more focused on animals and on community.
A few people asked me if I'd seen anything new and groundbreaking at Expo, and the answer was no: it was pretty much the same assembly of products and featured items, peppered with a few new flavor options and snazzy packaging. But, if you're someone who likes to fetishize food (and I do), it's awfully fun to walk the aisles and see what's happening in the world of healthy snacks and treats.
Today, I'm paying a visit to my buddy Hamlet at Poplar Springs. A recap of that, and more food, to come this week!
xo