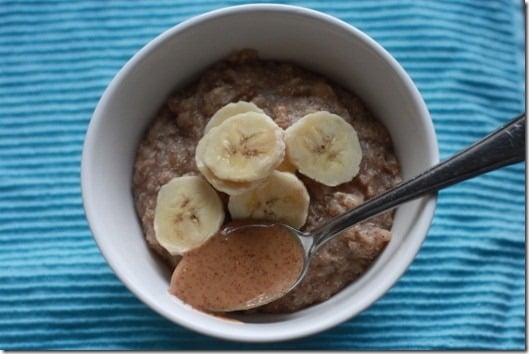 Hey guys! Great response to the new kelp noodle recipe. Kelp noodles are such a fun and versatile ingredient: I'm thrilled that you've been inspired to experiment with them. As noted by a few commenters, kelp noodles are very low cal, so be sure to pair them with rich sauces and a variety of side dishes: I often add beans to my kelp bowls, or eat them along with a bean and veggie salad, and I also love to eat them with my cheesy red pepper hemp sauce and veggies.
Speaking of fun ingredients, I decided to try a new one out this week: quinoa flakes.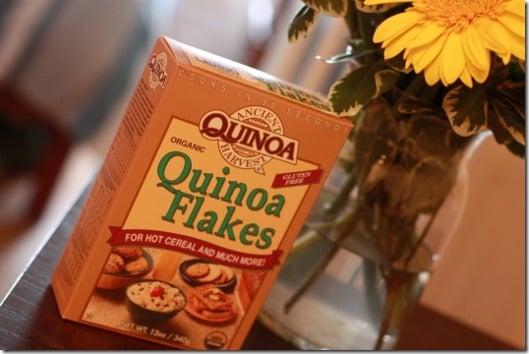 A few months ago, when I shared my delicious recipe for quinoa porridge, a number of you commented to say that quinoa flakes work very much the same way: you can heat them over the stovetop to create a porridge-like consistency. I'd seen them in stores before, but it had never occurred to me to try them out. Until this week, that is, when I purchased a box (about $5.69, for those of you watching your budgets) and resolved to try out a new kind of cooked breakfast.
Quinoa flakes, I learned, are remarkably fast-cooking. Boil 1 cup water, add 1/3 cup quinoa flakes, and in exactly 90 seconds a hot breakfast is completely at the ready: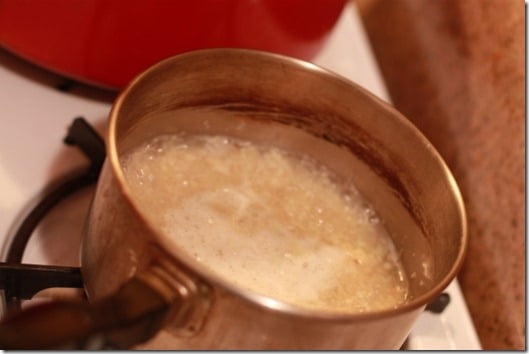 I served mine the way I nearly always serve porridge: with banana, 1 tsp chia seeds or flax meal, and homemade almond or cashew butter: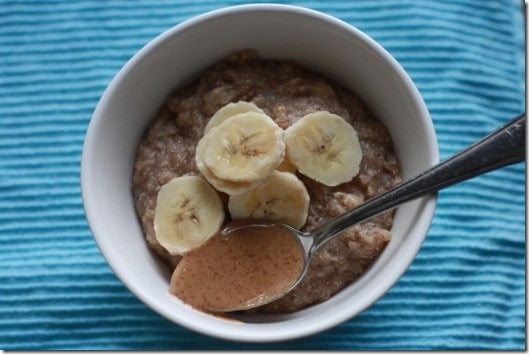 My verdict? Two thumbs up! For the most part, I was really pleased with this breakfast. A few notable pros and cons:
Pros:
Speed (it doesn't get better than 90 seconds)
Great option for gluten free diners
Nutty, mild taste
Creamy texture
Cons
Not as thick as regular rolled oats or steel cut oats or oat bran
Satiety—I found that this porridge held me over for less time than oat bran or oats typically do; it reminded me a lot of brown rice cereal, which I find tasty but not as filling as other grain bowls in the morning
With two grams of protein, it's a less protein rich option than rolled oats (5 grams) or oat bran (7 or 8 grams)
In the end, I sort of like the process of making my own quinoa porridge, if only because I enjoy any excuse to use my hand blender. However, these will come in mighty handy when I need to make breakfast quickly—and these days, that's often the case. I'm also really excited to see how I can use them in other applications: I'd like to try baking with them, and I also suspect they'll be great binders in veggie burgers, mock meatloafs, and casseroles. We'll see!
With that, a bus ride full of chem studying commences. Have a great start to the weekend, friends!
xo