Hello from the other side of 2012! And thanks for all of the sweet responses to my best of 2011 post. I was happy to hear that so many of you would like to see more salads! I often think that my salad posts are more for me than for you; the response on sweets and snacks is always so overwhelming that I wonder whether the soups and salads are kind of a drag for you all. It's nice to be reminded that the CR audience is fanatical about crunchy greens as I am.
This salad is the perfect way to usher in a new year of healthy and delicious eating. It's a quintessential winter salad: crunchy and fresh, but also full of warmth and comfort in the form of steamed sweet potato and a creamy, dreamy peanut butter dressing. You can simplify and lighten it up by using a simple flax oil and apple cider vinegar dressing instead, or you can add heft and nutrition by throwing in some garbanzo beans or lentils. You can serve it with a cup of soup for yet more warmth, or you can serve it with a side of raw crackers (which is what I did). As with all salads, the possibilities are endless.
It's worth saying that the inspiration for this salad came from a recent meal at Café Blossom. They have a new salad, which is iceberg, radicchio, watercress, carrot, sweet potato, cashews, pumpkin seeds, cherry tomato, wakame, arame, sunflower sprouts, and peanut dressing. I ordered it half expecting it to be a disaster—way too many cooks spoiling the broth, so to speak—but the odd mix of textures and flavors actually turned out to be fantastic. A really great and meal-sized salad. My version is an extreme simplification, but I enjoyed it every bit as much.
Radicchio, Butter Lettuce, and Cabbage Salad with Steamed Yam and Peanut Sauce (vegan, gluten free)
Serves 1
For the salad:
2 cups butter lettuce, washed and torn
1 cup radicchio, washed and torn
1 cup red and/or white cabbage, chopped
1 small sweet potato/yam, steamed and cut into cubes
For the dressing:
1/4 cup peanut butter (you can substitute almond butter if you wish)
2-3 tbsp water
1 tbsp reduced sodium tamari, or Bragg's Liquid Aminos
1 tsp agave syrup
1 tbsp apple cider vinegar
1/4 tsp ginger powder (optional)
1) Mix all salad ingredients together in a salad bowl.
2) Mix dressing ingredients together. I recommend starting with 2 tbsp of the water, and adding more to thin the dressing if you wish. I used 3 tbsp at first and would actually have liked a slightly thicker texture.
3) Toss the salad with just enough dressing to coat well. Serve!
This salad is bright and delicious!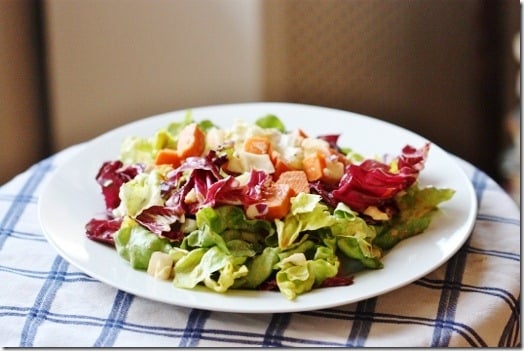 Enjoy it today, as you welcome 2012.
Before I go, a fun announcement! My recipe tab has been completely and totally updated! This means that all of the latest and greatest CR recipes are ready for your perusal (organized by course). I hope you check it out!! And the other fun news is that I'm also in the middle of developing an up-to-date Recipage. Not familiar with Recipage? It's a wonderful service for bloggers that was developed by the lovely Emily and her husband, Casey. It allows blog readers to search through their favorite blogs' sometimes intimidating recipe archives in an organized fashion. You can search by course, ingredients, or alphabetically. I hope that it'll give you all an easy means of sorting through my nearly four years worth of food! My friend Andrea has been instrumental in helping me with this new endeavor, so if you like the results, please visit her blog and thank her
Finally, since we're all still abuzz about Tara-Parker Pope's The Fat Trap, I wanted to mention that Slate posted an interesting response to the piece. It's not a rebuttal or rejoinder, exactly, but it does point out something crucial about the weight loss methods detailed in the article, which is that they are inherently disordered (at least according to most definitions of the term). This doesn't change the information laid out in the article, exactly, but I think its an important point, and that it expands the ongoing conversation.
xo