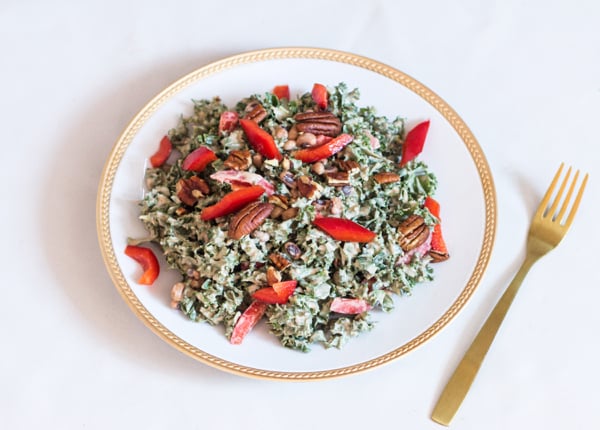 In the last few days, you've probably seen quite a few recipes for "Hoppin' John," a Southern New Year's dish with black eyed peas, rice, onion, and (sometimes) bacon. That's the traditional variant; there are lots of other renditions. Most vegan versions of the dish omit any animal fat (obviously) and add different herbs and spices. I've seen Hoppin' John-ish dishes with collard greens, with tomatoes, and with spinach. This year, I figured it was about time to create my own version. What I created—a Hoppin' John salad with kale, black eyed peas, and pecans–wasn't truly authentic, because it's far more salad than it is grain dish. But heck, it's delicious, and a wonderfully healthy way to welcome in a new year.
I wasn't really sure how to dress my Hoppin' John salad, so I went with the flow and used ingredients I had at my mom's. These ended up being balsamic vinegar, tahini, and chickpeas. (I'm pretty sure tahini does not qualify as a traditional Southern ingredient, but whatevs.) This dressing, which just sort of happened, turns out to be one of the best dressings I've made in quite a while. I'm excited to start making more often!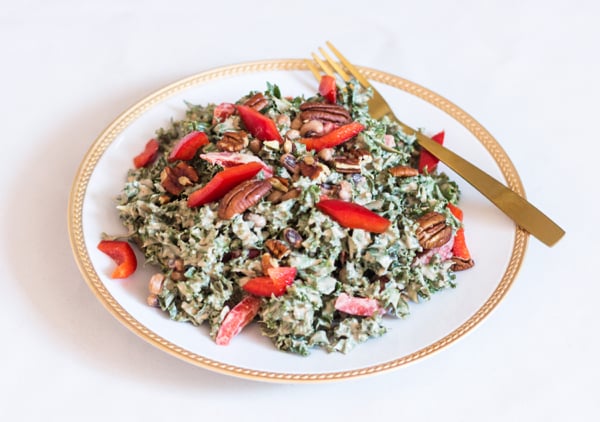 Hoppin' John Salad with Kale and Pecans (vegan, gluten free, soy free)
Serves 2-4
1 large bunch kale, stems removed, leaves torn into bite-sized pieces, washed, and dried
1 yellow or red bell pepper, diced
1/3 cup pecan halves or pieces
1 cup black eyed peas, dried, or 1 can cooked
Water
5 tbsp balsamic vinegar
1 cup chickpeas
1/4 cup tahini
3/4 cup water
1 tbsp maple syrup
Sea salt to taste
Black pepper to taste
1. Soak peas overnight. Drain them and transfer them to a pot. Submerge with enough water to cover them by 3 inches. Bring water to a boil and cook the peas for 30-45 minutes, or until tender when pierced with a fork. Drain and let cool.
2. Blend the vinegar, chickpeas, tahini, water, syrup, and salt/pepper in a blender till smooth.
3. Massage about 1/2 cup dressing into the kale, till it's creamy and soft. Add the pepper, pecans, and cooked peas (if you are using canned peas, you'd skip the first step and simply add them here). Add more dressing as needed, and mix the whole salad together till it's evenly dressed. Serve!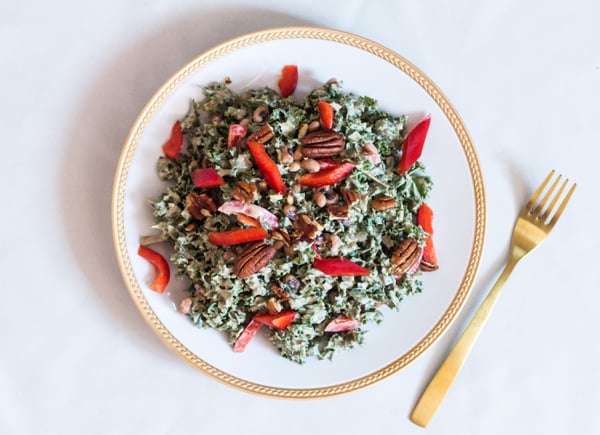 By the way, I used my mom's regular 'ole blender for the dressing, and it was fine—no high speed blender necessary. It also occurred to me that the dish would be particularly tasty with candied pecans. Or, if you remember the traditional dish fondly with bacon, salted pecans might mimic the saltiness! There are plenty of ways to customize this one.
I hope you all have been welcoming 2013 in with green, nutrient packed, and beautiful dishes like this one. The colors alone make me happy to celebrate a new year.
Till tomorrow,
xo