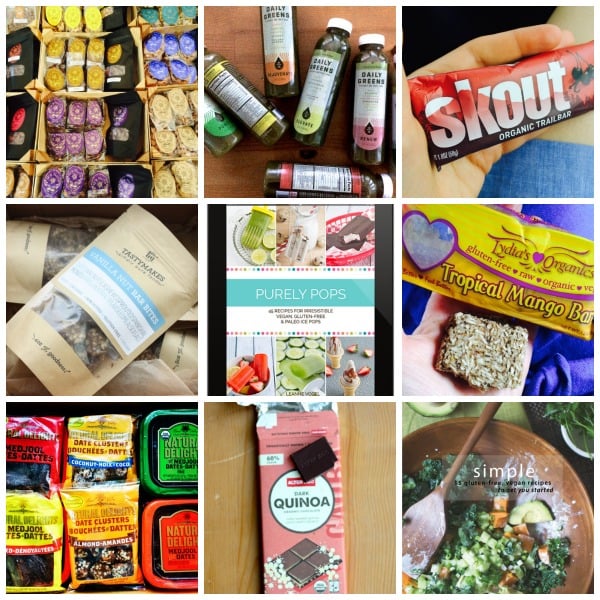 So the new rule is that I'm not allowed to make pronouncements about certain things becoming monthly blog traditions; remember when I was going to feature 12 new products each month? I've been terrible about sticking to this intention. But I still have a lot of really great brands and products to tell you about, so let's just say that I'll try to do it monthly, but no matter what I'll highlight what I can, when I can. Here are my nine product finds for July!
1. Earlier this summer, I was offered a set of product samples from Tastymakes, a new snack company that focuses on raw, organic, vegan, gluten free, and sprouted ingredients. Tastymakes has an array of both sweet and savory foods. The savory offerings include three different raw crackers: sea salt & vinegar, fig & onion, and garden herb. The crackers have a sunflower seed and flax meal base, and they remind me a lot of the raw crackers I like to prepare at home! I enjoyed all three flavors, but sea salt & vinegar was definitely my favorite. The crackers make for great snacks on their own, but what I often did was to crumble them up on top of salads, for extra flavor and crunch. Here you can see the crackers on top of a kale salad with turnips and homemade sweet potato and turmeric falafel (a recipe I should likely share soon!):
Tastymakes also sells "barbites," which are bite-sized snack bars made with sprouted nuts, dates, sprouted millet, and flaxseed. They're delicious, and I loved that they're small enough to provide just a sweet nibble. I also liked the company's granola, which is made of sprouted buckwheat, millet, flax, nuts, seeds, and a hint of sweetener. It's wholesome, crunchy, sweet-but-not-too-sweet, and fun to snack on or eat with sliced fruit and nutmilk. There are three flavors–chocolate cocoa, apple pie, and vanilla nut–and the vanilla nut was my favorite. I'm a sucker for anything chocolate, but I could taste the high quality vanilla and a touch of sea salt, and I loved it.
In all, my response to the Tastymakes line of snacks was to say "this is exactly the sort of food I love to make at home!" Which means that, to some extent, these are all products I'd opt to prepare in my own dehydrator, rather than purchase. But when life gets busy, it's a joy to be able to purchase the same kinds of wholesome, flavorful foods that we love to make ourselves. I definitely recommend checking the Tastymakes online store out; the products are definitely high quality, and they do justice to the "tasty" part of the company name.
2. I received a bar of Alter Eco quinoa dark chocolate recently as a little surprise gift from my boyfriend (because he's the best). I've tried this bar before, totally skeptical that quinoa and chocolate would go well together, but it's one of the cooler combinations I've tasted in a while. In general, I really like the entire Alter Eco line, which features exotic quinoa and rice varieties, sustainable and fair trade chocolates, and many vegan options.
3. If you live in or around the Boston area, you may have experienced the total bliss that is Q's Nuts. My boyfriend and I discovered them en route to our beach weekend in Provincetown, where his family has a home; we found ourselves in Boston with an hour to kill, and we were lucky enough to walk by a farmer's market where Q's nuts were beings sold. One sample, and we were hooked: we immediately purchased three large bags (dark chocolate almonds, key lime ginger almonds, and bananas foster cashews). This is only a small sampling of the innovative flavors that Q's nuts creates: there's also a yerba mate chocolate and rosemary sea salt.
Q's is a small, family owned operation, started by a husband and wife team. The products are made in small batches in Somerville, MA (also where Taza chocolate is created, and incidentally, Q's uses Taza in all of their chocolate flavors!). If you're in the Boston area, you can find a list of locations where Q's nuts are sold here, and if you're not, you can shop online here. You may feel as though a roasted nut is just a roasted nut, but trust me: these are really, really special.
4. No matter how many snack bars I create and sample, I never tire of trying cool new brands. I recently got to experience a few snack bars from Skout Organics, a small company based in Portland, Oregon. Each bar features a handful of organic ingredients. The combinations are simple, flavorful, and really good. I tried the blueberry almond, apple cinnamon, cherry vanilla, and chocolate coconut flavors. Blueberry almond and chocolate coconut were the two winners, in my book, but my boyfriend and I also gave big thumbs up to cherry vanilla. Ingredients typically include dates, certified gluten-free oats, almonds, coconut, agave, and sea salt. All of the bars are certified organic, certified gluten free, non-GMO project verified, certified kosher, vegan, and soy free. If you're looking for something simple and wholesome–once again, the sort of bar you might prepare at home with your own ingredients–these bars fit the bill. You can shop online for Scout Organics here; I recommend checking out the trailbar sampler!
5. Many of my readers must already be familiar with the fabulous Leanne Vogel and her blog, Healthful Pursuit. Leanne specializes in creating recipes that take into account food sensitivities and special diets. Her creations are wholesome and flavorful, and they demonstrate that managing a selective diet doesn't mean sacrificing taste or culinary passion.
This summer, I was introduced to Leanne's ebooks, and I immediately loved them (so much so that I signed on to be one of her affiliates). My current obsession is her Purely Pops cookbook. It features 45 pops that are free of common allergens (gluten, wheat, soy, sesame, bananas, nuts, dairy, and eggs). They're all created with whole foods, vegan ingredients, and each is accompanied by a gorgeous color photo. And there's an entire section entitled "ice cream on a stick" (i.e., these recipes go far beyond frozen fruit). The book can be saved on up to three personal devices (Kindle, iPad, etc.), and it's available through a simple download. As someone who's just about to purchase my first set of pop molds (why am I behind on this?), I've already downloaded the book, and I appreciate that the preface begins with some overall tips on making perfect pops.
One of my favorite features of the book is that it offers up a few cream bases, and you can pick and choose which one to use for the ice cream pops depending on your food needs and tastes. The pop you see above is a "fudge chunk" popsicle (just cream base, cacao, and dates), and you can make it with a cashew base, a hemp base, or any of Leanne's other options. Very cool.
Summer's more than halfway done, but it'll be warm enough for pops for a while, so I recommend checking the Purely Pops out! And you can also peek at Leanne's other e-book offerings. I love her Vibrant Life Cleanse ebook. Even though I never approach juicing as a "cleanse," I do love to create juices and smoothies at home, and Leanne has a stellar array of 55 juice and smoothie recipes (as well as tips for incorporating these drinks into your life as a daily habit). It's smart, useful, and beautifully photographed. Also worth peeking at.
6. Speaking of juices, I recently sampled 10 of the best green juices I've tried in a long time. They were sent to me from the company Daily Greens, a raw, cold-pressed green juice company that's based in Austin. The company's founder, Shauna Martin, created Daily Greens after being diagnosed with breast cancer at 33, and she credits the drinks with helping to restore her health. They come in five flavors, which you can check out here.
What I appreciated so much about these juices was that they showcase how versatile green juice can be! Most juice companies offer one standard green juice flavor, and the rest are fruit based. Daily Greens has five varieties of green juice, all infused with different flavors. My two top picks were "elevate" (pear, spinach, watercress, cucumber, and lime) and "harmony" (kale, celery, fennel, lemon, apple, pear, and ginger). So creative, and so incredibly flavorful. This is a new go-to juice for me. You can learn more about Daily Greens and its mission by checking out the company website. You can also order online–Daily Greens ships nationwide.
7. Earlier this month, I collaborated on a recipe with the folks at Natural Delights. You all saw the finished product: it was an easy, delicious raw cherry cobbler for summer. I used the ND dates in the recipe, and they were great, but I had to take a moment to say how lovely they are for snacking, too. The company also makes date and nut clusters (date and almond, or date and coconut), which my boyfriend and I gobbled up just as soon as we could. So, so good.
8. This is not my first time mentioning a product from Lydia's Organics, and it won't be my last, as I'm a very loyal fan of the brand. I've been enjoying Lydia's raw bread and cereals since my early raw food days, and I still love supporting them. Recently, the folks at Lydia's sent me some of their snack bars, which I hadn't tried in years. I was reminded of how tasty and simple they are. Interestingly, I was expecting to like the chocolate and spirulina flavors more than the tropical fruit flavors, but mango and raspberry were actually my favorites. They're very, very dry, so I actually recommend dipping them in warm tea or almond milk (so good!), but they're nice on their own as a crunchy snack.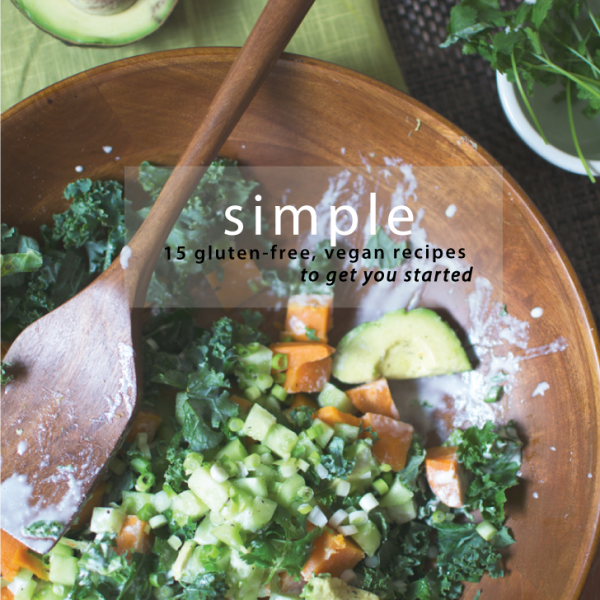 9. My friend Janae is having a sale on her wonderful ebook, Simple. The book contains 15 recipes, all vegan, gluten-free, refined sugar free, and made with whole food ingredients. The book makes good on its title; as with the recipes on her blog, Bring Joy, the recipes in Simple are incredibly accessible and easy to prepare. They feature ingredients that are easily found in grocery stores, and they're woven together by Janae's kind, welcoming, and unassuming voice. I'm a huge fan of the book, and I know my readers will love it, too (especially with such recipes as chocolate quinoa chia porridge, cilantro lime rice, and sweet potato and kale salad). It's priced at only $4.95 right now, so I really recommend reading about the book here, and seeing if it might be for you.
And on that note, friends, I wish you a great evening. Till tomorrow!
xo
10.