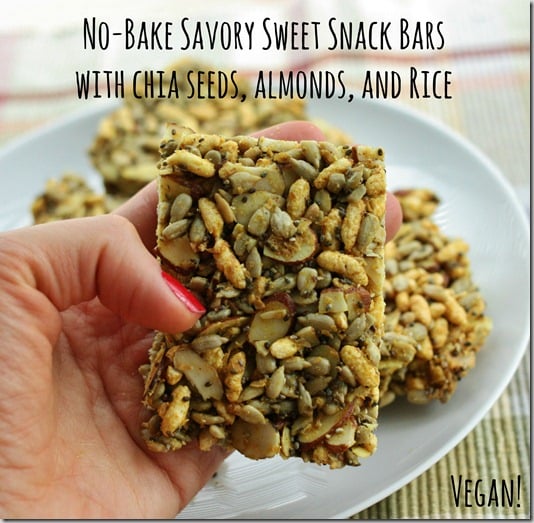 No one wants to rely on snack bars when there is a world of delicious, fresh, and homemade food out there, but sometimes life gets busy, and snack bars can be a godsend for eating on the go. I go through a lot of snack bars when I'm studying and traveling. I appreciate their convenience and ease, though I do tend to get bored of them easily. I also have a penchant for savory snacks (kale chips, hummus and veggies, etc.) but find that they're not always as easy to pack up and carry around as a simple bar. With this in mind, I recently decided if I could try my hand at a snack bar that would be portable, easy to make, and would combine both savory and sweet. I'm pretty excited about what resulted.
These bars feature three spices: turmeric, curry, and chili powder (as well as some sea salt). They also feature puffed brown rice, which is inexpensive and easy to find either online (I like the Erewhon and Arrowhead Mills brands, both available on Amazon) or in health food stores. Aside from that, I used chia and flax for binding (and healthy Omega-3 fatty acids!) as well as sunflower seeds and almonds for texture and crunch. I used my dehydrator to firm them up quickly, so that I could snap photos (and eat them), but if you simply allow them to sit for a few hours, they'll firm up nicely on their own. I'll give you both options below.
No Bake Savory Sweet Snack Bars with Chia Seeds, Almonds, and Rice
Author -
2

cups

puffed brown rice

1/2

cup

sunflower seeds

2/3

cup

sliced almonds

2

tbsp

chia seeds

2

tbsp

ground flax

5

tbsp

maple syrup

2

tbsp

almond butter

1

tsp

coconut oil

1/2

tsp

turmeric

1/2

tsp

chili powder

1

tsp

curry powder

1

tsp

sea salt
Mix the rice, chia, sunflower seeds, almonds and flax in a medium mixing bowl. Set aside.

Heat the maple syrup and coconut oil gently in a small saucepan (to facilitate mixing). Whisk in the almond butter, coconut oil, sea salt, and spices. Pour wet ingredients over dry and mix thoroughly.

Press the ingredients into a small baking dish (11 x 7 or 8 x 8) firmly and evenly. Cover with a layer of saran or tin foil. Let sit for four hours or more, and then cut into bar shapes prior to serving. Alternately, you can dehydrate the bars in the baking dish, uncovered, for an hour or so to firm them up. Enjoy!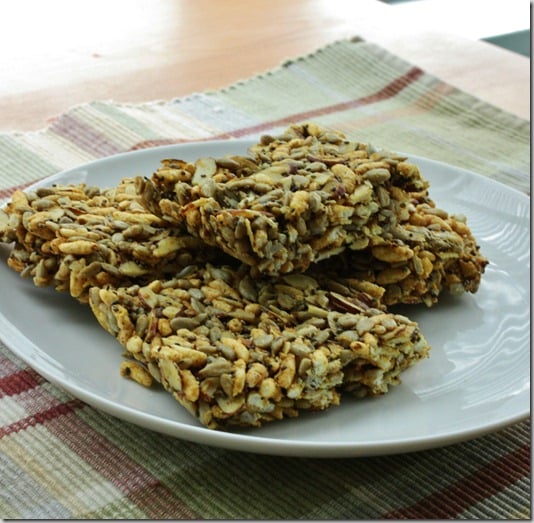 I love the texture in these bars, not to mention the irresistable marriage of sweetness and spice. They actually remind me of the spicy cashews from One Lucky Duck—and that is a high compliment.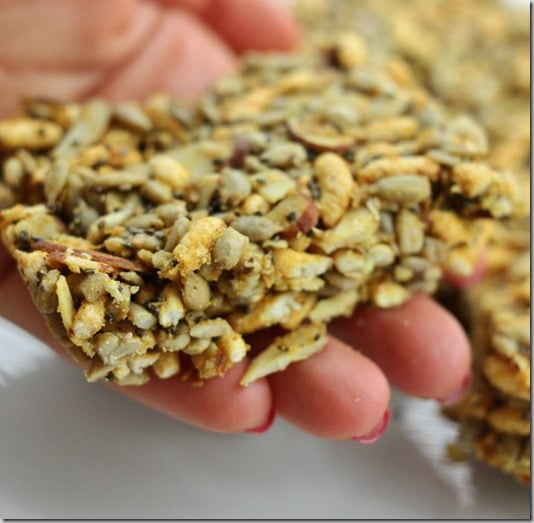 Hope you have a chance to enjoy them soon!
I'm actually home in New York right now, resting a bit after an intense stretch of school and getting a chance to catch up with my near and dear. With any luck, I'll have some fun dining recaps for you this week!
xo