I've written two rave reviews of the Clean Lean Protein from NuZest USA (here and here). Unlike other protein powders I've tried and liked, NuZest has stood the test of time for me: it's been over six months since I originally tasted it, and I continue to keep using it and enjoying it in my smoothies on the reg. I love the flavors, the sweetness (just right — not too sweet, but sweet enough), and the fact that it's stevia-free. I also love the company's customer service and passion.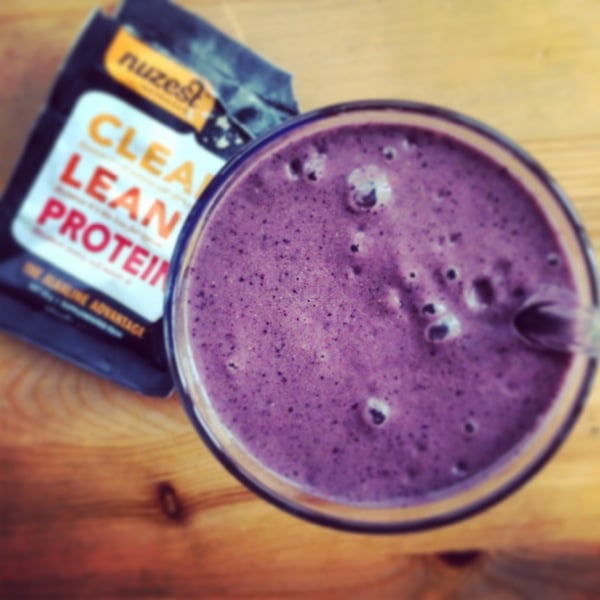 As a special treat for the holiday season, NuZest is offering one lucky Choosing Raw reader two flavors of its all natural, gluten free, soy free, non-GMO pea protein. But before we get to that, I wanted to share a little Q&A I did with Trevor Bolland, the founder of the brand. Part of what drove Trevor to found NuZest was a health crisis in his own family: his daughter, Monique, was diagnosed with multiple sclerosis in 2003. This experience compelled the whole family to become more interested in health, healing, and in high quality nutrition. In this interview, he chats about that experience, and he shares his thoughts about what makes NuZest different.
What inspired you to found the Nuzest brand?
There was no "flash of light", more a slow appreciation, out of time and research in the market, that there was an opportunity. The catalyst to being even interested in health and nutrition, apart from a lifetime of interest in sport and keeping physically fit, was the diagnosis of my daughter, Monique, with Multiple Sclerosis in 2005. That turned the lives of our family upside down.
We went on a two year search for answers and the journey took us down many interesting paths and led to my daughter opening a small inner-city health spa in Sydney Australia. Involvement in supplements through Monique's work with naturopaths and nutritionists, and through the health spa, led me into the supplements industry.
The opportunity to combine a new-found belief in the vital importance of healthy nutrition with my somewhat addictive desire to "do things better" was too tempting to pass up and NuZest was born.
What do you think distinguishes NuZest from other proteins on the market?
Apart from the common attributes of most pea proteins as gluten free, dairy free, soy free alternatives to whey, which is not unique, there are three other features that stand out:
Firstly it is European from seed to mouth. Europe is associated with high quality and very strict standards when it comes to food production. By using peas grown in Northern France, and then processed, blended and packed in Belgium, consumers have no doubt about where the product comes from and can have confidence in its quality and GMO free status.
We have nothing to hide. The company which does the protein isolation is Cosucra, a family owned company which has been processing natural products since 1852. They are the leaders in their field; and it shows in the quality of the finished product.
Secondly is the taste and texture. Many pea proteins have a very strong pea taste and are difficult to flavour. They also tend not to mix as easily in liquid and have a watery texture. Our pea Protein has a smooth mouth feel. The result is a taste and texture that people love. They are truly surprised when they try it.
Finally it is the pure simplicity of the product. It is just pea protein and natural flavours; nothing else. No fillers, no maltodextrin, no added sugar; none of the many ingredients you often see on protein labels for whatever reasons they are included. The result is a non-complicated, low fat, low carb, high protein product which is safe and enjoyable.
What are some nutritional features of Nuzest that you'd like readers to know about?
Firstly it is a "complete" protein in that it contains all nine essential amino acids.
Secondly it is hypoallergenic. Unless you are allergic to peas, there is nothing in it to cause a reaction; no dairy, no soy, no nuts, no crustaceans; nothing.
Thirdly it has a 98% digestibility rating. Most people find it very light and comfortable on the digestive system and do not experience the bloating effects often associated with other forms of protein.
Fourthly, it is free of lectins and extremely low in phytic acid. These are virtually all removed in the protein isolation process. That makes Clean Lean Protein Paleo friendly as well as being Vegan. Paleos will generally steer clear of legumes because of the phytates. That is not an issue with Clean Lean protein.
What are some of your favorite ways to incorporate Nuzest into recipes?
I confess to being a terrible cook and prefer that you look at the website to find something that appeals! There are plenty of recipes there. My daughter, however, makes an awesome chocolate protein ball with coconut flakes.
Mostly I simply add protein to water in a shaker and take it as it is because it is great just like that. Often I will add in my Greens which seem to make the flavours jump out. Adding ice makes it extra refreshing.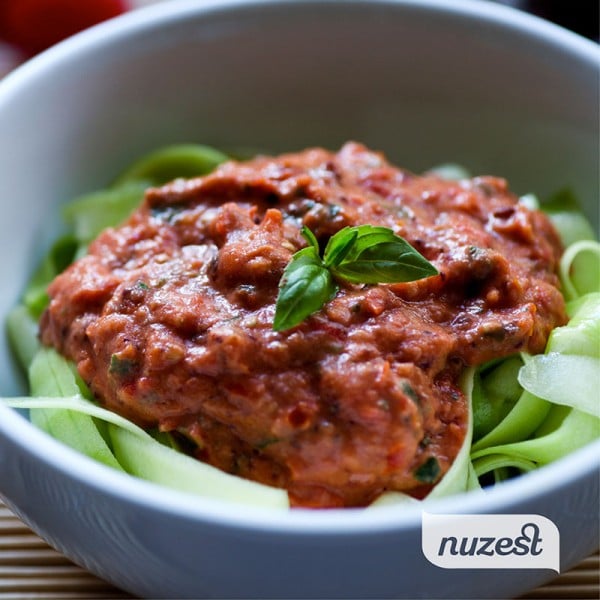 What's your favorite Nuzest protein flavor?
For me, Cappuccino for sure; but that's me. Vanilla seems to be the most popular followed by Chocolate. However our more recently released Wild Strawberry is rising rapidly up the popularity ladder.
They're all good; you know I have to say that!!
More on Trevor and Monique:
Trevor Bolland is 60 years of age; a sport and fitness enthusiast, who enjoys running, cycling and swimming. He and his wife of 35 years, Christine, are originally from New Zealand but now live in Sydney, Australia. He graduated from the Royal Australian Naval College, Jervis Bay in 1974 and enjoyed a 15 year career with the Royal New Zealand Navy before moving into commercial real estate services including CEO Colliers International, New Zealand.
After moving to Australia with his family in 1997, Trevor co-founded a small chain of high-quality preschool centers in the Sydney area. Trevor retired from business when his daughter was diagnosed with Multiple Sclerosis in order to provide support and look for answers.
This ultimately led to a deep appreciation of the value of nutrition in optimal health and the founding of NuZest (www.nuzest.com) which now has representation in Australia, New Zealand, South Africa, China, USA and the United Kingdom.
Monique Bolland graduated from the University of New South Wales in 2003 with a Bachelor's degree in Digital Media. After the traditional 6-month "Overseas Experience" backpacking around Europe she returned to Australia and started a career in Graphic Design until being diagnosed with Multiple Sclerosis in 2005.
Her resultant focus on health including extensive periods of treatment at a naturopathic clinic in the United States, created the desire to open her own health "spa" in inner Sydney which she did in 2008 (www.alkaline.com.au).
After 4 years of managing a successful business which included 10 health practitioners, the business was sold so that she could dedicate her full time to helping run Nuzest, as the company's director of global brand management and marketing collateral development.
As someone who has been a fan of NuZest for a while now, it was so fun to hear about the brand's origins. And I have to back up what Trevor says about the taste: it really is smoother and more palatable than any other pea protein I've tried.
Now, it's giveaway time! As promised, enter below to win two tubs of delicious, clean-tasting vegan pea protein from NuZest in any two flavors of your choosing! (US and Canadian residents only.) Additionally, everyone who enters will get a free e-book from NuZest, featuring articles, information about the product, and recipes. And, in addition to that, NuZest is offering everyone 10% off and free shipping on orders over $50.00 if you use the coupon code CR10 in the online store!
I hope that you'll enjoy this smoothie-boosting treat during the holiday season, and into the new year, and I hope you've enjoyed getting to know the folks behind the brand. Thanks to NuZest for sharing!
xo