Over three years ago, when I met Melissa in my first ever blogger dinner, we remarked on the fact that, at the time, all of the "big" bloggers seemed to live in Florida. Or someplace south of D.C.. Where, we wondered, were all of the NYC foodies? Weren't we living in the food capitol of the nation, and possibly the world? Where were our bloggers in arms?
A few months later, Melissa had organized a few awesome NYC food blogger meetups, and we'd gotten to know some of our fellow keyboard addicts here in the Big Apple. We'd soon formed a passionate little community. Today, there seem to be more NYC food bloggers than ever, and we have a lot in common: energy, ambition, a love for the city that never sleeps, and a conviction that, to quote my friend Leslie, we "have it all." We're in New York, and we're surrounded by amazing food, faces, culture, and art: no wonder we feel that way.
Typical New Yorkers that we are, we're often too busy hunting down dream jobs or waiting on line for theater tickets or scoping out new fitness classes or trying out new restaurants to hang out with each other. So one of my main goals before moving has always been to summon up a group of NYC food bloggers for a dinner. Lucky for me, nine agreed to dine with me on Sunday night. And even luckier, my friends Daphne and Cassie of Verite Catering agreed to prepare a five course vegan meal for us.
They set up a lovely table: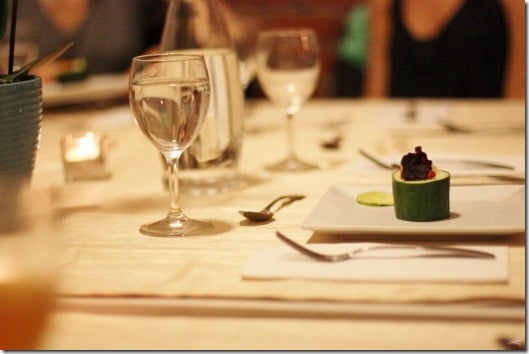 And started our meal off with a raw gazpacho in cucumber cups, garnished with an adorable dehydrated beet chip:
I grinned to see all of the camera's come out—this is what happens when you dine with food bloggers. I even caught Diana in the act: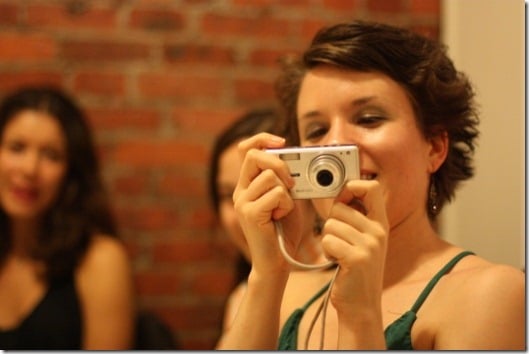 The second course was a mushroom and sweet potato soup that blew my mind. Truly. I would never have thought of this combination, but it was hopelessly good. I stole finished Melissa's bowl for her without shame.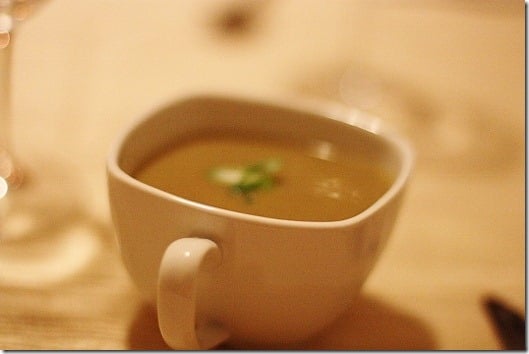 Since the meal had a wine option or could be BYOB, I brought along some "Wonder Drink" Kombucha. First time tasting the stuff, and I didn't love it: I think it's being marketed to Kombucha newcomers, and I found that it tasted just like fruit juice: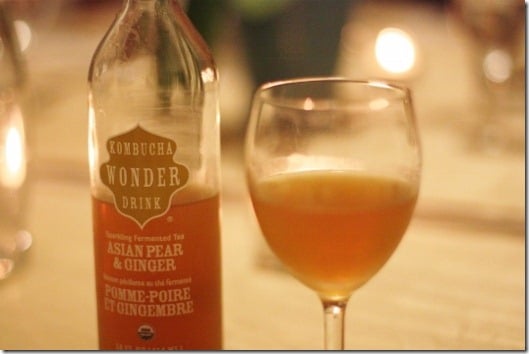 My disappointment, however, didn't stop me from raising a glass to Cassie and Melissa. These two women mean the world to me: Cassie, as I told the group, is my ideal of a "vegan ambassador." She's passionate to the core, but also compassionate, fair-minded, and she shares enthusiasm, not vitriol. She has also devoted her life to healing people who need help, to cooking for people who want to know how good plant based foods taste, and to being a stellar friend to people like me. She's amazing.
And I think you guys know the story of how I met Melissa (I sent her an "I love your blog" fan note three years ago!). If you don't, she recaps it sweetly in her post today. Melissa and I have cried, giggled, gossiped, emailed, exercised, and eaten our way through three wonderful years of friendship. We're very similar, but there are also crucial differences, and I find that we bring out the very best in each other. I'm lucky to know her, as my verklempt expression in this photo demonstrates: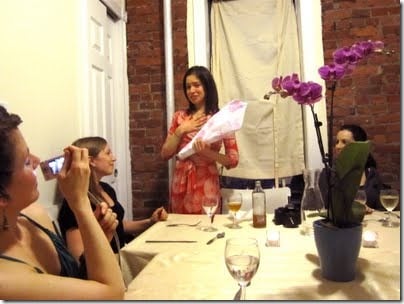 Of course, I had something special to say to everyone at the table. Since we were too busy talking about food, dating, blogging, media scandals, career decisions, moving, and school for me to say everything I wanted to say, let me say it by introducing you my friends:
That's Danielle and Ada. Danielle is sweet, precocious, and has just found her dream job. Ada, on the right, is a pre-med at Barnard. Ada is about seven years my junior, and I have come to her desperately in need of advice more times than I can count this year. It's humbling and inspiring at the same time. Ada, my dear, you'll make a killer doctor one day: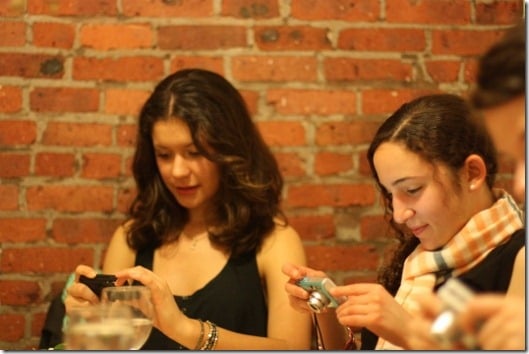 This photo is very blurry, but the lady in the background is Katie, who grew up in Manhattan, worked at HarperCollins for a year, and is now doing a post-bacc in order to be a physical therapist.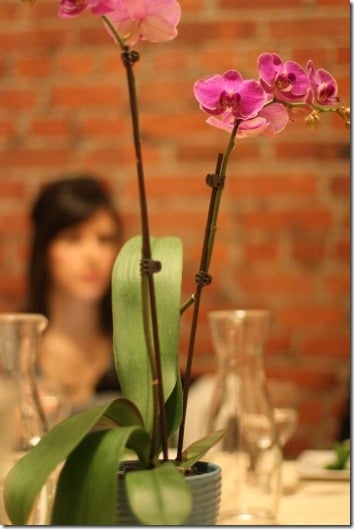 We have some stuff in common.
This is my D-Dove, who is known mostly for her sense of humor and fine writing, but who is also bravely pursuing her dreams. Proud of you, D: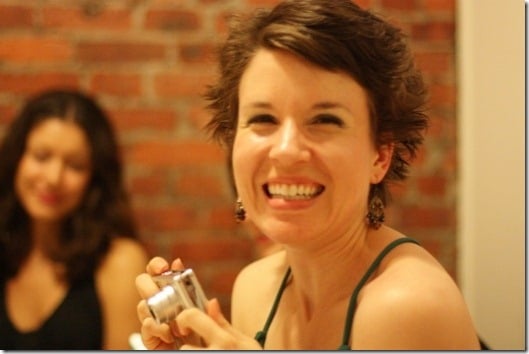 In this photo you can see Dori seated next to me.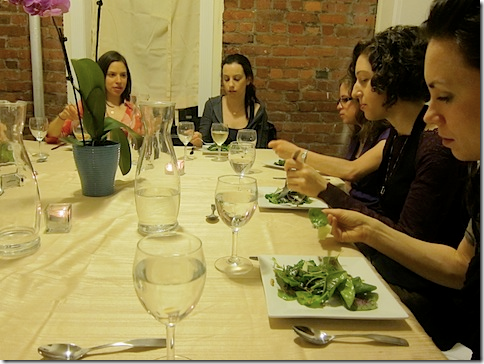 Dori is hilarious, uncensored, honest, and kind. I'm really glad I've gotten to know her. In the right corner of the photo is my friend Kathleen. Kathleen keeps insisting she's not a food blogger, but she really is, even if she's more interesting in writing about life, feminism, and the pursuit of happiness than she is in posting pictures of what she ate for breakfast. Kathleen, you're on to something, and I adore you.
This is Sophia. I had never met Sophia until this dinner, but the nice thing about blogging is that we get to know people through their voices online. I knew I liked Sophia's voice, and I knew I'd love her in person: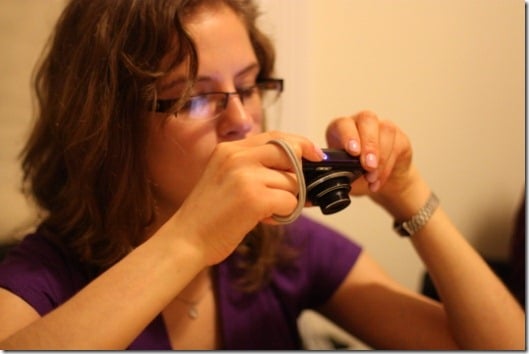 I was right.
And this is Leslie, aka my doppelganger, who I am very sad to be leaving in NYC. I trust she'll take care of it for me: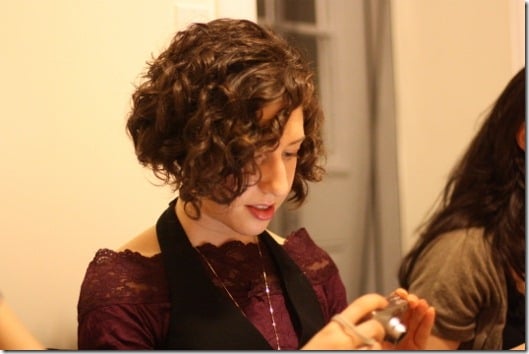 What a group.
After my weepy toasting came our third course: a salad of micro greens, sunflower seeds, and a bright, lemony vinaigrette: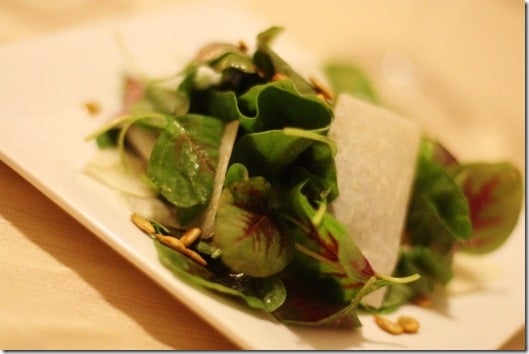 And some shaved jicama on top. And finally came a mushroom risotto served with bright yellow red pepper coulis. It was filling, savory, and just the right portion: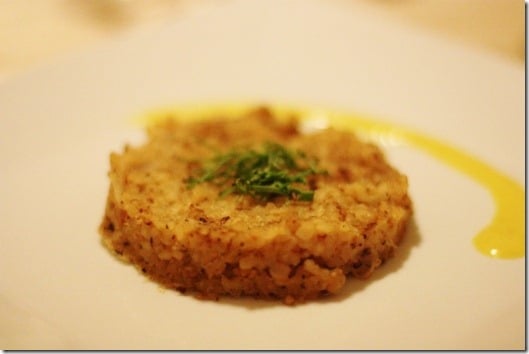 I'm not one for desserts, but I know from experience that Cassie and Daphne make amazing dessert food. I was blown away by their offering, which was a coconut cupcake with coconut frosting and a raw mango ice cream. The whole table gasped when they dug in: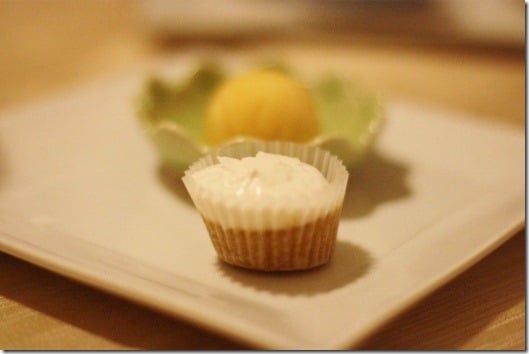 I usually go a little berserk when food portions are too small, but even I was worried that a five course dinner would be overwhelming. Cassie and Daphne nailed the portions right along with the flavors and textures. It was totally filling, but not at all heavy. Thank you, chefs!
If you've never blogged, and if you don't read blog, the idea of "blog friendships" must strike you as as a little weird. But as I've said before, I often find that the connections forged online—platonic, romantic, or professional—are founded in all sorts of deep similarities and common passions. The food blog world and vegan blogging community have changed my life profoundly, and this dinner was a testament to that.
Ladies, I will be taking the spirit of this little NYC food blogging community straight to D.C. with me. I hope you'll all visit. And with any luck, I'll have found a new community of passionate food lovers in the District, and we can make all of our worlds collide.
xo