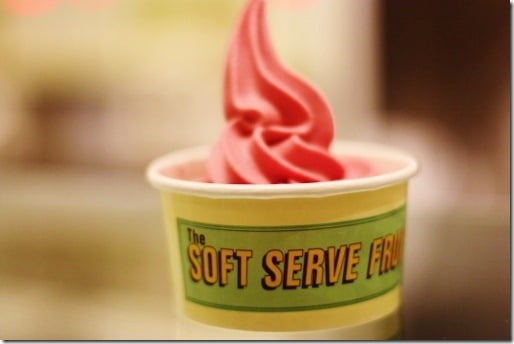 Hi from my last night in NYC (for now). I'm wistful about leaving, but terribly excited to blog to you tomorrow from Vida Vegan Con!
My last few days in NYC have seen lots of time with friends, lots of time with my Mom, and even a few hours of sleeping in (gasp!) and reading for pleasure (double gasp!). As I move between neighborhoods and activities, my mind is always at least halfway devoted to what my next meal will be, and where. I've had a few good meals at home now, but I've mostly been eating out. A few recent highlights: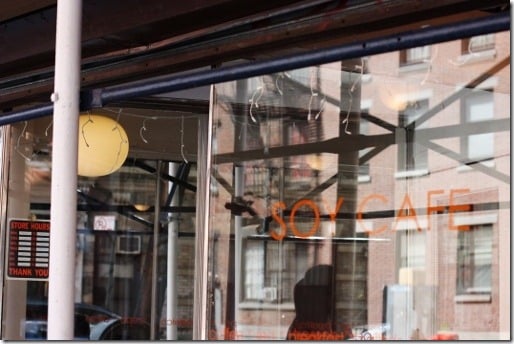 Yesterday, I met my friend Tom for a quick lunch at Soy Café, a new-ish lunch spot that features sandwiches, salads, soups, and soy milk coffee and steamed drinks. I'd taken a peek at the menu online and found it really charming, and the place itself proved as cheery and welcoming as its website. Lots of people studying and reading in cozy, midday light. I went for a half sandwich and salad combo: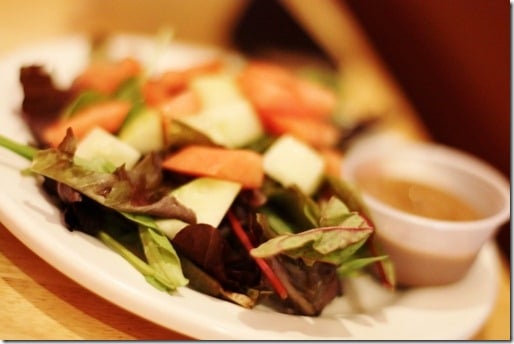 I think it's pretty cute that they a) cut the half sandwich into two quarters, so it feels like a whole, even if you only asked for a half, and b) they cut the crusts off the multigrain bread.
My sandwich was hummus, cucumber, a heap of fresh dill, and a light spread of soy mayo. Delish! Tom got himself a chicken curry crepe, unpictured; I love that this spot has options for both vegans and omnis to eat comfortably together.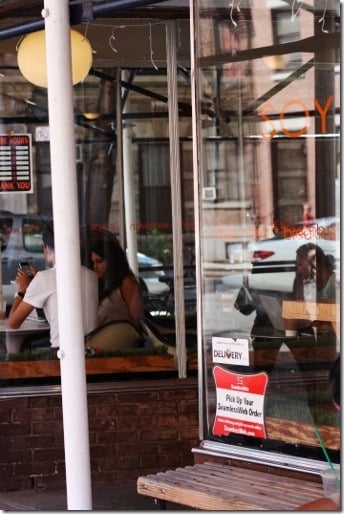 After our lunch, I took a West Village stroll and stopped into Integral Yoga's fabulous health food store, which has a juice bar and tons of raw and vegan groceries: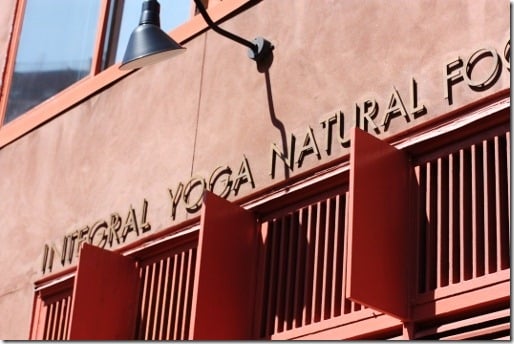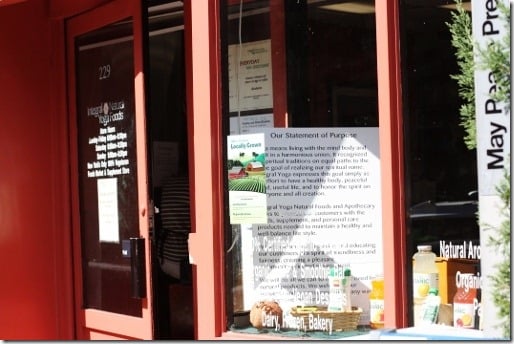 I picked up a green juice and some chunks of energy, which make great snacks.
The day before, I had lunch in NYC's other village, the east village, at Angelica Kitchen. Angelica is, as you all know, one of my favorite restaurants here in New York. It's so unbelievably wholesome and healthy! I started my meal with a bright veggie juice: mixed veggies, ginger, and watercress: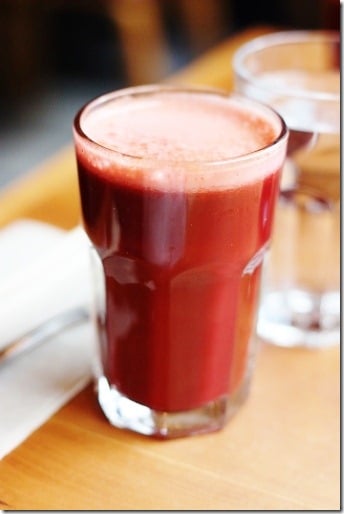 For my lunch, I got the "picnic plate," which is a choice of four cold dishes: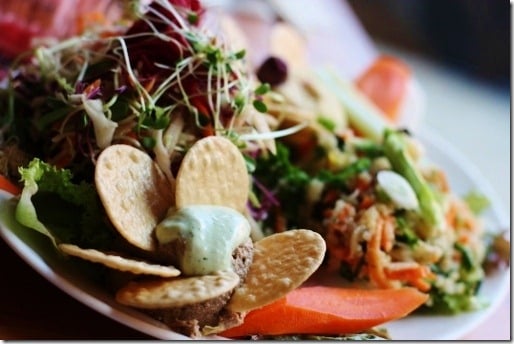 My choices were the semi-raw lentil walnut pate, the special salad of the day (which had mesclun and asparagus and some sprouted quinoa), the simple salad (basically a coleslaw mix) and the hummus with crudites: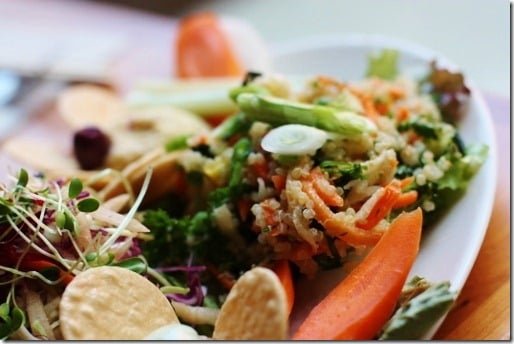 I topped it all off with some tahini dressing. The rice crackers were sort of unnecessary, but aside from that, the meal was absolutely divine. I shared the crackers and licked the plate clean. My friend Kevin got some sort of tempeh sandwich with ruby slaw, which was really tasty, too: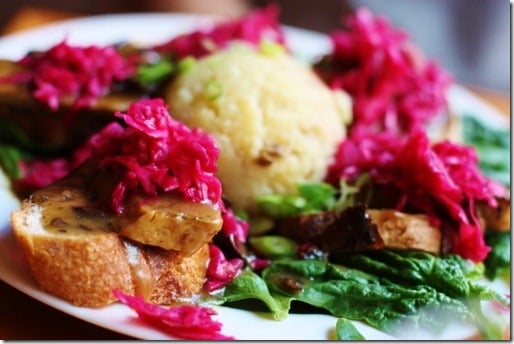 In the middle of lunch, the famous earthquake struck NYC and DC. I have to admit, I didn't feel a thing: supposedly the New Yorkers who felt it most were all in taller office buildings. But most of them assumed they were having some neurotic dizzy spell, and were embarrassed to mention it at first. (How very New York of them.)
One of the nicest things about my visit so far has been a spell of dreamy weather; a little reprieve before Irene storms through the streets of Manhattan. So on Monday night, when my dear friend Nelly and I grabbed a movie and dinner, we chose to get something to go at Whole Foods, and sat outside the fountain at Lincoln Center: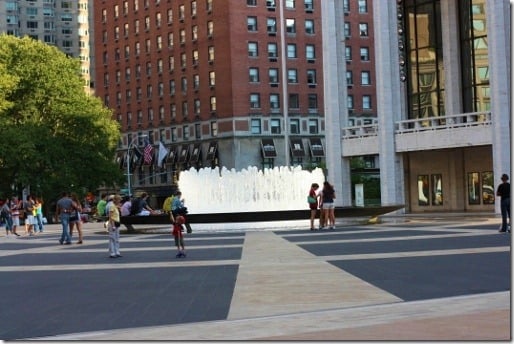 Lincoln Center is one of my favorite places in the world, for so many reasons: personal memories, the scent of live performance in the air, its proximity to my grandmother's place. I was so happy to sit there for a little while, and get excited about the fall season at the Met: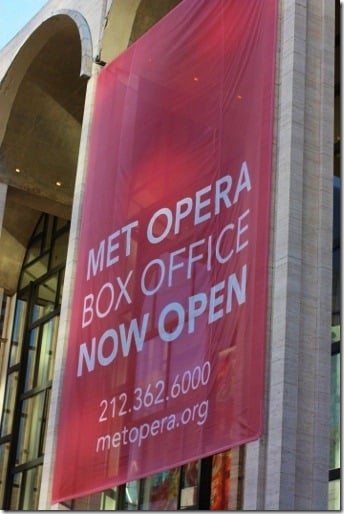 I got a big green salad of spinach, kale, guac, mixed veggies, and edamame: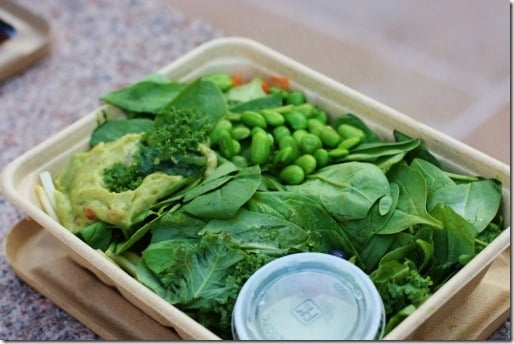 And a brown rice and avocado roll: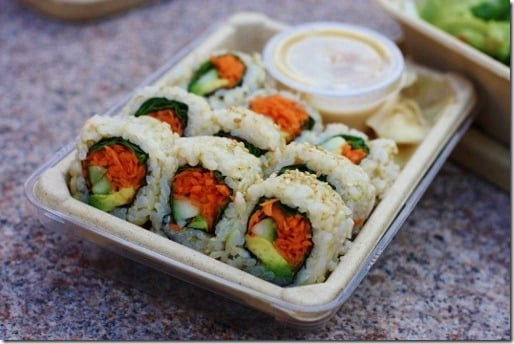 Tasty and conveniant!
And last night, in the crowning moment of my NYC dining adventures, I had a spectacular dinner at Pure with my good friends Eric and Cherry. The lighting in the restaurant was really too dim for me to take photos, but it didn't much matter: I was way too focused on conversation to mind. And on my way home, I stumbled upon something I new you all would love: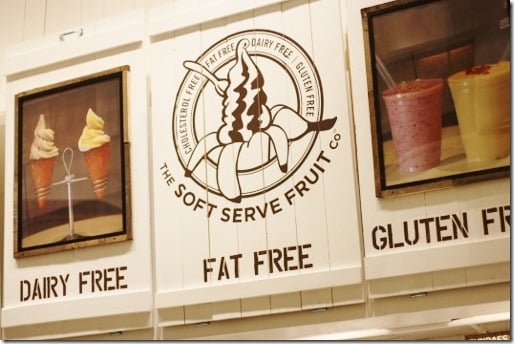 The Soft Serve Fruit Company! This place is taking banana soft serve nationwide, in four flavors: raspberry banana, mango banana, blueberry banana, and banana banana. And it comes right out of a soft serve dispenser: dairy free!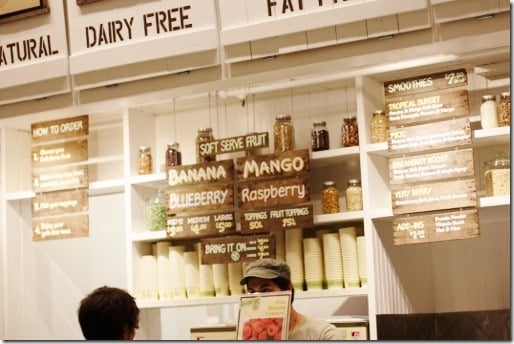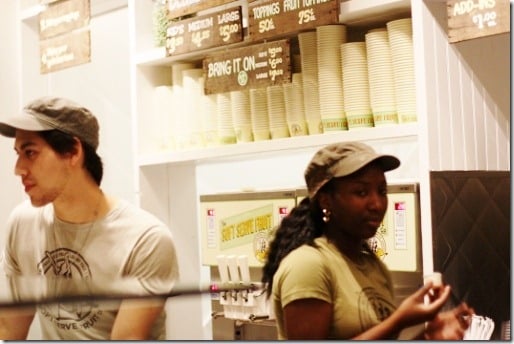 I'd already eaten a chocolate mint napoleon for dessert at Pure, but…I couldn't pass this up! Raspberry banana it was:
Very tasty. Fair warning to my soft serve loving friends: this stuff tastes fare more like sorbet than actual banana soft serve, which is richer and creamier. When I asked about ingredients, they said it's banana, the other fruit, water, and a touch of cane sugar. You can taste the sugar, for sure, but in fairness I didn't find it to be overwhelming.
I often get tweets and emails telling me that other people are posting or talking about banana ice cream, and aren't I mad, because wasn't it my idea? I'm super flattered, but to be fair, it wasn't my idea! I just posted about the stuff. Bananas ice cream has been a staple among raw foodies for ages now. And even if it had been my idea, it's really just a technique, not a recipe, right? And isn't it better for more people nationwide to enjoy it, than less? The more people spreading the word, the better: that means more healthy frozen treats, and a shift, I hope, away from dairy-based ice creams.
Thank you, Soft Serve Fruit Co! I hope you guys arrive in DC soon.
Finally, tonight, I enjoyed my final NYC dinner of the week by stopping in on my friends at Candle Cafe for some takeout (and a nice chat with Mark, the tireless and thoughtful manager). As I sipped on a giant green goddess juice, I ordered the "good food plate," a diner's choice of several sides. I opted for quinoa, simple salad, marinated veggies, and arame and carrot salad, all topped off with a creamy herb dressing: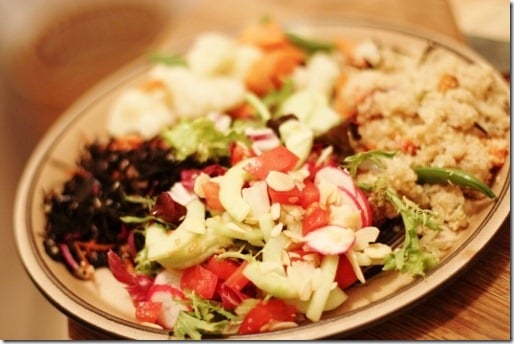 When I got it home and dug in, I think Mom was jealous.
And that, friends, is how you eat your way through a vegan paradise in six days. Of course, I'll have some amazing food photos and stories to share from Portland, too—you can be sure of it! But in my mind, NYC really is the high-raw vegan's dream city. So many options, and all of them so wholesome. In many ways, I'm glad I moved to DC, because the bounty of food in my home town has never felt more precious to me.
Tomorrow, I'll be posting a late day smoothie recipe with a hidden vegetable star. I'll be attending a fabulous, six course meal in PDX with some dear friends, and on Saturday, I'll be telling you guys alllll about it. I can't wait.
xo