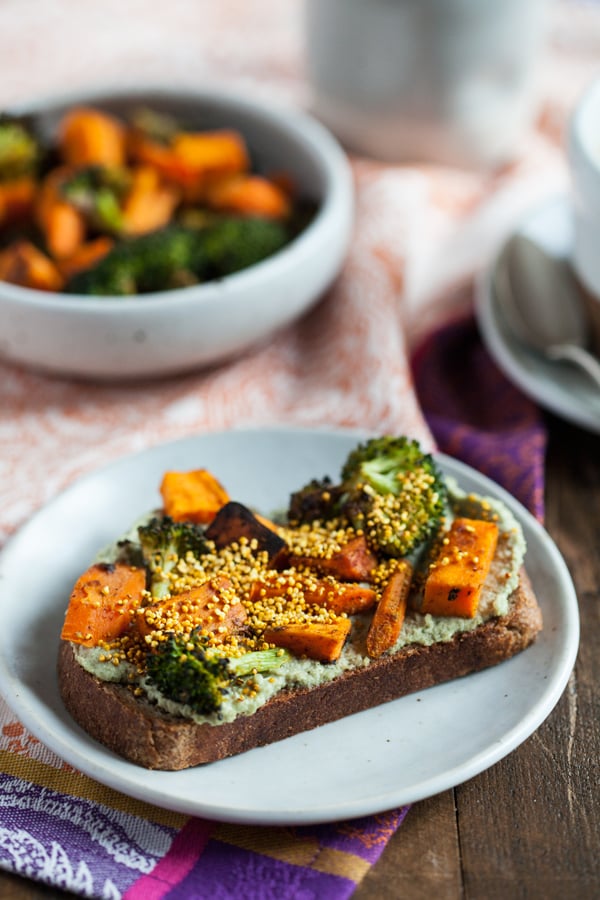 Remember when I said that I ought to share a "toast of the month" post each month? I never followed through, alas. But I do still love the idea of regular toast recipes, and it's been far too long since I shared one. This roasted veggie toast with pumpkinseed "tahini" and turmeric popped amaranth isn't my own creation–we have the folks at O Cafe here in NYC to thank for the recipe–but it has become a favorite of mine, and I'm excited to feature it on the blog today.
I spend a lot of time in coffee shops. Many of my nutrition clients ask for our meetings to take place at a coffee shop near their home or office, before or after work. And because working from home can get just a little lonely, I do plenty of studying and writing from coffee shops, too. I have my favorites, and O Cafe is at the very top of the list. I love the warm, welcoming environment, the conscientious ethos, and the friendly staff. And I especially love O Cafe's vegan options.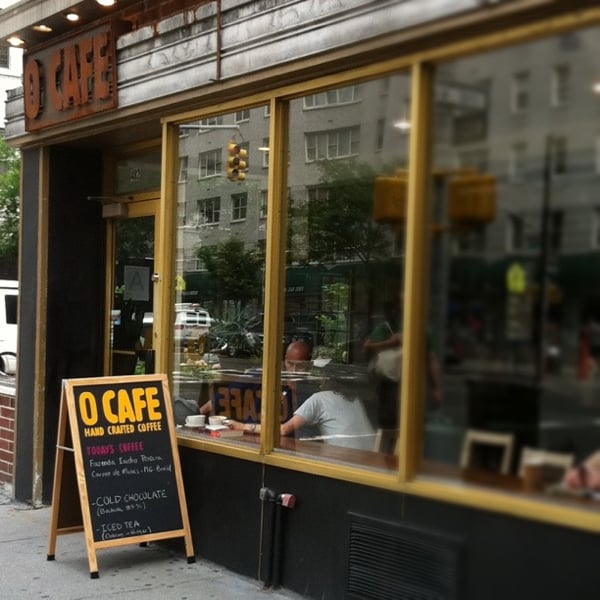 O Cafe isn't a vegan coffee shop. But it's a coffee shop that demonstrates incredible sensitivity to special diets. There are many gluten free items on the menu, including a whole list of gluten free muffins and gluten free double chocolate cookies. There are vegan snack packs of house-made dried, organic fruits and cashew butter. There's an acai smoothie with popped amaranth granola, a chia pudding with dried mulberries and coconut flakes, and the wonderful toast you see pictured above.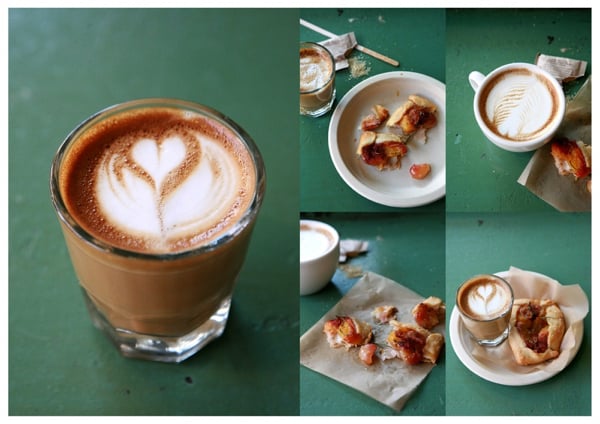 O also serves flavorful coffee and super creamy lattes, matcha lattes, and chai lattes–all of which can be made with a choice of soy or almond milk.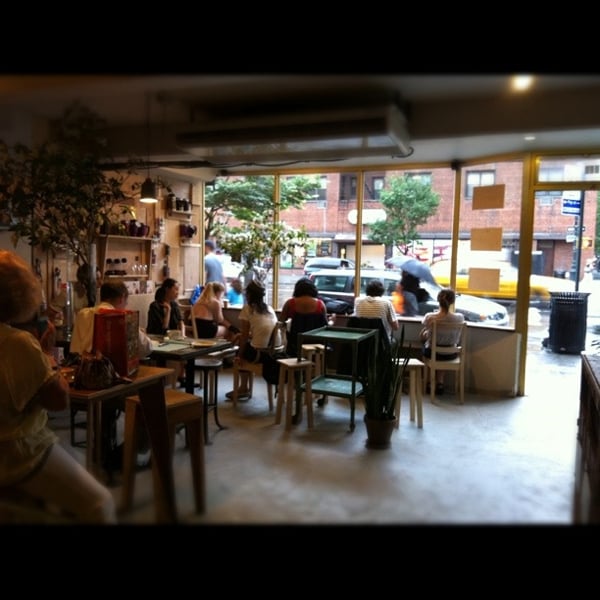 I love supporting dedicated vegan restaurants and eateries. But I also really love to lend support to establishments that are expanding their vegan menus and offering vegan options to clientele–regardless of whether or not veganism is the focus. After all, the presence of a great and appealing vegan option on a menu that's not otherwise vegan might be the very small catalyst that compels someone to try vegan food for the first time.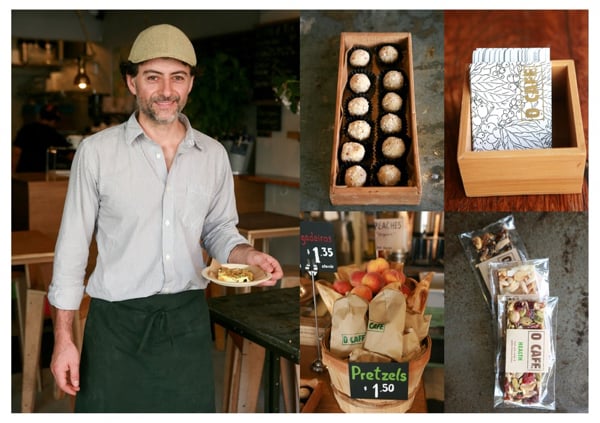 Fernando Aciar, the owner of O Cafe, isn't vegan, but when we sat down to chat, he told me that he loves plant-based food, and that he's always trying to emphasize vegan options on the cafe menu (you can see the vegan pretzels and vegan snack bars above). Fernando's mission, he says, is to make everyone feel welcome–as well as to give back. The cafe sources food that is grown with ecologically responsible practices and through sustainable agriculture, and the coffees are all fair trade. "We recognize that our coffee is the result of both people and ecosystems and foster close relationships with our growers," Fernando says.
All of the materials at the cafe can be composted on site, and the shop itself has been built conscientiously: the walls are painted with o-VOC paint and made from reclaimed wood from an old bar. Energy-Star equipment and LED/low-consumption lights are used. O Cafe produces 90% compost, 7% recycling, and 3% waste.
O Cafe also has personality. The menu emphasizes foods that pay tribute to Fernando's Latin heritage (he grew up on a potato farm in the Andes, trained with Francis Mallmann, and worked for many years in Rio de Janeiro). And all of the ceramics used for in-store service–the plates, the bowls, the mugs–are Fernando's own creation, crafted at his pottery studio in Queens, Fefo Studio (the plates, mugs, and bowls you see in my photos are all from Fefo!).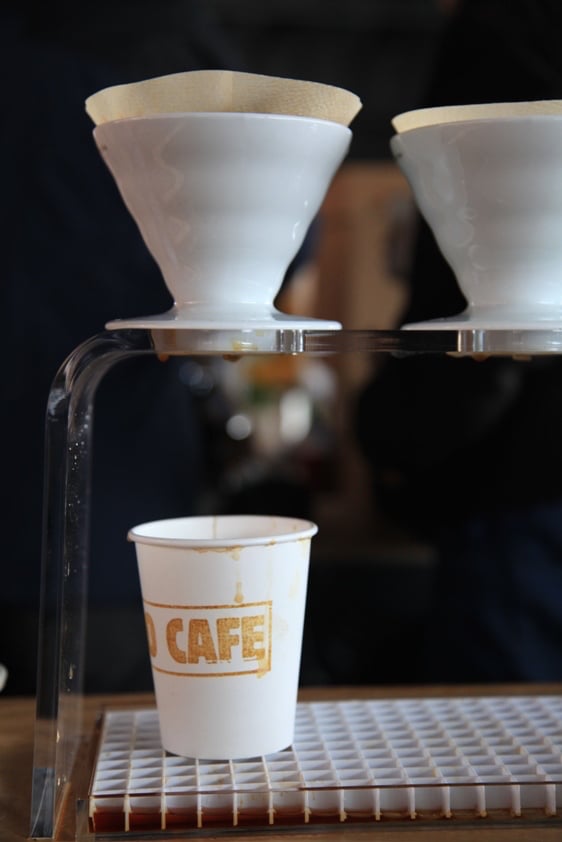 In one of the first conversations I had with Fernando, I mentioned that it would be super cool to see a vegan baked good (which O Cafe doesn't feature–yet!) on the menu. That conversation turned into the idea of a collaboration between O Cafe and The Full Helping, and the lovely gingerbread I shared on Tuesday is the culmination.
From tomorrow through this coming weekend, O Cafe will be serving my vegan, gluten free gingerbread cake to customers. The Cafe will also be highlighting two of its signature vegan dishes: the roasted veggies toast and the quinoa salad with chickpeas, kale, cabbage, and tamari dressing.
In order to celebrate the post, I asked Fernando if I could share not only the gingerbread, but also his recipe for the roasted veggie toast. He said yes, and I think you guys are going to love it. The star is the pumpkinseed "tahini," which is just flavorful and tart enough to give the toast character, but mellow enough not to overpower the veggies. I love regular tahini, but this is a creative and fun alternative. Fernando uses sprouted pumpkin seeds at O, but you can use regular seeds, too. The finished toast has it all: salty, creamy pumpkin seeds, sweet roasted veggies, super crispy topping. Here's the recipe!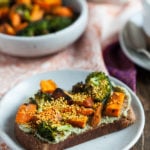 Print Recipe
O Cafe's Roasted Veggie Toast with Pumpkin Seed "Tahini" and Popped Turmeric Amaranth
Ingredients
For the sprouted pumpkin tahini:
4

ounces

1 cup pumpkin seeds

1/4

teaspoon

garlic powder

1/4

teaspoon

onion powder

1/2

teaspoon

lemon juice

1/2

teaspoon

salt

1/2

tablespoon

apple cider vinegar

1/3-1/2

cup

water

as needed
For the roasted veggies:
1

scant cup

each broccoli florets, carrots, and sweet potatoes, cut into 1 inch pieces

1/2

teaspoon

paprika

1/2

teaspoon

salt

1

teaspoon

olive oil

Dash black pepper

1

teaspoon

garlic powder

1/2

teaspoon

onion powder

1/2

teaspoon

curry powder

1/4

teaspoon

cinnamon

1/8

teaspoon

nutmeg

Dash cardamom
For the popped turmeric amaranth:
1/3

cup

amaranth

1

teaspoon

turmeric powder

1/2

teaspoon

cardamom powder

1/2

teaspoon

paprika

1/4

teaspoon

salt

1/2

teaspoon

canola oil
Instructions
To make the tahini, place the pumpkin seeds, powders, and salt in a food processor. Process until the mixture forms a meal. With the motor running, add the lemon juice, vinegar, and 1/3 cup water. Blend till smooth. If the mixture is still very thick, add a few more tablespoons water. Transfer to an airtight container and store or serve.

To make the veggies, preheat oven to 400F. Chop the vegetables into 1 inch pieces, then toss with the other ingredients. Roast for 15 minutes, or until the vegetables are crisp-tender.

To prepare the amaranth, put amaranth in a pot and allow to pop like popcorn. Once finished, add remaining ingredients and mix well, until combined.

To prepare the toast, top each slice with 2 tablespoons of the pumpkinseed tahini, 1/3 cup roasted veggies, and a heaping tablespoon of popped amaranth. Serve.
Notes
Recipe makes 1 scant cup of the pumpkinseed tahini, 2 1/2 cups roasted veggies, and 2/3 cup popped amaranth.
Serve this wonderful toast to friends for an easy, casual lunch or brunch, or whip up the ingredients and enjoy it for breakfast as the week goes by. If you're short on time, you can replace the popped amaranth with a simple sprinkle of hemp seeds, a teaspoon of nutritional yeast or Parma, or some cooked quinoa.
If you're in NYC, I'd be so excited if you tried the O Cafe's vegan menu this coming week. It's so great when non-vegan eateries take a real interest in vegan fare, and I see this collaboration as a true sign of inclusiveness on O's part. If not, I hope you'll still stop into O Cafe sometime soon to taste their good food and soak in the cozy environment:
O Cafe
482 6th Ave
New York, NY 10012
212-229-2233
[email protected]
One more word before I go: if you're excited about the idea of encouraging vegan options at non-vegan eateries, then you may want to check out The Humane League's "vegan options" dining cards.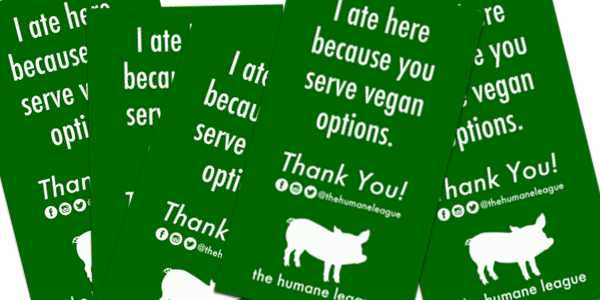 They're a great way to show your appreciation of vegan options and connect with eateries in your home town. I've ordered a bunch, and I look forward to keeping a few in my wallet and sharing them as a means of supporting plant-based offerings.
OK, friends. I wish you a great end of the week, and I look forward to weekend reading on Saturday.
xo