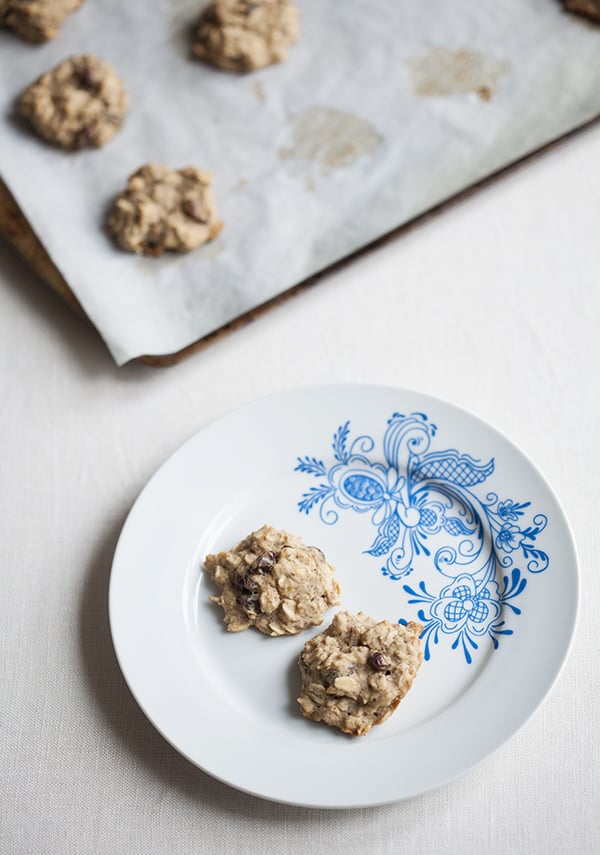 One of the oddest components of my post-bacc experience was transitioning from the rhythms of working life to student life. Being a student is often associated with increased freedom, and I understand why: one's schedule is unconventional, not tethered to a nine-to-five model, which leaves some room for things like midday yoga classes or mornings off. For me, though, student life felt far more constraining than working life ever had, mostly because work followed me everywhere I went (more than it ever had when I was an editor) and also because I was bivouacked at the library more often than not.
During my working days, I used to make a quiet midday ritual of my lunch break: even if time was of the essence, I'd assemble a meal in the office kitchenette and take a few minutes to close my door and savor it. It wasn't always possible–lunches with authors, and so on–but it always felt like a true respite when I could make it work. As a student, lunch was usually a sandwich or leftovers that I toted with me to the library, and I made up for the monotony by trying to pack lots of fun snacks. I became good at portable lunches, which I'm grateful for, but I definitely missed my little midday routine–both the tasty food and the privacy.
Nowadays, I work in a shared wellness practice two days weekly here in New York, and I take clients over Skype/phone and work on freelance projects from home the other three (or, if I'm being honest, the other five). As anyone who works from home can tell you, it can be a little lonely. One of the advantages, though, is privacy. Another is the chance to break for a homemade lunch. (If you've been following my lunchbowl posts on Instagram, you know what I mean.) And a final advantage to working from home is that one can make a ritual out of afternoon snack time.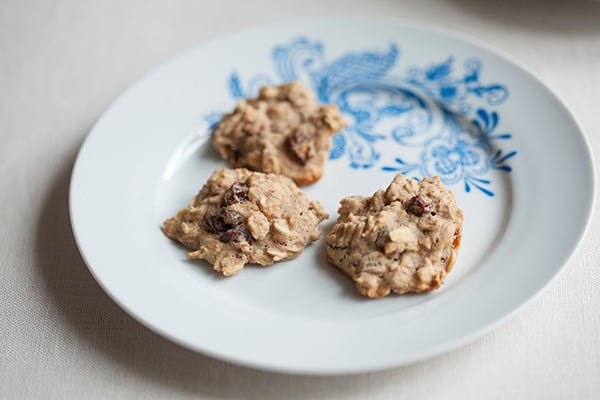 Whereas I used to wander to the coffee machine around 3 or 4pm in my office days, I now like to throw together a snack and take a few minutes to enjoy it (I'll make an effort to read something for pleasure as I munch away, or even sit outside for a little while). This week, the snack of choice is a couple of these wonderful oatmeal raisin cardamom cookies.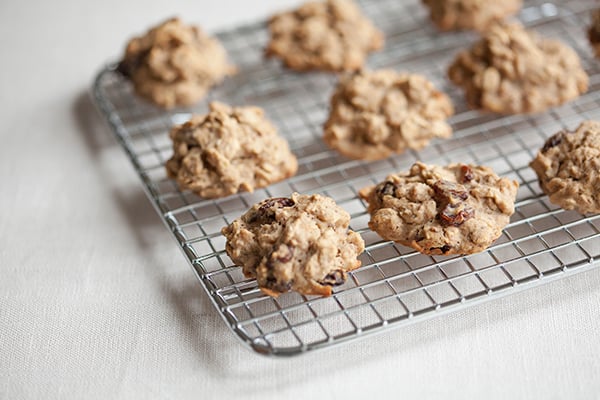 In spite of the fact that I love chai tea, I actually didn't use cardamom for a long time. It began with a bad chia pudding experience (I used way too much), and I became skittish about the spice for literally years. This winter, I've been gradually rediscovering cardamom, adding it to my oatmeal and other breakfast porridges. It was time to add it to a cookie, and what better cookie than my favorite, oatmeal raisin?
Oatmeal raisin may not be the sexiest of cookies (OK, maybe least sexy?), but I love the chewiness and texture of this particular cookie, and I love the ingredients (oats and dried fruits are definitely among my favorite foods, so it's not hard to love them in a cookie form). As someone who's not naturally very inclined toward baking, I don't tend to make myself these kinds of treats often enough. But today, when I sit down to afternoon tea and a couple of cookies, I know that I'll feel so glad that I brought out my oven mitts yesterday.
Here's the recipe.
Oatmeal Raisin Cardamom Cookies (gluten free)
Ingredients
1

tablespoon

flax seed

ground

3

tablespoons

warm water

1 1/2

cups

brown rice flour

2

cups

rolled oats

1

teaspoon

baking soda

1/2

teaspoon

salt

1

teaspoon

cinnamon

1/2

teaspoon

ginger

1/2

teaspoon

cardamom

1/4

cup

melted coconut oil

3/4

cup

mashed banana

2 small bananas, mashed with a fork or 3/4 cup applesauce

1

scant cup almond milk

1/2

cup

organic brown sugar or coconut sugar

1

teaspoon

vanilla extract

3/4

cup

raisins

tossed in 2 tablespoons oat flour to prevent clumping
Instructions
Preheat the oven to 350F. Line three smaller or two large cookie sheets with parchment paper and set them aside. Mix together the flax seed and warm water and set them aside to gel.

Whisk together the brown rice flour, oats, baking soda, salt, cinnamon, ginger, and cardamom in a large mixing bowl.

In a separate mixing bowl, whisk together the coconut oil, banana, almond milk, sugar, vanilla, and the flax egg that you prepared in step 1.

Fold the wet ingredients into the dry ingredients. Add the raisins. Stir until everything is evenly incorporated.

Drop the cookie dough by heaping tablespoons (about 1 1/2-2 inches apart) onto the parchment lined baking sheets. Bake for 15 minutes, or until the cookies are just turning golden. Allow them to cool on a wire rack before serving. Cookies will keep in an airtight container for about four days.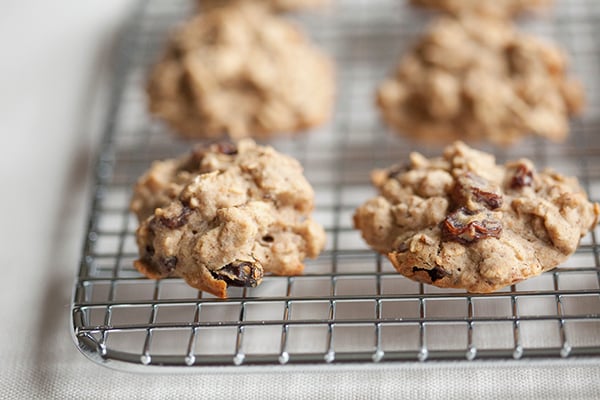 I love the way that cardamom and banana seem to complement each other perfectly in this recipe–they really are a great flavor pairing. If you have a banana allergy, though, or you just don't like bananas, 3/4 cup applesauce is a good substitute for the mashed banana.
I served my cookies yesterday with rooibos tea. It was only a quick break (baking had been my real break!), but it was definitely good for the soul. I've been more stress-prone than I'd like to admit lately, and recipes like this are a reminder that a lovingly prepared, homemade treat can be a wonderful form of self-care.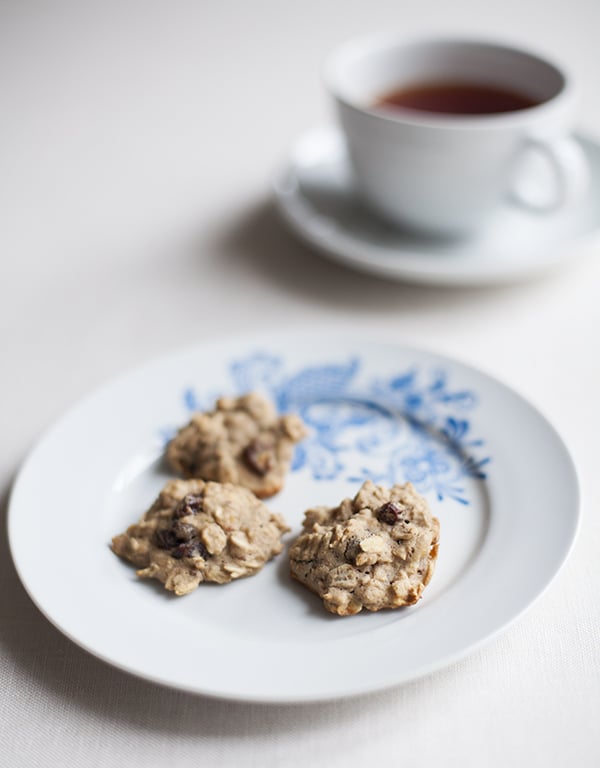 Enjoy the cookies, everyone. I have a really special green recovery story to share tomorrow, and I hope you'll all check back to read it.
xo