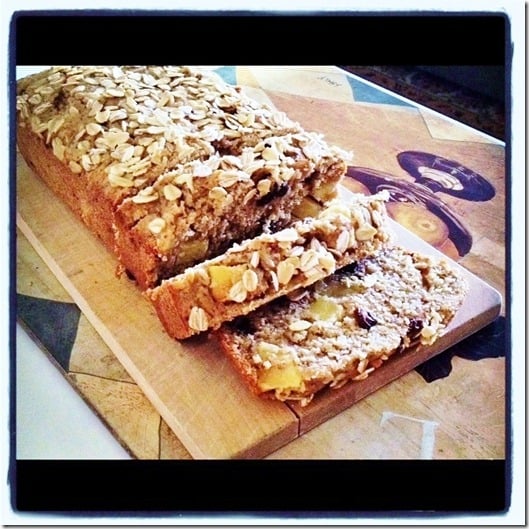 A typical snapshot of conversation between me and my Mom, taken from my departure early yesterday morning:
Mom: I'm going to miss you so much.

Me: Aw, Mom, You won't miss me that much. I'm pretty messy and annoying.

Mom: You are messy and annoying. But I'm going to miss you anyway.
Equal parts honesty, love, and humor. It's what my relationship with my mother is all about.
So here I am, back in D.C. and running on about four and a half hours of sleep, thanks to biochem lab. Needless to say, the last 24 hours haven't afforded me the time to create any really memorable food, but they have given me a chance to write down the recipe for the delicious, high-fiber, old-fashioned apple oat bread that I baked up for Mom right before I left!
My mother was recently advised by her doctor to increase her dietary fiber intake (go doctor!). Naturally, she consulted with me about what that would mean, and how to go about doing it. I was glad to oblige: fiber is crucial to overall GI health, and health in general.
What is fiber, and why do we care about it? Dietary fiber comprises the indigestible parts of plants—chitin, cellulose, dextrin, inulin, waxes, and oligosaccharides, to name a few—and it falls into two major categories, soluble and insoluble. Soluble fiber (or prebiotic fiber) is fermented in the gut, and it creates a gelatinous substance which helps to slow digestion (if you've ever wondered why oats are said to slow digestion and thus aid in keeping you full, this is why). Insoluble fiber passes through the gut intact (that is, it can't be fermented or dissolved), and it therefore aids in keeping elimination moving.
Both forms of fiber are essential for proper digestive function, along with the management of cholesterol. If you have a sensitive GI system, you should read up on how adjusting your balance of soluble vs. insoluble fiber may help to ease your tummy woes: this post should help. No matter what, it's important to get at 25 grams daily for women, and 30 for men. For vegans, this is likely a low estimate: my daily intake is always higher.
Can one possibly get too much fiber? Sure, and if you do, you may experience chelation, wherein the heavy amount of fiber you're eating actually prevents some mincronutrient absorption. This is not commonplace, nor should fear of it prevent you from eating a high fiber diet, but it is a warning against extreme excess of fiber (for example, if you already eat a high fiber diet, and you're also taking natural or synthetic fiber supplements at the same time).
My Mom, like many standard Americans, probably eats closer to 15-20 grams of fiber daily than 20-25. So I've been on a mission to help her change those ratios. Some high fiber foods include:
Soluble Fiber:

Rice, pasta (white, not whole grain), soy, quinoa, corn meal, carrots, turnips, rutabagas, parsnips, beets, avocados, flax seeds, bananas.

Insoluble fiber:

Raw veggies, whole wheat foods, bran, granola, crucifers, and most fruits.
All dried fruits are incredibly high in fiber, usually insoluble.
When I set about making Mom a high fiber vegan baked good (vegan baked treats are her favorite), I took into account the fact that we had the following on hand:
a bag of organic apples
oat bran
flax meal
All staples when I'm around, as oat bran is often my preferred alternative to regular oats (not for health reasons, but rather, because I like the creamy texture and incredibly quick cooking time). I decided to put all of these things into a breakfast bread that would fall someplace in between a traditional quickbread (like banana bread) that is very moist, and a soda bread, which is drier and more crumbly. This hit the spot: it's not quite rich and moist the way a classic quickbread might be, but it has a perfect balance between moisture and a light, airy "crumb." More importantly, it's packed with high fiber ingredients, and it is totally tasty and fragrant. The chunks of fresh apple and the oat topping give it a rustic, old-fashioned vibe!
Old-Fashioned Apple Oat Bread (vegan, can be made gluten free, soy free)
12 small or 8 bigger slices
1 1/4 cup oat bran
1 cup whole wheat or spelt flour (or a gluten free blend)
1 tsp baking soda
1 tsp pumpkin pie spice
1/2 tsp cinnamon
1/4 tsp salt
1/3 cup agave
1/4 cup coconut oil
1/4 cup almond milk
1/2 cup applesauce
2 tbsp flax meal mixed with 1/3 cup water and allowed to "gel"
1 chopped small apple
1/2 cup raisins
1/4 cup rolled oats
1) Pre-heat oven to 350 degrees and grease a loaf pan.
2) Mix the flax meal and 1/3 cup water together and set aside.
3) Mix the oat bran, flour, baking soda, pumpkin pie spice, cinnamon, and salt together in a large mixing bowl.
4) Whisk together almond milk, applesauce, flax misture, and oil. Add to the dry ingredients, mix roughly, and then add apple and raisins. Stir to combine.
5) Pour dough into loaf pan, sprinkle with oats, and bake for about 45 minutes, or until golden brown and a toothpick inserted into the bread comes out clean.
See that? A near perfect "crumb"—just midway between light and dense. And the apples and raisins provide perfect bursts of sweetness.
To make this bread gluten free, you can use gluten free oat bran and whichever gluten free flour mix works for you.
1/12 of this loaf provides 4 grams of fiber, while 1/8 provides 6 grams. This is a good amount for a quick bread! Along with some fresh fruit (say, apple or pear) and two or other fiber-rich meals/snacks, the bread will have you well on your way to meeting the daily requirement. Additionally, I like this recipe because it provides both soluble fiber (oats and oat bran, flax) and insoluble (spelt, apple, raisins). It also provides complex carbohydrates to fuel your morning, and some healthy fatty acids from the coconut and flax. In all, a nutrient-dense recipe.
Questions about fiber and fiber intake? Ask away! And if you try this bread out, let me know how it goes. I'm off to battle my sleepiness and make my way through yet another biochemistry lab. Wish me luck.
xo