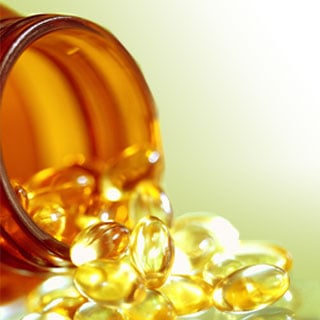 Hey guys!
Glad you all like the look of the peanut noodles. This week's Question of the Week comes from reader Callie, who asks,
Hello Gena,

I have a quick question for you. I am a young dietitian and I am very curious about exploring all different eating styles and patterns and raw food is very interesting to me. I am currently doing some "summer research" on omega three fatty acids and I was just wondering what your take on the subject is. I know you can get all your essential fatty acids from plant sources of omega-3's but I was wondering about EPA and DHA (found in fatty fish) specifically. I am currently reading a book called the Ultimate Omega 3 diet. The book and much research I have read states that although our bodies can convert ALA to EPA and DHA, it is a very slow conversion . . . I was wondering what research you know of that supports or does not support the need for supplement and if you do not mind disclosing whether you take a supplement . . . Not sure if you eat seafood and you may get all the EPA/DHA you need, but just wondering for those that do not eat seafood.

Thanks so much, Callie
This is a great question, and I'm grateful to Callie for asking.
Omega-3 fatty acids are indeed an important part of the human diet; there's good research to show that they play a role in combating conditions from allergies and arthritis to diabetes, eczema, stroke, and weight gain. It's also true that while most Americans get a good number of Omega-6 fatty acids in their diets, most of us don't get enough Omega-3s; an ideal dietary ratio of Omega-3 to Omega-6s would be 1:4. It's not uncommon, though, for Americans to have a ratio of 1:20 instead.
The most commonly known plant-based Omega-3 is alpha-linolenic acid (or ALA). When it's broken down in the human body (with the aid of certain vitamins), ALA can be converted into two other acids: EPA (eicosapentanoic acid) and DHA (docosahexanoic acid). Callie's concern – and that of others who are considering veganism – is that it isn't always easy for the body to convert ALA to EPA and DHA. To get DHA directly—without the body's conversion—one would have to rely on a fish source (salmon oil and other fish oils are most common) or an algae source, usually found in supplemental form. All the more reason why it was smart of you, Callie, to ask!
I don't take a supplement on a daily basis, but I would if I were pregnant (DHAs are important for fetal brain development) or if I had signs that I needed more than I get. I do occasionally have algaes in my smoothies and (more significantly) enjoy a number of oil blends that are EFA and DHA rich.
Lately, I've been enjoying the Vega EFA oil blend, with I asked to sample a few weeks ago (and the kind folks at Vega obliged). It's delicious: like all hemp and flax oil blends, it has rich, nutty undertones. It works beautifully on massaged kale salad or drizzled into blended soups.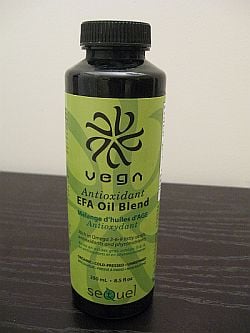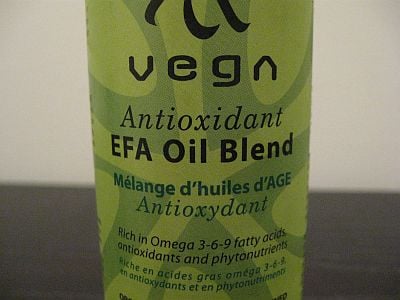 For DHA needs, Udo's Oils makes a DHA oil blend that is also very high quality.
Have a great night, all!
xo