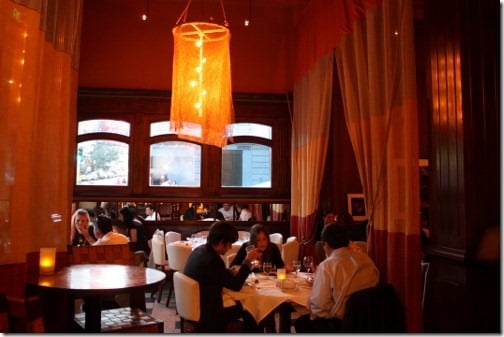 Last post from the West Coast!
In yesterday's biking journey recap, I said that my dinner at Millennium was one of the best meals of my life. These were not empty words. My visit to San Fran's incredible vegan dining mecca—famous with vegans and non vegans alike—was 100% show stopping.
I've had a lot of great vegan restaurant food in my day. Countless meals at Pure Food and Wine, lovely dinners at Candle 79 (a restaurant that keeps growing on me), lunches at the wonderful Souen, and even a new neighborhood haunt, Peacefood Cafe. I've also gotten to try wonderful vegan restaurants in Chicago, Miami, and Boston. In short, I'm a lucky vegan lady, and I never forget it! With all of that said and done, I think the following dinner would rank among the top five meals of my life—or at least, the top five meals I remember from the recent past.
It's funny I'm making that claim, because usually I'm not such a lover of restaurant dining. I tend to find everything too garlicky, too oniony, too salty, and too small. Yes, small!! My number one gripe with restaurants: tiny portions. I know that we in the US are always bemoaning the unnecessarily large portion sizes in restaurants, but really, I think this applies more to fast food than anything else. I find fine dining portions to be miniscule, frankly, and often unsatisfying. I have a giant appetite, so perhaps I'm a lousy judge, but this is a big problem for me when I dine out.
Millennium allowed me none of these reasons to gripe. The food was very flavorful, yes—maybe a little saltier and more heavily spiced than the uber-simple food I cook, and certainly the cooked:raw ratio was higher than the way I cook day in and day out. But this was 100% my kind of food: tasty and vibrant, yet clean; hearty and comforting, yet healthy; a perfect balance of vegetables and sources of density; free of fuss. Best of all? Normal sized portions!! Two thumbs way, way, way up.
The evening began with a round of cocktails. I rarely spend money on drinks in restaurants, but I was in the mood for something festive tonight. I went for a grape juice, mint, and soda water concoction that was totally awesome: refreshing and not too sweet.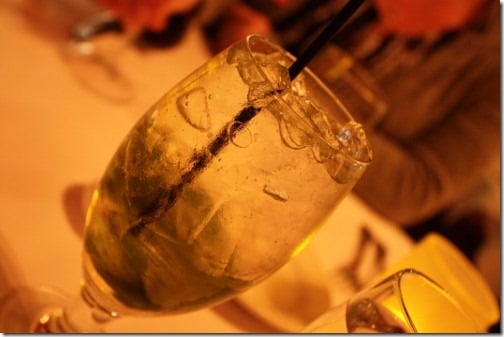 Knud got a dark n' stormy, which reminded me of family vacations of yore in Bermuda: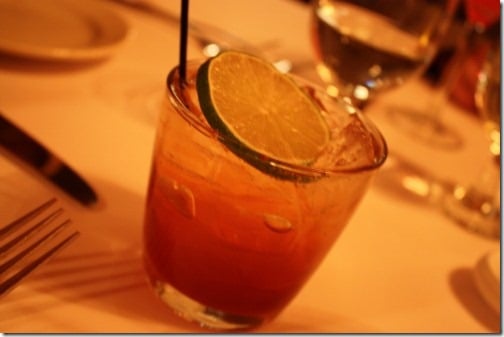 And Chloe got some sort of martini that involved tomatos and watermelon. She loved it: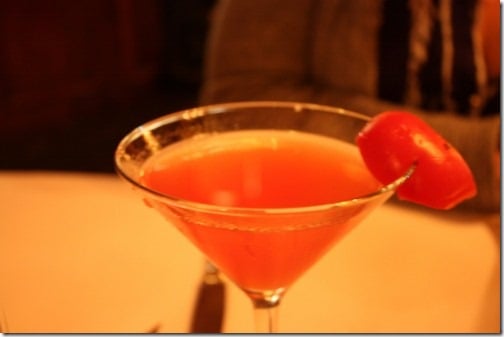 Cheers!
Next up, we examined the menu: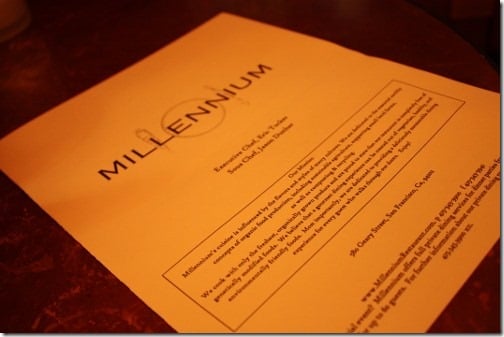 I knew from the get go that I was ordering three appetizers. For one thing, it would let me taste more dishes, and for another, it would maximize my salad options. Also, I found most of the appetizers a little more exciting than the main courses (though the stuffed pepper was mighty tempting). I decided to start with a raw treat: an heirloom tomato salad with cashew cheese, olive tapenade, and a cucumber salad.
Perfect. Perfect summer tomatoes, perfect cashew cheese, perfect balance of salty and sweet. Loved.
Chloe got Millennium's most popular appetizer: fried oyster mushroom "calamari." We were all a little surprised that these were actually fried—we sort of assumed they'd be baked—but we couldn't deny that they were stunningly good. And the peachy, chutney/salsa-type-sauce was miraculous—way better than plain old marinara sauce!
Knud had two dishes. One was roast beets, which I helped him out with:
And the other was roasted yukon potatoes with green olives, almonds, and a crazy delicious tofu "mayo" that our server told us was flavored with pimenton. Chloe and I were dying for it—I think we both could have sat and eaten it by the spoonful:
In the midst of our foodie bliss, our kind server brought us some fried green tomatoes, on the house. Chloe and Knud, New Orleanians that they are, know a good fried green tomato when they taste it. Knud was a little on the fence, but Chloe really liked it, and I agreed (especially since it wasn't too greasy):
Next up, dinner. Chloe and Knud both ordered the Indian spiced potato cake with a vegan saag paneer, a chutney/relish, a cauliflower fritter, and some smoky beans underneath:
Mighty delish. I pretty much ate half of Knud's cake when I finished with my meal (oh hey, thanks Knud), and loved every bite. I've had vegan paneer before and always found it either dry or entirely without texture: this was sweet, subtle, and perfectly balanced.
For my part, I got two dishes. The first was a black been tortilla: a stack of black bean whip, plaintains, and whole wheat tortilla, served with a smoky pepper and tomato sauce and a small strawberry salad. I thought it was very good, and if I'd gotten it anywhere else I'd have probably been over the moon for it, but in the context of the rest of the meal, I'd say it was the least impressive dish of the night. In fairness, our very cool host mentioned that it wasn't his fave, but it just sounded so good, and when our server told us it was the one app they never take off the menu due to its popularity, I was convinced.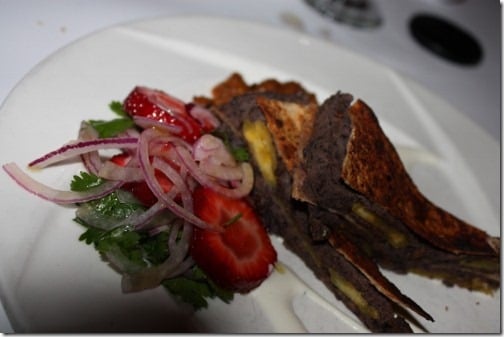 Don't let my hair-splitting dissuade you if you visit the restaurant soon; it really was good. Just not the star of the evening.
My salad, meanwhile, might have been my personal favorite! It was fresh spinach, grilled potatoes (a lot like Knud's potatoes, which is to say, perfect), apples, smoked tofu, caramelized onions, a smoky vinaigrette of some kind, and an extra tofu dressing that I asked for on the side, because it didn't feel necessary. Here it was: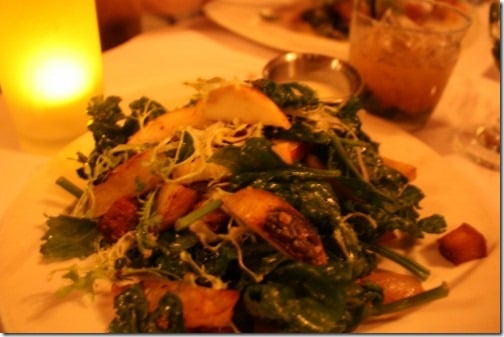 And into my grateful belly it went. I eat a whole heck of a lot of salad, and this dish had me stopping every so often to say, "I am so happy right now." It was Gena-heaven, and I hope I can do justice to this dish somehow when I get home, in my own kitchen.
After the meal, Chloe confessed, "in the cab on the way here, I wasn't totally in the mood. But if all vegan restaurants were like this, I could eat vegetarian all the time." She and Knud went on to note that what often seems true in vegan dining is that menus are either too exotic—as some raw food menus can be—or too laden with fake meat (which neither health-minded vegans nor omnivores who enjoy the real thing like). This was good, simple, whole food, served in a way that was slightly adventurous, but not entirely foreign. In short, a perfect place to bring omnivore friends. In fact, Chloe said that the dinner may have rivaled or even surpassed their super fancy, super pricy meal at Ame the night before!
I was really happy to hear that she liked the food so much, especially since I it was highly cool of her and Knud to eat vegan with me on our last night in San Francisco.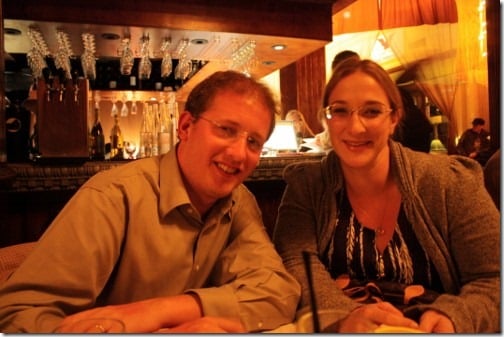 What I found, meanwhile, was that Millennium towed a perfect line between being health-minded and indulgent. I find some vegan dining—certain macrobiotic restaurants, for example—almost too austere for my taste (and that's saying a lot, given how minimalist I like my food to be!), but I also find a lot of raw, vegan restaurants to be way too heavy with the nuts and the sweets. Millennium was just right: it definitely felt like a "special occasion" meal, but it also didn't feel like food coma. As you can see, I was a very, very, very happy lady:
Thank you to the staff at Millennium for making this such a special night. I love your food, I'll buy your cookbook, and I hope it's not too long before I return.
And today, still probably aglow from fine dining, I woke up to another beautiful day in San Fran. This was a bittersweet morning: I'd said goodbye to Chloe and Knud the night before, and I was feeling sad that my little trip was over. I went for a good, therapeutic run, and then I made my way to Jamba Juice for some oatmeal.
When I travel, Jamba Juice oatmeal is always a standard option for me. If you order it without the "cinnamon crumble," it's totally vegan, and it's also organic and steel cut. I'm a big fan, and it makes for a stick-to-your-ribs breakfast before a long day of travel:
With banana and nut butter, natch, and some Vega shake n' go mixed in, too.
Before leaving the Westin, I caught one more panoramic shot of San Fran from the hotel's groovy glass elevators:
What loveliness.
Elise and I spent the morning texting back and forth—as it turns out, she was at San Fran International on a layover, and we were desperate to hang out and talk about her honeymoon (Elise is far and away one of the most awesome women I've met through blogging). As it turned out, we were too far away in the airport to meet up. Bummer! Elise, I hope you got home safe.
I wanted my usual pre-flight smoothie, but I searched the airport terminal high and low for a smoothie option, and I couldn't find one. Plan B: apple and Boomi Bar (the latter in my bastion of travel snacks).
Red Delicious apples are my least favorite apples in the world. Mealy, bitter. Ick. But the only other fruit options were underripe bananas and peaches, which I'm not fond of. So, Red Delicious it was. (It actually wasn't as gross as I remember them being.) As for the Boomi Bar, first time tasting one, and I liked it.
And now, I'm home, happily ensconced in my little apartment. As usual, I loved my travels. As usual, my heart remains firmly planted in NYC. I'm very happy to be back. Hope you enjoyed my travel updates, friends. I look forward to being back in my kitchen this week!
xo