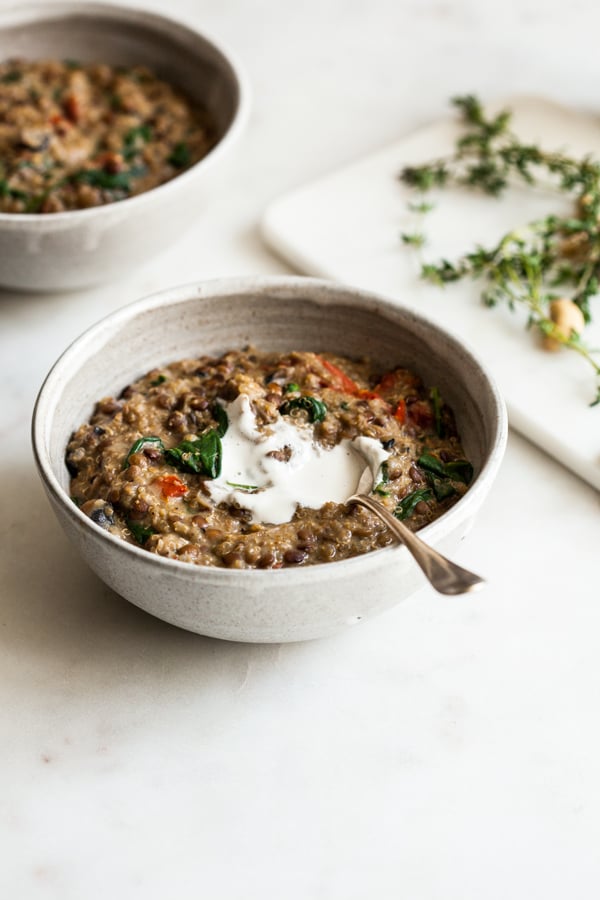 Let me begin by saying that this one pot Italian quinoa and lentils dish is very, very tasty. It's also nutritious, easy to prepare, easy to adapt, and super creamy and comforting.
Now that I have that off my chest, I can go on to admit that, as I was drafting this post, I thought to myself that I might as well have called it "how to make something super brown and mushy look and sound good." I even asked Steven whether or not he thought the dish was too ugly to put on the blog. He voted no, and I tentatively agreed, but my apologies in advance that the appearance of this meal does not do its flavor justice.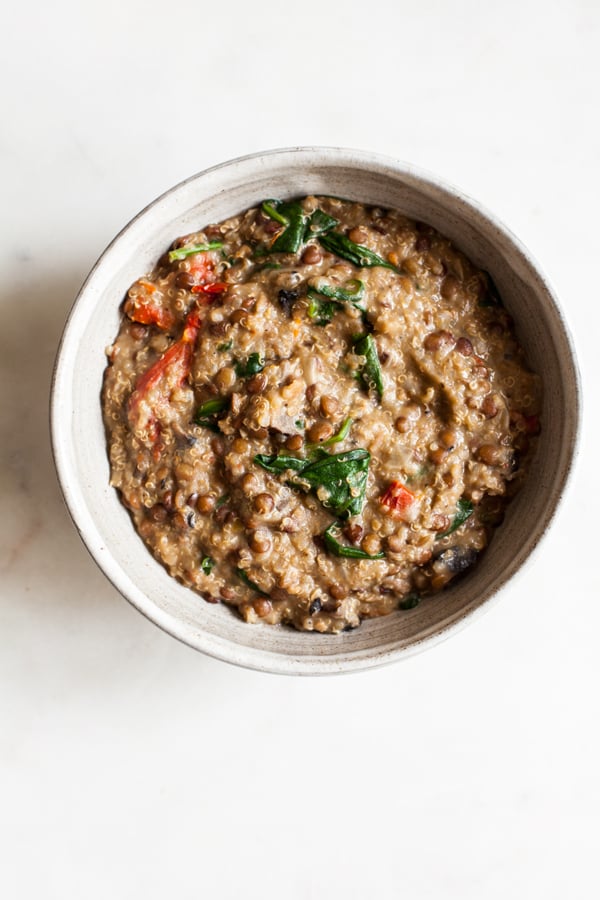 The idea of this recipe was sparked by yesterday's post on iron. As I was writing it, and thinking about different iron-rich food pairings, the idea of a one-pot lentil and quinoa dish sprung to mind. The nice thing about this legume and grain pairing is that you can cook everything at the same time. Lentils take a bit more time than quinoa, but if you add the right amount of liquid, everything cooks up nicely together and finishes in less than 30 minutes. The dish is perfect for weeknights, or for when you're feeling a little lazy in the kitchen.
You begin by cooking up some onion, garlic, and–if you have them–mushrooms, though you don't have to add mushrooms. You add quinoa, lentils, and broth, then simmer the mixture till the lentils are tender. Finally, you stir in spinach (or another leafy green) and plenty of sun-dried tomatoes.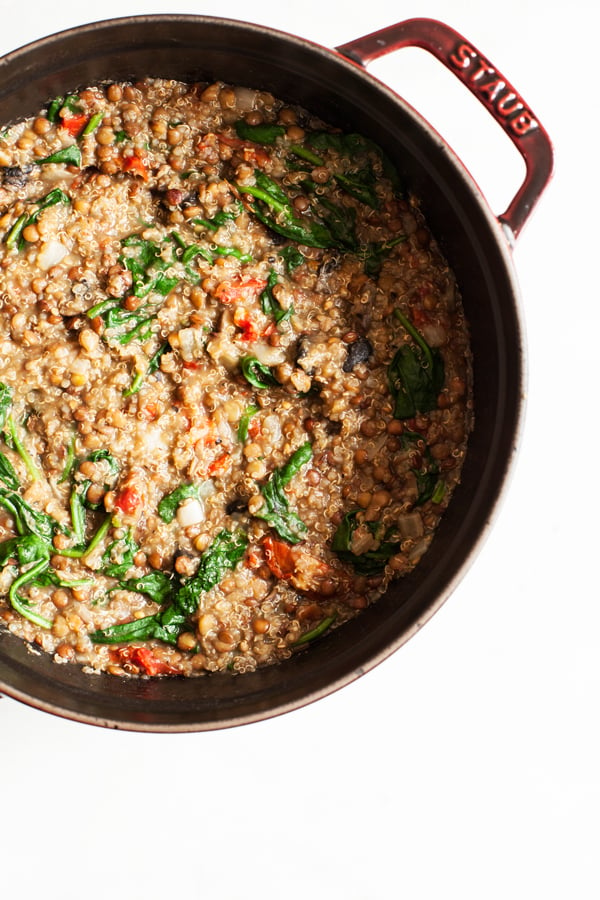 If you, like me, are a big sucker for creamy tastes and textures in your cooking, then you can add some cashew cream to the dish as you finish up. I love the hint of richness that this adds to the meal, but the step is optional if you haven't thought to soak or blend up cashews.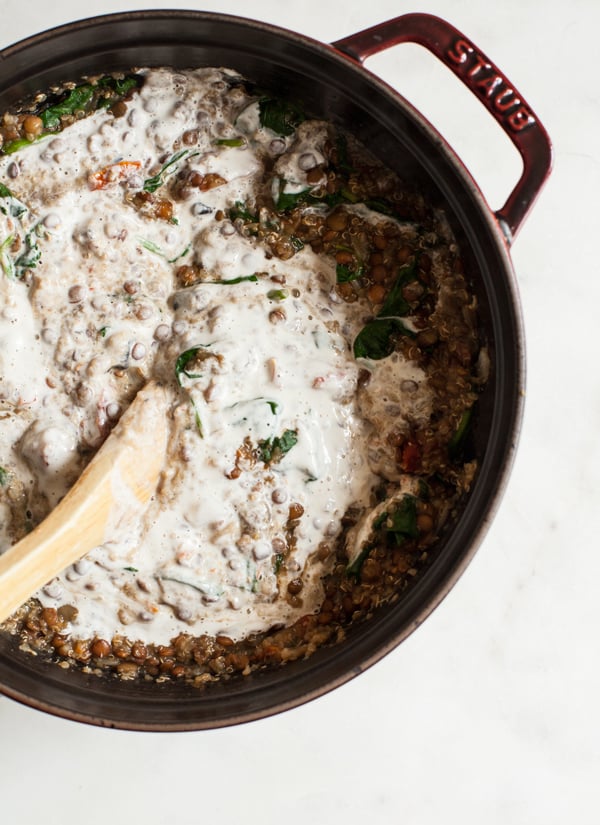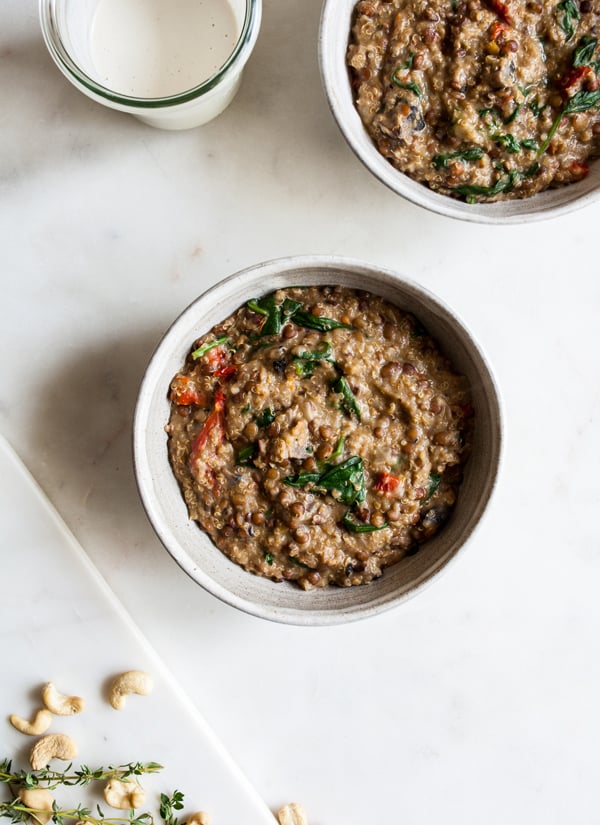 Of course, the point of this dish is to emphasize some iron rich foods (lentils, quinoa, spinach) along with some vitamin C (tomatoes). And indeed, the finished meal has about 32% of your RDA of iron, which means that it's one powerful daily contribution to sourcing this nutrient.
But don't let that be the reason you make it. Let the reason be that it's nourishing, flavorful, and fast.
One Pot Italian Quinoa and Lentils
Author -
1

tablespoon

olive oil

1

small white or yellow onion

chopped

4-6

cloves

garlic

minced (to taste)

6

ounces

portobello or sliced button mushrooms

chopped (optional; about 3 cups)

1

cup

uncooked brown or green lentils

3/4

cup

uncooked quinoa

1/2

teaspoon

salt

1

teaspoon

dried thyme

or 1 tablespoon fresh thyme leaves

4

cups

low sodium vegetable broth

1/2

cup

chopped sun-dried tomatoes

about 50 grams; oil or dry-packed

5

ounces

baby spinach

about 4 heaping cups

Splash sherry vinegar or lemon juice

Freshly ground black pepper

1/2

cup

cashew cream

optional
Heat the olive oil in a large pot or Dutch oven over medium heat. Add the onion and cook for 5 minutes, or until the onion is clear and soft, stirring frequently. Add the garlic and mushrooms, if using. Cook until the mushrooms have released their juices and reduced in size (4-5 minutes).

Add the lentils, quinoa, salt, thyme, and broth. Bring the mixture to a boil, then reduce heat to low. Cover and simmer for 30 minutes, or until the lentils are tender. If all of the liquid has been absorbed when you uncover the pot, add a splash of extra broth or water.

Add the tomatoes and baby spinach to the pot. Stir everything until the spinach has wilted completely into the quinoa and lentil mixture. Add a splash of vinegar or lemon juice, along with black pepper to taste and extra salt as needed. Finally, stir in the cashew cream, if using.
Leftovers will keep in an airtight container for up to 3 days.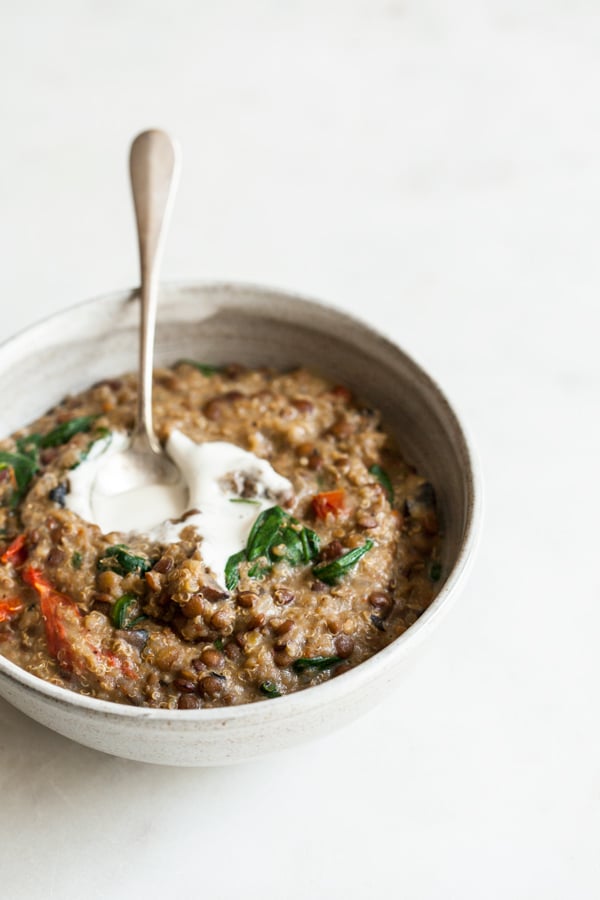 It's nice when food looks as good as it tastes, especially if you're planning to put pictures of it on the internet. But this blog has always been (and will always be) a place where I share food that I've made and genuinely enjoyed eating. And, while prettiness is nice, it's certainly no guarantee of flavor. Many of my favorite meals are plain looking, and no less beloved for that.
So, I hope you'll give this humble dish a try. And if you like it, you can experiment with all sorts of different herbs and spices and vegetable additions. I'm excited to try another version with rosemary and sage, and perhaps to vary the greens (I'd love to try it with a calcium-rich green, like collards, soon). So many possibilities here, all building off the nutrient-dense lentil and quinoa pairing.
On that note, it's a busy Friday before the weekend kicks off. Hope it's a good one for you, and I'll be back with weekend reading.
xo