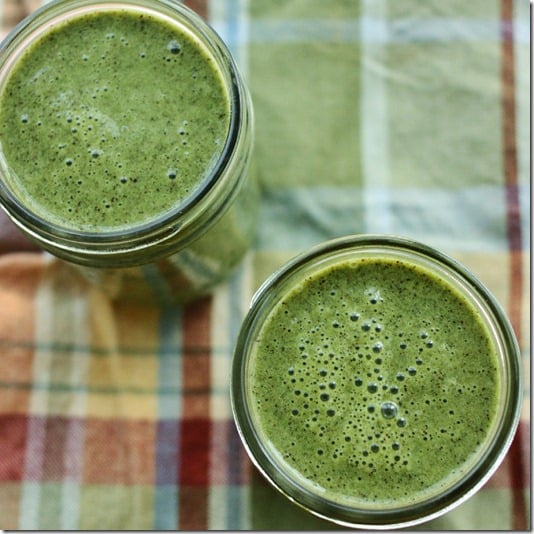 Recently, I shared instructions for making green juice without a juicer. In that post, I mentioned that green drinks have become more of a staple than ever for me. I'm spending long, long days on campus, and I find that I can't conveniently pack up and lug around as many leafy greens as I'd probably eat during an average day at home. Blending some greens into a morning beverage or packing a small mason jar of juice is a wonderful way to get more of my green on, without bulky food containers. Sometimes, I'll make a little extra and share with the other post-baccs: these two mason jars full of green lemonade got packed up yesterday morning for my study buddies.
The following smoothie—a green smoothie so rich and sweet that I think it deserves the title of a "shake"—is my latest favorite in the parade of green beverages that has been passing through my life. It's inspired by a recent glut of very reasonably priced and organic navel oranges at my local Whole Foods.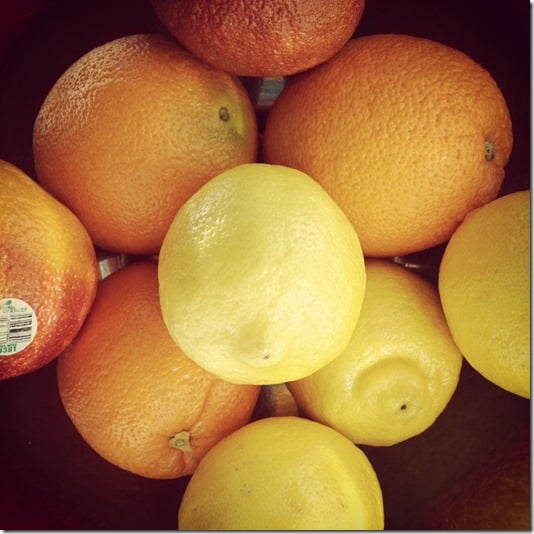 Good morning, sunshine!
My recent coconut milk rice pudding with citrus and ginger is one way to feature citrus fruits in the winter. This smoothie is another—very delightful—way.
Orange and Vanilla Hemp Shake
Author -
1

large navel orange

skin cut off and most of the white rind removed

1

large banana

2

cups

hemp milk

Seeds from 1/2 vanilla bean

scraped out, or 1 tsp vanilla extract

2

tbsp

hemp protein powder

4

large kale leaves

tough stems removed
Some notable health benefits of this smoothie/shake include Vitamin C from the orange, Omega-3 fatty acids and protein from the hemp milk and hemp protein, natural energy from the sweetness of banana and orange, Vitamin A, iron, and calcium from the kale, and a bundle of phytonutrients. Plus the deliciousness that is fresh vanilla—thank you, Karen, for inspiring me to invest in some vanilla beans!
I hope this shake will brighten your days as much as it brightened mine.
Before I go, I wanted to mention a special upcoming event that is hosted by the wonderful Chad Sarno. For those of you who have the option of travel this year, this is a wonderful opportunity to delve into the world of raw, vegan "uncooking!" Chad is hosting a fabulous weekend of gourmet raw, vegan food and wine in Georgia early in May. The weekend will include twelve hours of live demos, culinary training, tips on raw recipe development and meal planning, troubleshooting for specialty diets, and advice on wine pairings, too.
Chad, who recently developed the recipes for the wonderful Crazy Sexy Kitchen, is a culinary genius (I've made tons of his recipes, and they are consistently wonderful), and he's absolutely passionate about sharing the joys of good food with others. It sounds like a cool opportunity to learn about raw cuisine without investing in a lengthy culinary training—and to travel to a beautiful setting! If you're a raw entrepeneur, a raw food enthusiast who wants to invest in some hands on instruction, or a food lover looking to treat yourself to a vacation, it's worth checking out.
And with dreams of orange shakes and sumptuous raw food running through my mind, I'm out. Have a great night, all.
xo