Hope everyone had a good weekend. I'm wrapping up my time here in New Orleans, which has been lovely. Fingers crossed, I'll be getting out right before Isaac arrives.
The last time I was here, I featured a bunch of new, vegan (or vegan friendly) dining spots here in Crescent City (recaps here, here, and here). On this trip, we laid low and did a lot of cooking at home. Case in point: Friday night's beautiful heirloom tomato and pumpkinseed basil napoleon:
On Thursday, though, Chloe and I made a trip to Maurepas Foods in Bywater, which is one of the more hip (and one of my favorite) neighborhoods in NOLA. The tagline of this cheerful, bustling establishment is "purveyors of robust cuisine." I happen to love robust cuisine myself, so I was excited for this menu!
Maurepas is not a vegan restaurant by any stretch, but the menu has a big, impressive, and innovative selection of small plate vegetable dishes, all of which are either vegan or easy to veganize. I was struck by the interesting pairings of flavor and texture! In the end, I went with a green and apple salad (hold the cheese, please) with fennel that was very delicately roasted: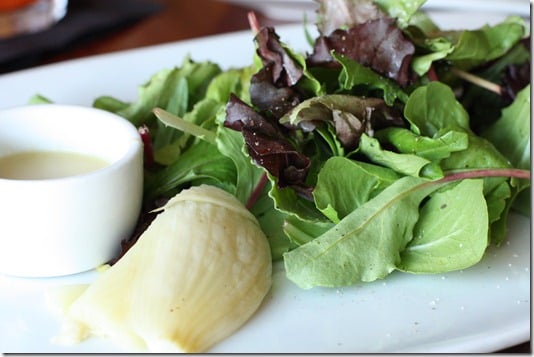 The snap beans with charred tomato puree and seared tofu (it's "shrimp crusted tofu" on the menu, so I asked if they might please simply prepare the tofu plain; they were totally fine with that!):
And a raw zucchini salad with blueberry vinaigrette dressing.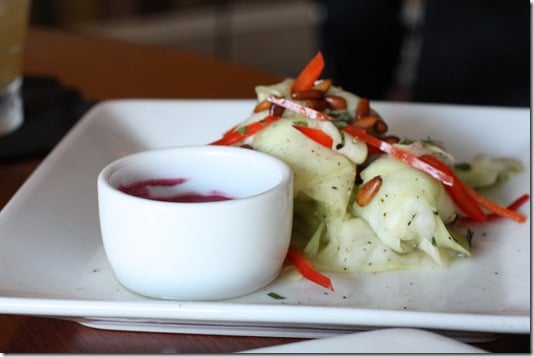 Chloe got the cucumbers with mustard seeds, which I ended up stealing from sharing with her (thanks, Chlo).
I also got some fascinating sounding peach and pepper drink that was waaaaaaaay too spicy for this girl. My bad: our server warned me, and I didn't listen. Cool color, though:
I was truly impressed with the veggie dishes at Maurepas! The preparation was minimalist and thoughtful, and the combinations of flavors were spot-on. The cucumbers and the beans may have been the two highlights, but the zucchini dish actually inspired the quick, easy lunch you'll see here on the blog tomorrow. I love it when omni restaurants highlight, emphasize, and put passion and creativity into the produce on their menus. At Maurepas, vegetables feature just as prominently on the menu as some of the non-vegetarian plates. It's a great message to be sending, and the restaurant's high quality, fresh produce ensures that diners will be impressed with how great veggies can taste!
I also appreciated some of the restaurant's funky touches, like this tabletop candle:
Yesterday, we all visited a local Vietnamese restaurant on the west bank (Tan Dinh) for lunch. NOLA has a vibrant Vietnamese restaurant scene, and this spot was authentic, delicious, and affordable. The portion sizes were also incredibly generous, as the following anecdote makes clear! I had ordered the summer rolls (rice noodles, mixed veggies, peanut sauce), and asked for a double order. Our waitress raised her eyebrows and told me I'd have a LOT of food on my hands. I'm used to being told this by servers (exhibit A: the three plates I ordered at lunch on Thursday, above…), and replied "I can handle it, don't worry." When the rolls came, though, they were absolutely giant!
Chloe and Knud and I had a good laugh over it. No matter: I had leftovers, which came in very handy for my beach expedition today!
Speaking of which, this morning, Chloe and Knud and I decided to venture out from New Orleans and Louisiana, and explore the beaches of Alabama! We drove to Dauphin Island, which is a tiny, scenic island on the gulf coast. The scenery was beautiful, and the water was warm. I could have spent all day hopping over waves and getting caught in the surf. Not to mention soaking in a lot of sunlight.
Sun kissed face:
The coming semester promises to be incredibly hectic on many fronts (school, MCAT, volunteering, new professional work, blogging as usual), and I'm more than a little scared to be returning to DC tomorrow morning and facing it all again. That said, I'm really grateful to have had a short chance to recharge my batteries, soak up fresh air, and see my oldest and dearest friend this week, and I do feel refreshed and grateful.
Tomorrow, a quick, simple, easy raw lunch dish!
xo