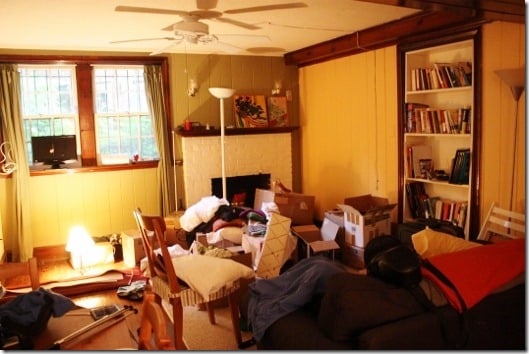 In all the years I've been writing CR, I've never really shared photos of the CR home. Now that I'm in the process of unpacking, it suddenly seems right to show you all from whence your recipe posts and advice have been coming all these years!
Let's start with my now bygone NYC apartment. Here it was, right after packing: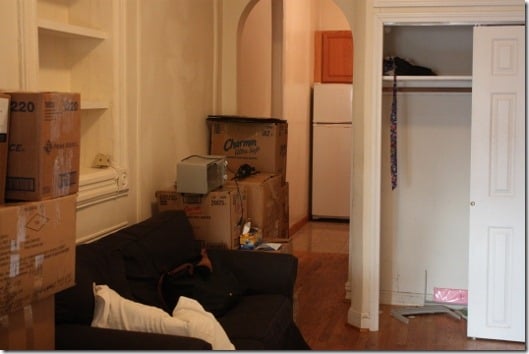 I started CR in these rooms. I moved into the place on a freezing cold February morning well over four years ago. It was a strange period of my life: Chloe was moving to New Orleans that coming summer, and a long term relationship was ending, so I felt suddenly and strangely alone. On the other hand, it was a moment of tremendous growth for me: I'd just gotten a big promotion, and I was just getting into raw foods (I had no clue at the time where they'd take me!).
I moved on a Thursday, with no help (all of my friends were working) and by the end of the day, I was so exhausted that I could barely put a set of sheets onto my bed. I was busy doing that, and feeling pretty sorry for myself, when I peeked out my window to see snowflakes falling gently onto my fire escape. I glanced around my still chaotic new home, and realized—much to my delight—that it all belonged to me. I could do what I wanted, say what I wanted, go to bed when I wanted, listen to whatever I wanted, and no one could tell me otherwise. It was my first adult home. I'll never forget the thrill of that realization as I fell asleep that night.
Of course, that apartment had all of the normal NYC problems. My super was never around to help me. My management company never answered the phone. My bathroom ceiling collapsed. My fridge was leaky and small. My walls were dirty. Columbus Avenue offered me a symphony of truck noises every night. And did I mention it was the third floor of a walkup?
In spite of how much I loved it, then, that apartment had its limitations. And one thing I've looked forward to about moving to D.C. is the chance to have more space, more foliage, and more peace and quiet. I think I found the perfect place:
Meet the "Hobbit House":
That's not what it looks like right now. It's what it looked like before I moved in, and when I'm done decorating and unpacking, I hope it'll look as cute. Right now, it looks like this:
Gah!
The bedlam, however, won't distract me from the charm of my new home, writ large in many unexpected little details. These include stencils on the walls:
Hooks by the front door: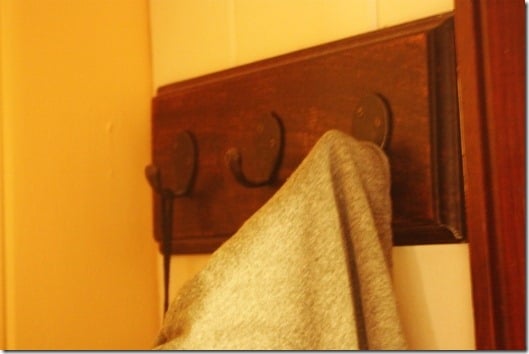 A fireplace, and wooden beams in the ceiling, and a built in bookshelf: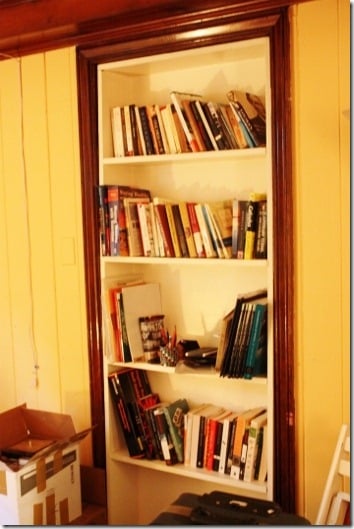 Foliage: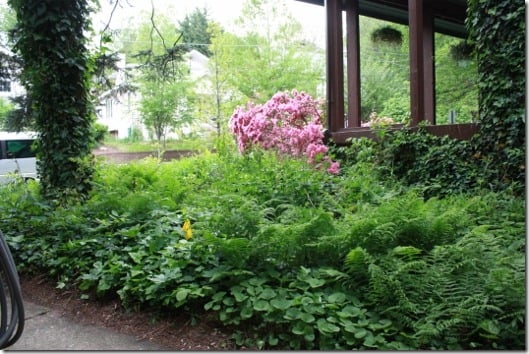 And, best of all, a full, grown-up sized kitchen, which used to look like this: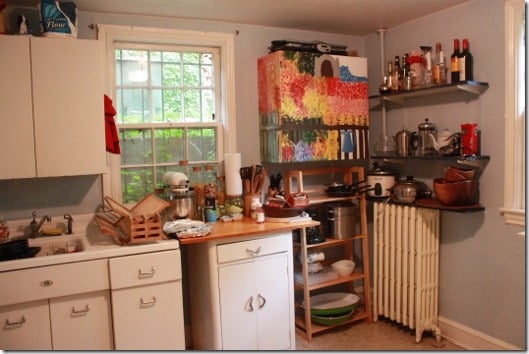 Currently looks like this:
And I'm hoping it'll soon look like a space that is all my own. I look forward to unpacking the whole house, but to be honest, it all pales in comparison to the fun of unpacking and organizing a new kitchen. I'm also amused by the fact that I appear to have the oldest stove in D.C. and a big, ancient microwave: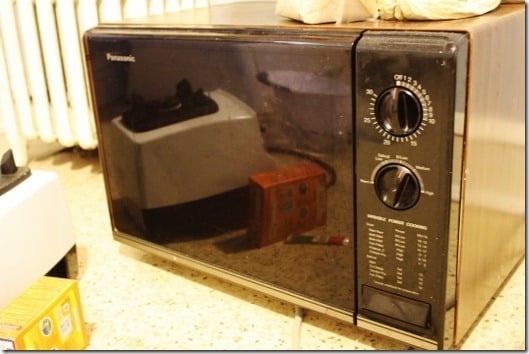 …which I'm promptly putting away to make room for my dehydrator.
It'll be nice not to have to store that thing on my bedroom floor (yes, that's what I did, and yes, it was kind of gross).
I know what you're wondering: where's the food? Actually, my fridge looks pretty decent, and my pantry is basically full, but since I'm spending most nights at M's place this week, I haven't yet used my kitchen for anything other than this: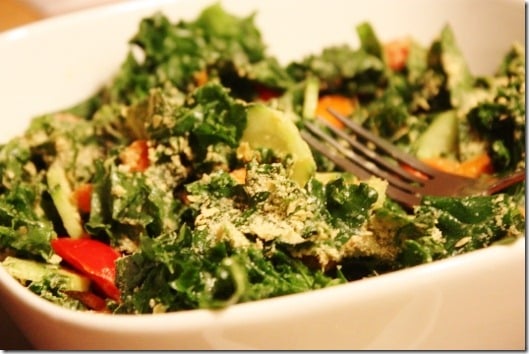 That's right. My first kale salad + guac combo under a new roof. Now I'm starting to feel at home.
Apartments are funny things: such powerful receptacles of our memories and associations. What apartments hold powerful memories for you?
Before I go, I wanted to share this excerpt from Jonathan Franzen's recent commencement address at Kenyon college. It's not exactly topical, but it does touch on some things that I think the CR audience will appreciate: musings on technology, thoughts about the futility of trying too hard to be likeable, and, best of all, this powerful plea for love:
When you stay in your room and rage or sneer or shrug your shoulders, as I did for many years, the world and its problems are impossibly daunting. But when you go out and put yourself in real relation to real people, or even just real animals, there's a very real danger that you might love some of them.

And who knows what might happen to you then?
Read it. I hope you like it. And tomorrow, I promise, some food.
xo