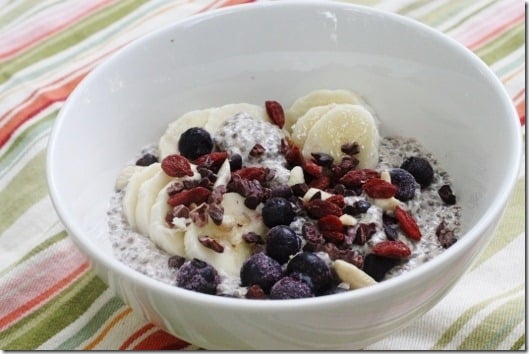 Happy Monday! Nice thoughts on yesterday's post about "fit" dining. I thought we all managed to be both charitable and honest with our assessment of everything from calorie counts to lean proteins. Thanks, everyone, for chiming in.
Since yesterday's post profiled a restaurant that specializes in superfoods, I thought I might stay on theme and talk a little bit about my most recent superfood experiment. Lately, I've been having a hard time managing my breakfast routine; this is mostly due to my class schedule, which runs from 11:45 am – 2:45 pm daily (this doesn't include the clinical work I'll be doing later on this year). As you can see, it cuts right into my daily lunch. So far, I've been doing a substantial breakfast, a small but calorie dense snack at around 11, and a bigger snack when I get home. Dinner comes later.
This is all fine, but it's not optimal for me. I'm not a grazer by nature, and I've always liked three big, substantial meals daily more than I like mini-meals. Obviously, life is life, and one day, when I'm doing 18 hour long shifts, I'll just make due however I need to in terms of my meal planning. Right now, though, while my schedule is still forgiving (second half of summer will be less so), I'm more interested in finding ways to eat around my schedule that also accommodate my habits and preferences. I think I'm going to opt, at least for the time being, for a really big breakfast, a snack that's lunch-like after class, and dinner as usual. And of course, I'll graze when and if I need to

So here I am, trying to think of breakfast options that are sating, and yet also not too hot or heavy, because everything I heard about summer temperatures in DC is true. Smoothies fill me up, but they  don't tend to keep me full enough, no matter how much I load them up with fat and protein. Oats, which are my satiety-quenching breakfast of choice, are inconceivable in these temperatures. And chia puddings with fruit and cacao nibs, which may be my number one breakfast food, period, aren't quite holding me from 9 am to 3 pm.
Suddenly it came to me: overnight oats. Of course. Whole grains are very often the single most vital food for keeping me full, and overnight oats delivers them without heat. The problem was that I had no rolled oats in the house. I scavenged through the hobbit pantry, searching for an oat substitute, when I came upon my box of quinoa flakes. If rolled oats can be soaked, I thought, surely these much slighter grain flakes can, too. I made a pudding of chia and quinoa flakes, and here's how it worked: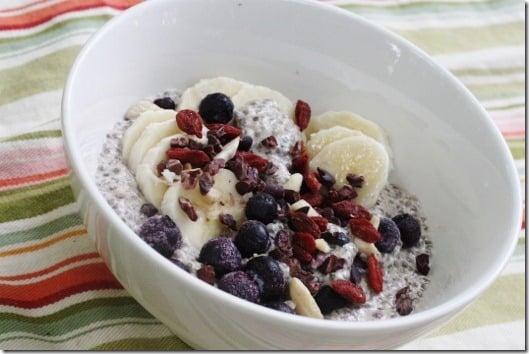 Overnight Superfood Bowl with Chia Seeds and Quinoa (almost raw, vegan, GF and soy free)
Serves 1 very generously, 2 modestly
3 tbsp chia seeds
1/3 cup quinoa flakes
1 cup almond milk (add more if needed)
1 tsp vanilla
stevia to taste
Toppings:
1 chopped banana
1/2 cup frozen blueberries
1 tbsp cacao nibs
1 tbsp goji berries
Mix the chia seeds, quinoa flakes, almond milk, stevia if using, and vanilla in a bowl and set in the fridge overnight. Add more almond milk int he morning if it's too thick or pasty.
Top with fruit and nibs, and enjoy!
It was only after making this that it occurred to me that between my chia seeds, my favorite ancient grain, my blueberries (with their powerful antioxidant content), the cacao, and the gojis, I had a veritable superfood party in my yard: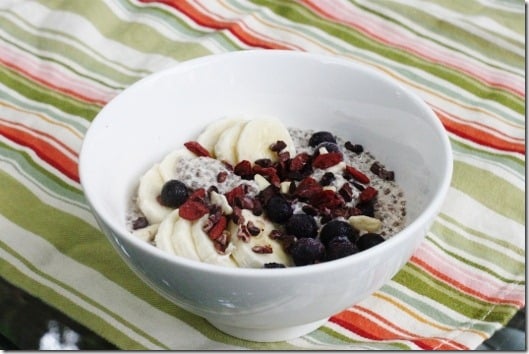 And the taste? OK, I'll be blunt: soaked quinoa flakes are kind of weird. Oats are better, and you can go ahead and substitute them here if you are faint of heart. But then again, I like the health properties of quinoa, and I like variety, and they don't taste bad, exactly: just oddly nutty. So this breakfast may not be a permanent keeper, but it was a good experiment, and may yield even better future tries.
As for my hunger? The bowl worked like a charm. I made it through my class day with no afternoon hunger at all, so I have indeed proven that my body likes a good grain+chia combo in the morning.
What breakfasts do you all count on both for satiety and for keeping you cool in very hot summer months? I would love a few tips!
xo