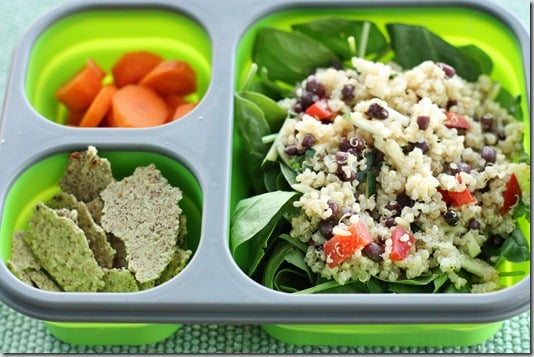 Happy Sunday! Hope everyone is recovering nicely from the long weekend. It's always odd to return to the grind after a few days off, but into the grind we go. For me, part of getting back into the swing of things is prepping food for this week's lunchboxes. But as I do that, I'll share a particularly nice lunchbox from last week, before all the Thanksgiving madness.
Grain salads are one of the easiest, most portable lunches I can think of. It's simple enough to pack a cup or two of quinoa, buckwheat, rice, barley, farro, or millet on its own, and simply dress it with a little sea salt, pepper, and hemp oil. But my favorite way to pack up grains for my lunchboxes is to toss them with whatever raw vegetable scraps I have—the half eaten bell pepper, the odd carrot, the stalk or two of kale. This week, I combined two cups of quinoa with about a cup and a half of cooked aduki beans, half of a chopped bell pepper, a small grated zucchini, and a tiny bit of leftover kale. I dressed it with hemp oil, lemon, dijon mustard, sea salt, and black pepper, and it all resulted in two lovely lunch portions for the week ahead.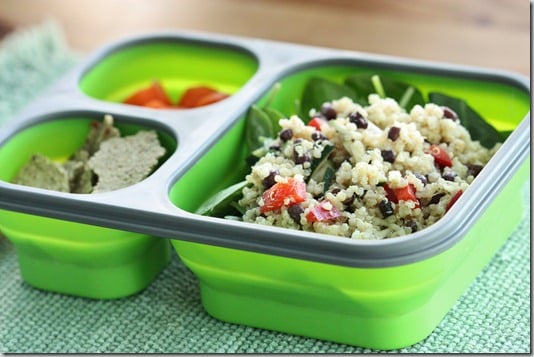 Accompaniments for this lunch were sliced carrots for crunch, a bed of greens on which to lay my salad, and some raw zucchini almond crackers. These came from a raw zucchini bread I'm currently testing and perfecting at home; sorry not to have a recipe for you (yet), but at least you guys can see that I don't post something on CR till I know it's really worthy. Soon!
Anne recently was kind enough to give me some Larabar minis, so I packed those up as snacks: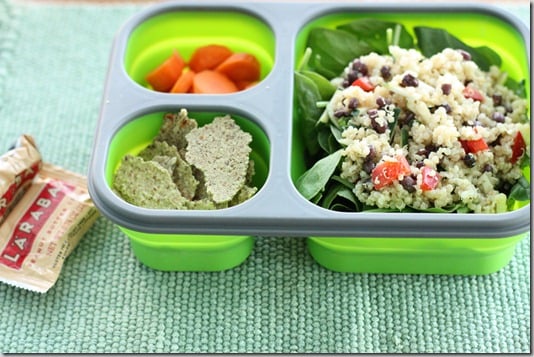 Thanks Anne!
And there we have it: a quick, easy, nutritious student lunch. I look forward to sharing more of my portable food as the week goes on.
Before I go, a very special announcement! I'm sure that many of you are familiar with VitaCost, yes? It's a website that sells health and wellness items, from Vitamins and supplements to groceries, at a deep discount, ensuring that consumers on a budget can still shop for trusted, high quality natural health brands. Shipments are delivered free if they're over $49, and if they're not, the shipping is always a flat fee rate of $4.99. Tomorrow, on Cyber Monday, they are hosting a huge, site-wide sale, and they asked if I'd share with you guys. Of course I will! I really love VitaCost for pantry items, protein powders, and superfoods, and I think you will, too. Go ahead and check out the sale tomorrow. You'll receive a 15% discount at checkout if you enter promo code SAVEBIG. Enjoy!
Happy shopping, and see you back here tomorrow

xo