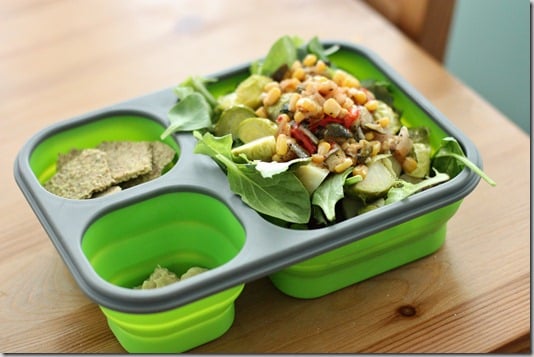 It's a non-stop week over here, as I head my last lab reports of the season and prepare for my finals. For that reason, you can expect a lot of lunchbox posts this week. On Sunday night, since I didn't cook this year for the holiday, I decided to prepare a few dishes for the week ahead that had a faint Thanksgiving theme. This included a roasted corn and red pepper dish, and a roasted brussels sprout dish. Both were simple and turned out well, and I've enjoyed them with greens and grains since!
To prepare the brussels sprouts as I did, simply coat a pound of washed and dried sprouts (outer layers removed if they are at all brown or damaged) in a tablespoon or so of olive oil and a big spash of balsamic vinegar. Season to taste with salt and pepper, and bake at 400 degrees for 15 minutes or so. Give them a quick stir with a wooden spoon, and roast for another 15 minutes, till the brussels sprouts are browning and fragrant.
To make the corn and red pepper dish, I chopped 1 bell pepper finely and mixed it with half a red onion, also chopped finely, half of a diced zucchini, and 3 fresh ears of corn, husked and kernels cut off. I tossed them with a tablespoon or so of olive oil and salt and pepper to taste, and roasted them on a baking sheet at 375 till they were browning and tender (not long—15 or twenty minutes or so). I removed them from the oven and seasoned them with apple cider vinegar, a touch of dijon mustard, and green onions.
These were both easy, stress-free roast veggie dishes that are delicious hot or cold. I enjoyed them cold, on top of the lunch salad you see below, just as much as I enjoyed them warm!
The dishes got packed up with some of the raw almond and zucchini crackers I keep alluding to (still works in progress, still forthcoming) and some simple celeriac puree that I also made as a post-Thanksgiving, seasonal treat. It was delicious, but by the time I packed it there wasn't a whole lot left! Sad face.
No matter: I had a ton of great flavors to keep me company:
As the weather gets cooler (and it's downright winter in DC tonight), layer roast veggies over raw greens is a great way to combine the comfort and warmth of cooked food with the freshness and crunch of raw. A lot of my cold weather salads are a mish mosh of raw and cooked ingredients, and I find that they leave me feeling both energetic and grounded, especially when paired with other nutrient dense side dishes! I hope this post inspires you to think of some hot/cold salad fusion dishes of your own.
I wish I could linger on, but alas, genetics calls. Till tomorrow, friends!
xo