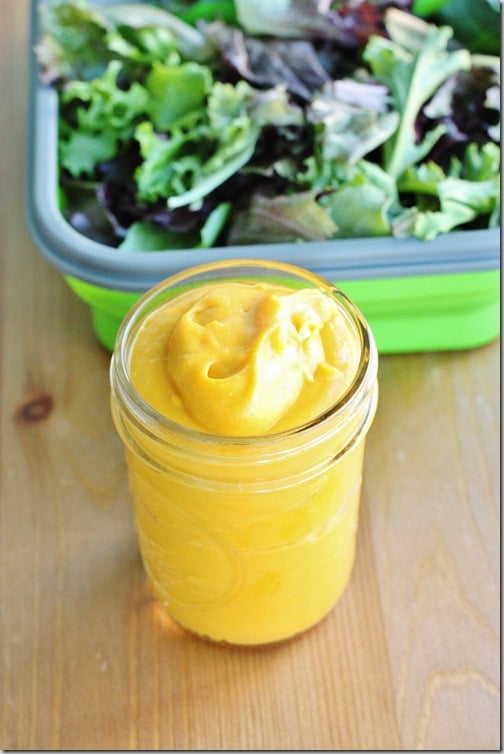 Posting a recipe for "puree" makes me feel as though I'm a thirty-year-old woman who eats stuff that looks and sounds like baby food. Which, let's face it, is the truth. When the baby food in question is as easy and simple as this butternut squash and tahini puree, I'll own it.
On Wednesday, I had been immersed in work all morning long when I realized that I had about five minutes to pack up my and leave for campus. If you think that veganism is "high maintenance"—impossible to pull of in a time crunch—then I hope this lunch changes your mind. Certainly not the fanciest meal you'll see on this blog, nor my most creative packed lunch, but in a mere five minutes, I managed to scrounge together something filling, tasty, and nutritious: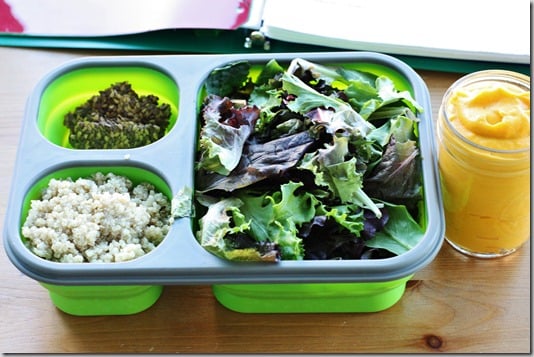 Cooked quinoa, Flackers, greens, and a small mason jar filled with butternut squash and tahini puree. Greens, crunch, and comfort. (Or should I be more alliterative and say chlorophyll, crunch, and comfort?)
Wednesdays are a long day for me—class starts mid-morning and goes until 10 pm—and this midday meal was just what the doctor ordered.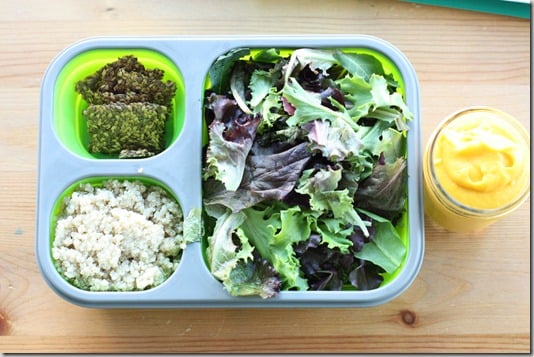 So, curious about the puree? In truth, this is something I made simply because I had butternut squash that I'd peeled and cut in the hopes that I'd later do something creative with it, but life got in the way, and it was coming perilously close to the squash's expiration time. When all else fails, make mush.
Butternut Squash and Tahini Puree (vegan, gluten free, soy free)
Makes 4-6 servings
2 or 2 1/2 lbs butternut squash, cut into 1 inch chunks
3 tbsp tahini
1/2 tsp sea salt (or to taste)
Black pepper to taste
1. Steam butternut squash till tender (or use a microwave if that's easier).
2. Place squash in a food processor or high speed blender along with salt, pepper, and tahini; I like 3 tbsp because the sesame doesn't overwhelm the delicate butternut flavor, but you can use more if you're a tahini junkie 🙂 Puree, season to taste, and serve.
You can serve this straight up, or thin it a bit with lemon or apple cider vinegar to make it pair well with greens–someting in between puree and dressing. That's how I brought it to school, and it was great atop both my greens and my quinoa.
Along with all of this, I packed a couple of my latest raw ball creation with nuts and dates. This one is chocolate themed, and very delicious: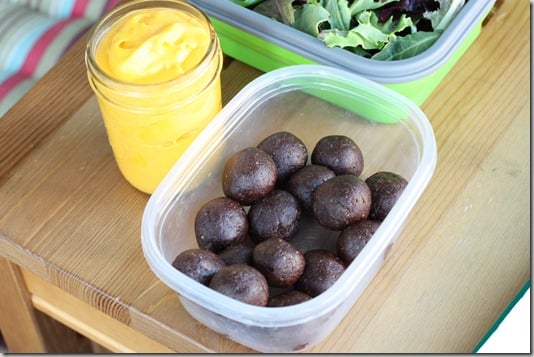 But you'll have to wait till Sunday for the recipe!
The key to this lunch, as with so many of mine, is preparedness. Make quinoa on an off night. Use up veggies like butternut squash before they go bad by doing something very simple: if you wait and wait to cook the fancy dinner you planned, you may find that the opportunity never comes and you let great produce go to waste. Come up with easy, minimalist preparations that please your palate and fit into your busy schedule.
This weekend, I was supposed to be at Anne's wedding in Virginia. Unexpectedly and sadly, I'm in New York right now instead, for the memorial service of someone close to me. I'll be very sorry to miss Anne's celebration, but I'll be thinking of her and Matt all weekend long, and beaming love and congratulatory wishes to them from afar.
xo