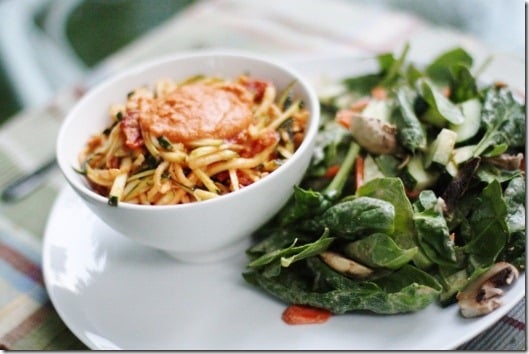 I don't really think of myself as a cook who comes up with a lot of wild flavor combinations, but I suppose there are quite a few things I've put together wackily: avocados and chocolate, hempseeds and chickpeas, tahini and banana, to name a few. Today's recipe—peanut butter and tomato sauce—may be the weirdest thing I've done in the kitchen lately, but it's also one of the best: a rich, smooth, salty-sweet sauce that works beautifully over pasta, in sandwiches, or over roasted or grilled summer veggies. Sure, the premise is odd—tomatoes and peanut butter—but really, the taste isn't. It tastes like a typical raw marinara, but with a salty kick.
And there's nothing wrong with that.
I served this sauce over a bed of zucchini pasta, which I made, for the record, with my simple little mandolin slicer. I'm waiting for a new spiralizer, which means I'm back to basics when it comes to raw pasta construction. Just as I noted when the Vitamix got sick, it's always good to be reminded of the fact that a high raw lifestyle can take hold without a ton of fancy equipment: a few simple and economical appliances are key, but they don't beg for much else!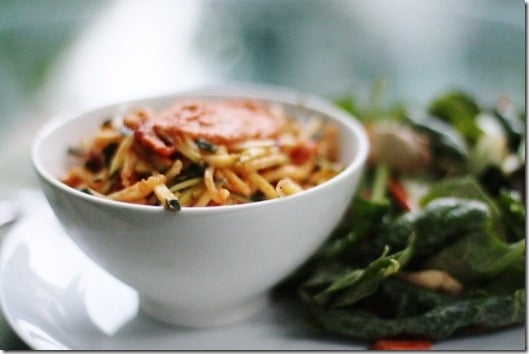 Peanut Butter and Tomato Sauce (high raw, vegan, gluten free)
Makes  1 1/4 – 1 1/2 cups
1 1/2 cup chopped, regular or cherry tomatoes
3 tbsp peanut butter
2 tbsp soy sauce, tamari, or nama shoyu
1 tbsp agave or maple syrup
1 tbsp fresh lemon juice
Blend all ingredients in a high speed blender till very smooth. If you're working with a regular blender, you may want to try using canned, stewed tomatoes that don't have many seeds in place of fresh ones.
Serve as you like!
It will, I promise, be love at first bite: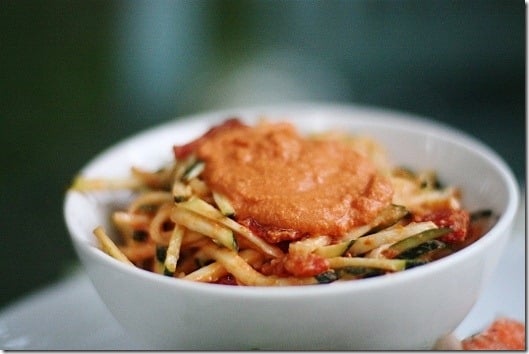 Truly a delicious sauce. I may never go back to regular raw marinara again.
Obviously you can use almond butter or any other nut butter in this recipe: the thing about the peanut butter is that it has a fairly unmistakable saltiness and less of a neutral flavor than other nut butters. I use organic peanut butter moderately, rather than shunning it altogether the way some raw foodists do (usually on the claim that peanuts are moldy and contain aflatoxins), but I do confine my use limited to recipes and dishes where the PB taste is really vital. So using real peanut butter in this sauce feels sensible to me, whereas dumping it on oatmeal or into a smoothie—foods in which almond butter tastes just as good to me—doesn't.
Whatever your feelings on peanuts are, know that this recipe, while enhanced by using PB, isn't totally reliant on it. I think lots of nut butters would be good here; the point is to use a nut butter of choice for creaminess and taste. Experiment, and see how you feel!
Hobbit House Update:
Things are coming together nicely here at my little hobbit house, which has currently earned hero status in my book for being so naturally cool that even on the hottest day of summer (today), I barely need my AC. Hooray for subterranean living!
I've still got some boxes out, but crucial strides have been made. The pantry is full: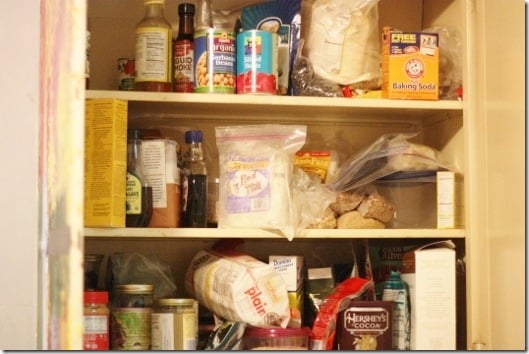 Don't you love the painted pantry door?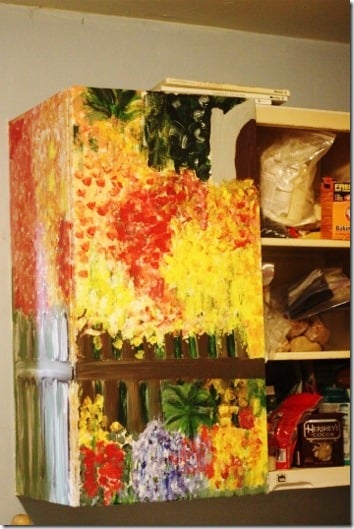 Some books are unpacked: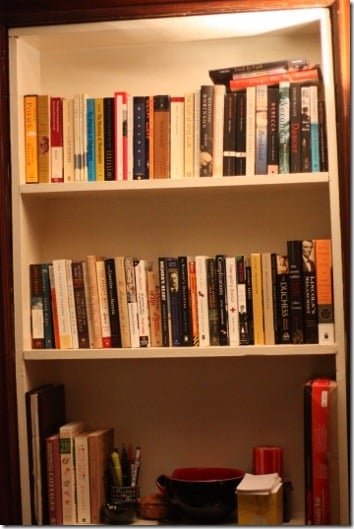 My table and chairs are clean and ready to study at: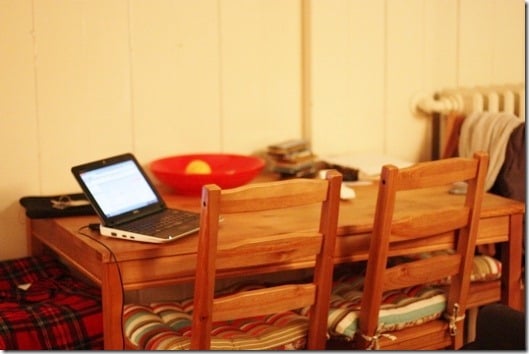 And some of my favorite artwork is up. As you may know, my mom is a painter (and an art teacher), and having her pieces near me is a very sacred slice of home. Here's one that always feels reminiscent of Matisse to me: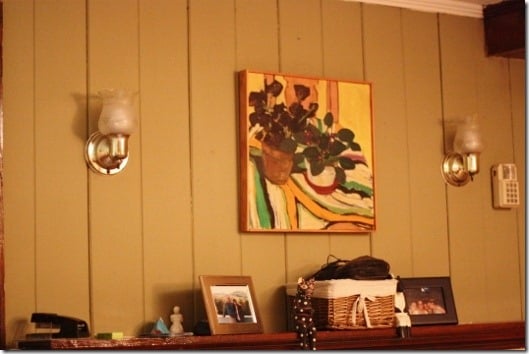 I've also hung up the Decemberists concert poster that my friend Tom had framed and gave to me: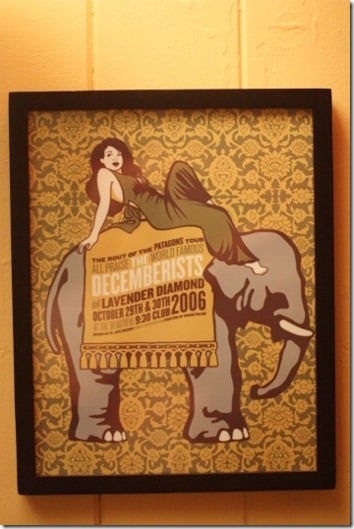 My Godmother is an artist who paints directly on wood. When I was younger, she and I would joke about how well suited I was to the monastic life—quiet, solitary, and studious. This was her tribute to that fantasy: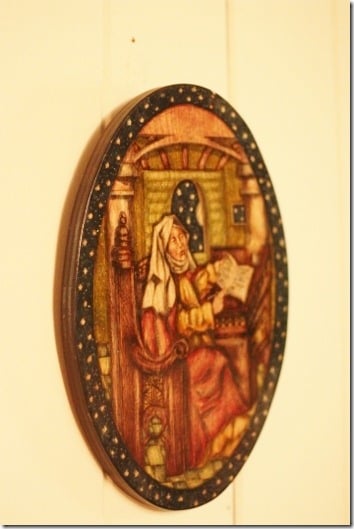 And finally, the New Yorker cartoon that Chloe gave me years and years ago, when we were roommates. The sketch is of an urbane woman purchasing flowers, and the caption reads, "Do you have any that thrive on cigarette smoke and near total darkness?"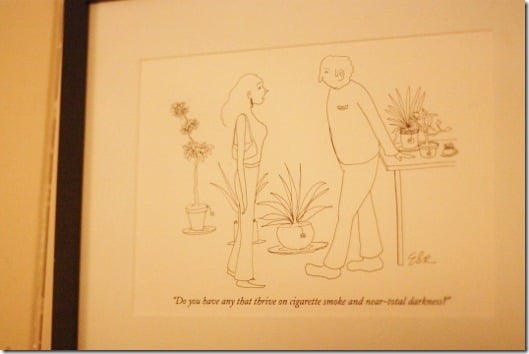 My friend Eric always claimed it made him think immediately of me. I may not be a smoker any more, but I sort of agree.
And with that, it's time to grace this new little home with some dinner. See you all tomorrow—and get thee to some PB and tomato sauce!
xo