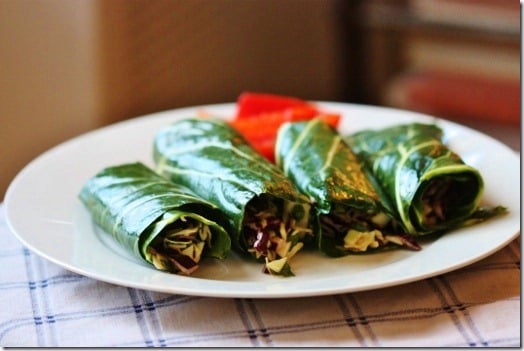 Thank you for such a wonderful and warm response to Heather's Green Recovery story! I thought it was so enthusiastic and inspiring. I'm also glad that it prompted so many thoughtful comments on how important it is to be careful when commenting upon another person's appearance. I personally try to comment on appearances as little as possible; if a friend seems particularly radiant or well, I'm far more likely to exclaim "you seem so energetic and positive!" than say "you look great!" Some might find this aversion to physical commentary a little extreme, but I've experienced firsthand how discomfiting aesthetic criticisms and compliments can be, and I file it under the category of doing unto others as I would have them do to me.
Here, as a community, we've all applauded each other's recovery efforts and triumphs. But let's also remember that we can contribute to a cultural dialog that is less likely to instigate and fuel eating disorders by avoiding "fat talk," physical commentary, offhand remarks about weight loss, and judgments of how much other people eat.
Weeks ago, before returning home for my winter break, I mentioned that I'd be without a food processor or high speed blender. As terrifying as life without a Cuisinart may have seemed at the time, I can't say it's been too much of a problem. I've been eating out a lot, first of all. Second, I don't give myself enough credit for creativity: I did, after all, "go raw" with only a decade old processor and a few sharp knives. I'm good at making simple soups, salads, and slaws the cornerstone of my diet. I always have been. These foods satisfy me profoundly, and they're simple to make.
This recipe is a perfect example of the sort of raw food dish that anyone can make. It does not matter how big your kitchen is, or how much experience you have with raw: this recipe is as siple as shredded cabbage and whisking together a dressing. I personally like to marinade the collard leaves for this recipe, as I think it softens them nicely, but you could also flash steam them or leave them as they are.
If you do choose to marinade the collard leaves, you'll want to do it about 3-4 hours (or more) before you make this dish. The marinade itself should be about 2 teaspoons olive oil, the juice of a large lemon, and a sprinkle of sea salt. Before I get a collective freakout for the oil, let me 'splain: the leaves won't remain covered in marinade! You'll be wiping them off before serving. The idea is simply to soften them and to give them just a tiny bit of flavor. Again, you can skip this step if you want. I think the marinade enriches this recipe, but you could of course do as I do in my raw collard wraps, and leave them plain.
So: mix together 2 tsps olive oil with the juice of 1 lemon and a sprinkle of sea salt. Pour marinade on a plate. Cover with about 3-4 collard leaves (washed and dried), and flip the leaves around to coat them all. Leave on the marinade plate for about 3-4 hours.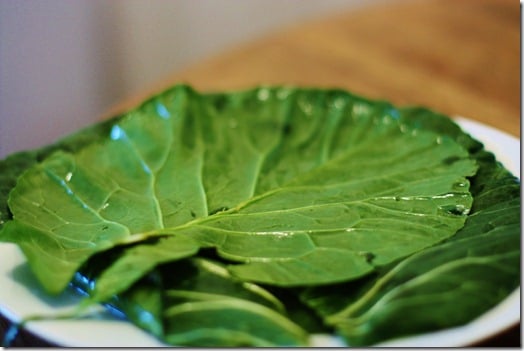 When it comes time to make your wraps, lay a paper towel on your prep surface. Place a marinated leaf over it, and mop up excess marinade with a second paper towel.
And now, you're ready to roll. Literally.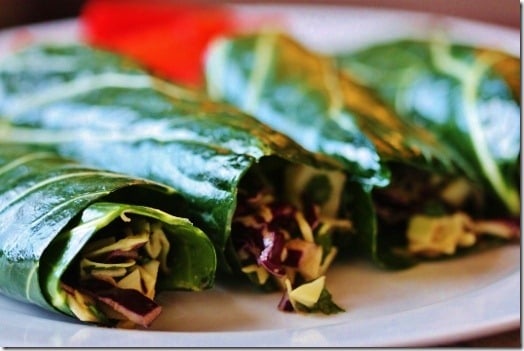 Peanut Cabbage Roll Ups (high raw, vegan, gluten free, soy free)
Serves 1-2
3 large collard leaves, marinated and removed of excess marinade (per above)
1 1/4 cup white cabbage, shredded
1 1/4 cup red cabbage, shredded
Generous handful cilantro, chopped
3-4 tbsp quick and easy peanut sauce
1) Cut each collard leaf in half
2) Mix the cabbages, and cilantro in a large mixing bowl with about 3-4 tbsp of the peanut sauce. You can vary how much you use depending on how "saucy" you want the filling to be (he he).
4) Layer about 1/3 cup filling on one end of a half leaf. Roll the leaf up with the filling inside; you don't have to bother with the normal collard wrap process. The point of this recipe is ease!
5) Serve with a nutrient dense salad, a side of steamed vegetables and beans, or a whole grain!
Who knew that raw, vegan food could be so quick, so simple, and so tasty?!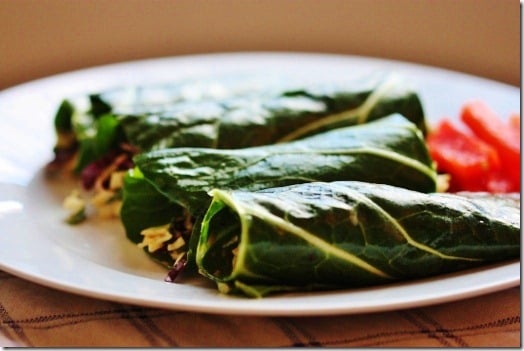 Hope you guys try this recipe! It would also make for a very easy high-raw, vegan appetizer or party food.
Today is the week anniversary of 2012's arrival. Doesn't time fly? This year, I shared some cautionary thoughts about unrealistic dietary resolutions. In your comments, many of you pointed out that, while crash diets are no good, there are certain kinds of resolutions and commitments that can feel really inspiring at this time of year. In keeping with that sentiment, I'd like to share three approaches to resolutions and greeting a new year that really impressed me this week.
1) The Year I Stopped Chasing Skinny, by the sassy, sexy, and stupendous JL of JL Goes Vegan.
In this brave post, JL opens up about how 2011 was the year in which she stopped dieting, accepted a weight at which her body is comfortable and healthy, and learned to fall in love with her most authentic shape. Many of my readers have expressed to me that they have spent years and years pursuing a weight that is just below what their body can maintain naturally and effortlessly. If it seems to you that the weight your body seems to maintain on its own is always five or ten pounds more than the weight you want, and if you've been dieting, restricting, or over-exercising as a result, I urge you to please read JL's words.
We're all socialized to think "thinner is better": this year, accept that all of us have a spectrum of healthy weights, and that the lowest number is not always the healthiest or most honest.
2) 10 Questions Animal Activists Should Ask Themselves, by Jasmin Singer of Our Hen House
An essential post for early 2012. Jasmin, one of the two energetic and innovative co-founders of Our Hen House, encourages all activists to question whether or not they're doing everything possible to help animals this year (and in general). What I've learned from Jasmin and Mariann is that we all have the power to be activists, so I believe this post is relevant to everyone who cares about animal rights (or another important personal cause). Aside from the big, leading question—Am I effectively doing what I can in my life to change the world for animals?—Jasmin also asks more subtle and thought-provoking questions, like "Do I have a safe space around me — through my romantic relationship or my social circles, or even online — in which to express my fears and desires as they pertain to my animal activism?"
3) Resolutions (and Chocolate Rice Pudding) by Alyson Kramer of Manifest Vegan
The brilliance of this characteristically aesthetic and articulate post (Alyson, if you don't know her already, is a fabulous vegan chef) is its effortless avoidance of superficiality. Rather than launching into a laundry list of ways in which she intends to shed pounds or tone up, Alyson avows basic self-acceptance, and then lists a few ways in which she hopes to enrich, but not improve, herself. She intends to learn French, do more art, work on a second book, and tune out naysaying about her lifestyle in 2012. I can't think of better and more well rounded intentions.
I hope that we can all take inspiration from these fabulous ladies' and their hopes for the new year. And of course, I'd love to hear how you intend to deepen your activism in 2012, and enrich your life?
xo