Two weeks ago, when I was in NYC blowing off some study steam, I had a chance to meet up with my friend Sayward (pictured with me, above!) who was in town for Victoria Moran's Main Street Vegan Academy training. Sayward began commenting on my blog years ago, and I was immediately struck by her intellect and passion. We've been blog-friends ever since, and it was wonderful to make the instant transition into life-friends. In case you missed it when I posted it on FB, Sayward is also the author of a recent, very powerful, and very brave post about facing a health challenge as a vegan. I highly recommend it.
As we got to talking, Sayward and I reminisced about our early days as bloggers. We began blogging at roughly the same time, and we've both gone through tremendous changes—personal, philosophical, dietary—since our blogs started. We were both very high raw foodists then, and we've both reached a more moderate place with raw food: still highly appreciative, but less seduced by some of the movement's more dramatic health claims.
As we chatted, I confessed to Sayward that I often feel a sense of guilt and discomfort when I read over some of the statements or attitudes that I expressed on my blog in the early days. I remember how I used to promote food combining—before I took an undergraduate nutrition class, and realized that it lacks a scientific basis entirely. I remember how much more adamant I was about the distinction between raw vs. cooked, and how I bought into enzyme theory without scrutiny or nuance. (My impression is that there is some evidence that enzymes in raw foods can play a role in digestion, but that health professionals, including Joel Fuhrman, Brenda Davis, and Stuart Seale, M.D., all of whom I interviewed on this topic last year, believe that this role is probably more limited than the rhetoric of strict raw foodism would suggest.) I remember using words like "detox" without flinching. I remember how much more likely I was to file certain foods as "good," and others as "bad."
When I recall this stuff, I feel a mix of emotion. On the one hand, it's hard to fault myself for having undergone an honest evolution in my knowledge and attitudes. In the four years since I began this blog, I've grown up. I've gotten much further away from my anorexia, and I've moved away from my tendency toward dietary extremism. These are big, positive developments in my life, and in a lot of ways I'm glad that I've chronicled them in writing. I've also gone from having an interest in health and healing to studying it full time. It was inevitable that I'd learn things along the way, and that some of my opinions would shift. I have no doubt that my ongoing education will provide me with plenty of occasions to broaden my understanding of how health and nutrition work.
At the same time, when you blog, you don't only share your personal story and your attitudes. You also set an example, whether you intend to or not. In my case, I both shared an example of my lifestyle and I marketed it professionally, through my coaching work and in assuming an expert's voice. I was a responsible health coach, I hope—caring, informed, and I always urged my clients away from extremes—but when I tackled nutrition here on the blog, I often made big, sweeping statements—about acid and alkaline balance, for instance, or enzymes—that I wish I'd explored in more depth. Most of all, I sometimes worry that my own predisposition towards creating stark dichotomies—raw vs. cooked, healthy vs. not, good food vs. bad food—may have influenced some of my early readers in ways I'll never be able to determine. Once somebody has read your work, you can't undo any impression it may have made on them.
Blogging has taught me all about the power of impressions. No matter how many times you say something like "this is just what works for me," food blogging is to some degree an invitation for others to imitate what you do—to make the recipes you make, pick out the foods and ingredients you suggest, explore the lifestyle tips you share. In the food blog world, imitative behaviors are common, and trends emerge quickly. This presents a bit of a quandary: how can we, as bloggers, be both responsible to our readers—may of whom, it's worth saying, are quite young—and also be candid about our own experiences? To only put forth only an editorialized, ultra careful vision of our lives food for the sake of protecting readers seems wrong; it seems to lack transparency, and I imagine it would lead to a lot of anodyne blogging. But at the same time, I think that a certain amount of responsibility does come with the blogging territory—especially if you, like me, know for a fact that many of your readers have complicated relationships with food.
Through Green Recovery, I get countless emails saying that I've made a positive impact on somebody's recovery from an ED. But once in a while—just today, in fact—someone reaches out to say that my blog has in some way provided a negative influence, or compounded disordered thinking. When something like this happens, I regret any post in which I may have given the impression that healthy living should come at the expense of freedom or joy. I know that I can't control everyone's response to everything I say, but these emails are a vital reminder that, while blogging has the power to share tremendous inspiration, it can make readers scrutinize themselves ungenerously. That's really unfortunate, and it is all the more reason for me to be as responsible and conscious as possible.
There's plenty of continuity between my early blog writing and now: I've always been vegan. I've always been flexible about eating both raw and cooked food. I've always really loved to cook. I've always been open about my ED past. But today, I'm a lot more open about my history than ever before (see: Monday's post), and whereas I once regarded food more as "fuel" than anything else, I have most certainly come to see it as a source of both sustenance and pleasure—with an emphasis on pleasure. As far as raw foodism goes, this post sums up my evolution in that department pretty nicely. Most significantly, I'm no longer as susceptible to extremism in the realm of health and nutrition. I do not vilify "bad" foods, and I don't believe, as I used to, that my health is so fragile that even small missteps might make it unravel. This post and this post say a lot about how my feelings about healthy living have changed with time.
My hope is that the fact that I've been honest with you about all of these changes has in some way made up for any stringent messaging I may have put out there in the past. When I told Sayward my feelings on this topic, she said that she absolutely thinks it's good for people to see an example of someone who has been able to shift away from rigidity and toward real friendship with food. I hope she's right, because it has always been my goal to help people with this blog, whether by inspiration to live healthily (and I mean mind/body health, not "health" in the sense of some austere dietary regime), encouragement to embrace the recovery process with an open heart, recipes that are uplifting and delicious, or vegan activism, which (I hope!) helps people to find peace and meaning–and act responsibly toward animals at the same time.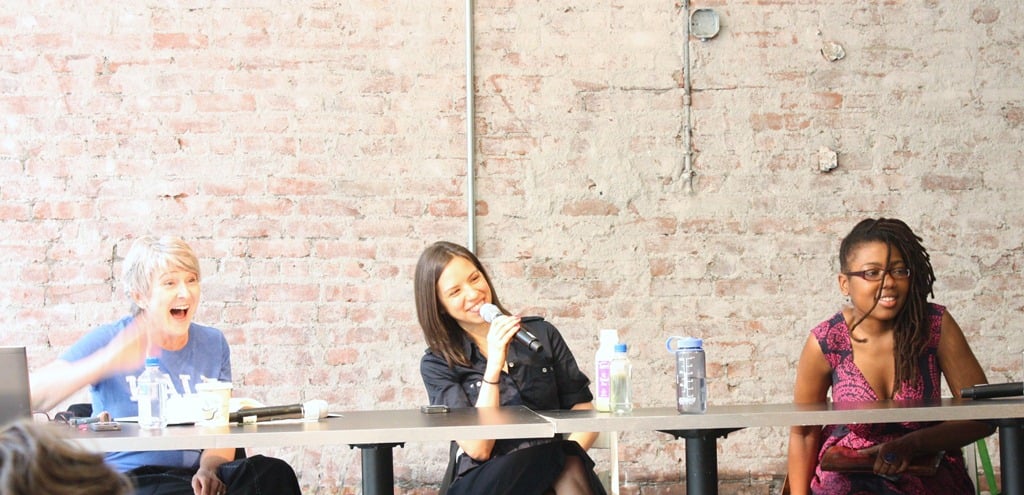 Me on a blogging panel, last year (with JL!)
It may seem odd for this post to be a part of my NEDA week musings, but I do think that there's a place for dialog about bloggers' responsibility this week. Food blogs didn't exist when I was really sick, but I often wonder how I'd have treated them if they had. In the last four years, I've seen them help countless of people to get better, but I know that they sometimes reinforce struggle, too. I think it's important to acknowledge that fact, and tread mindfully.
And so, this week, I'm giving some thought to how I can continue to set the best example I know how. This means putting forth health and nutrition information responsibly—by checking my facts before I hit publish, doing thorough, scholarly research, and, since I'm very much a student of health myself, acknowledging when there's stuff I don't know. It means finding ways to show you all how truly and wholly I love food, because it is impossible to share that love too many times. It means practicing compassion. It means continuing to eschew body molds, and to emphasize the importance of loving your body as it is, not because it has obeyed a dietary paradigm or because it ran an eight minute mile. It means endorsing a moderate, sane approach to healthy living, and not getting behind wackadoodle "cleanses" or "detoxing."
Yesterday, a good friend of mine mentioned something about how moderate I am with food. Moderate, you say? Me? "Moderation" is a word I never, ever expected to attach to myself. I've got an extremist streak that runs deep through me, and in some ways, I like it that way. But in the realm of food and body, extremism has never done me much good. I'm so happy that I've come to advocate—and to tread myself—a path of moderation. I am vegan, and to some, that's still an extremist position, but whereas it was once a matter of good/bad food divisions for me, veganism is now a position of compassion. And my vegan diet today is inclusive and open in ways I could never have imagined only a few years ago, when I first sat down to write CR.
Thank you for always allowing me to change and to grow here in this space. Thank you for challenging me to be good to myself. I hope I am—and will continue to be—good to you.
xo