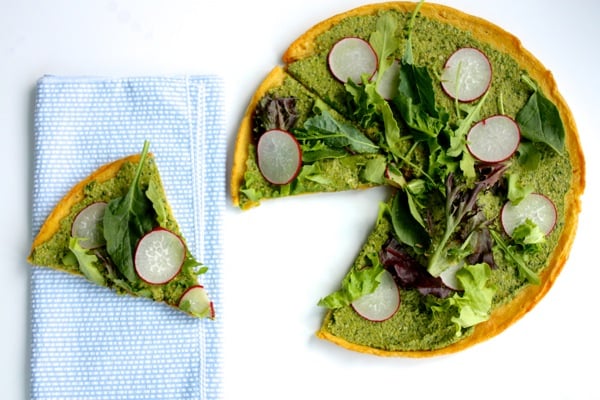 I was a latecomer to the socca craze. In spite of the fact that I'm a toast lover and a flatbread lover (I happen to having a "toast week" on Instagram, thanks to the fact that my toaster and a loaf of sprouted grain bread were all I had after unpacking for a few days), I assumed that socca must be far more painstaking or difficult than either of those. When I made it last year for Food52, I was surprised at how painless the process was; how fun, even. Socca is really a joy, and it's a cinch to make, provided you've got a good skillet. This pesto socca with greens and radishes is a great way to celebrate it.
Socca can be topped with pretty much anything you like: hummus, avocado, tapenade, marinara sauce, etc. But I think pesto is especially great on socca, and this recipe is a tribute to that marriage. If you make the pesto in advance, it's a total snap to throw together, and it makes for such an elegant lunch or brunch recipe. It would also be a lovely appetizer if you sliced it into thin sections.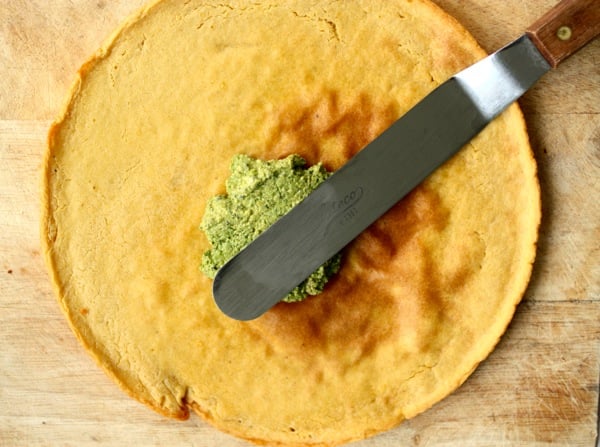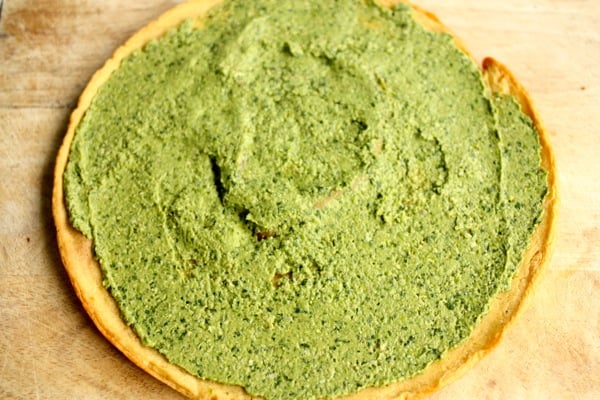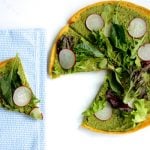 Pesto Socca with Greens and Radishes
Author -
1

batch socca

my standard recipe can be found here

1/2-2/3

cup

or so pesto (I use this recipe, or a variation of it)

1/2

cup

thinly sliced radishes

1

cup

mixed greens or arugula
Prepare the socca.

Spread 1/2-2/3 cup of pesto over it, moving it out to the edges evenly.

Top the socca with radishes and greens. Cut into segments, and serve.
The finished product:
Hope you enjoy it, and that the recipe inspires you to get creative with some socca ideas of your own!
Before I sign off to keep chipping away at the ocean of boxes, I wanted to let you know that Kris Carr–who wrote the preface for my book–is starting up a cookbook club, and Choosing Raw is the first featured title! I'm thrilled, and flattered. To help share the book and its mission, Kris is featuring one sample day out of the 21 days of meal plans featured in the book. You can head to her site to download the day and all of the recipes included in the plan. This is a great way to get a peek at the book and see what it's all about, if you've been wondering whether or not it's for you!
Till soon,
xo