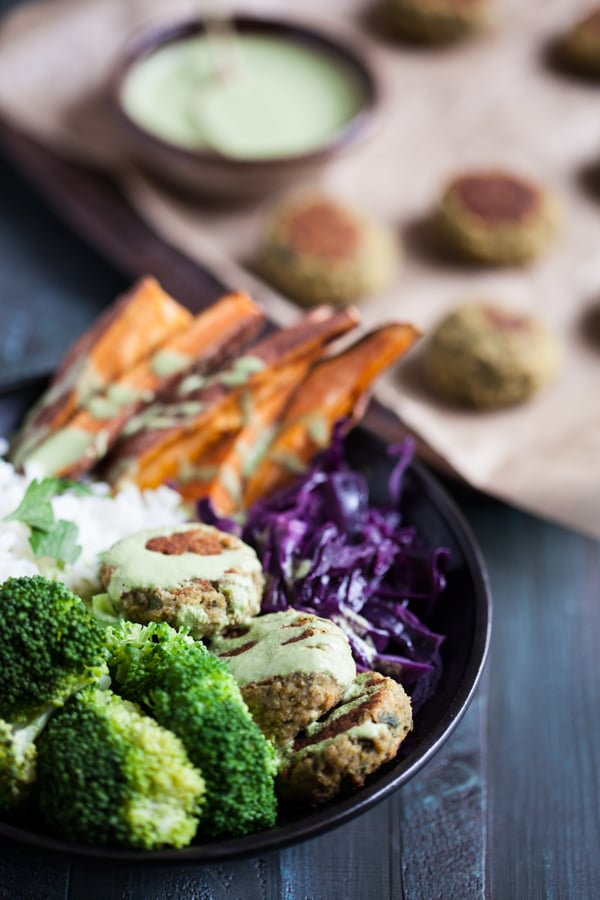 Falafel is one of those foods that I wish I had in my fridge all the time. Throw it into a pita or a sandwich, crumble it into a salad, layer it in a bowl–it's a wonderful way to boost any meal with plant protein. And in spite of the fact that I don't make it as regularly as I make other protein staples, like hummus or tempeh bacon, it's not hard to make. The delightfully green pistachio and spinach falafel that I'm sharing today is a new instant favorite–as well as a perfect paring for my delightfully green tahini dressing–and I'm hoping it'll be the start of a regular falafel trend at home.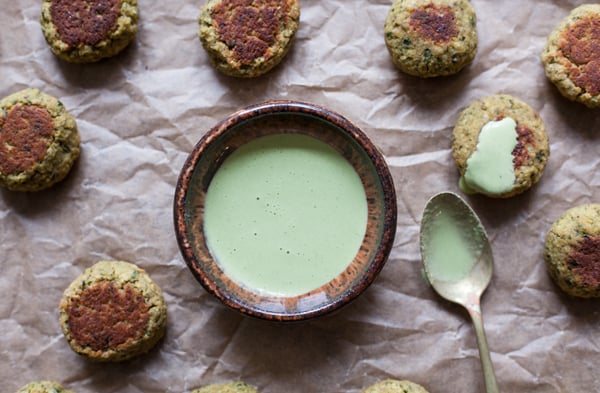 Shelled pistachios are the base of this falafel, and I love the way their sweet and salty flavor infuses the dish. But if you don't have shelled pistachios on hand, or you prefer a different type of nut, you could also use cashews, pecans, almonds, or walnuts. Just don't skip the parsley or the spinach: they lend awesome color, not to mention some healthful phytonutrients, to the falafel!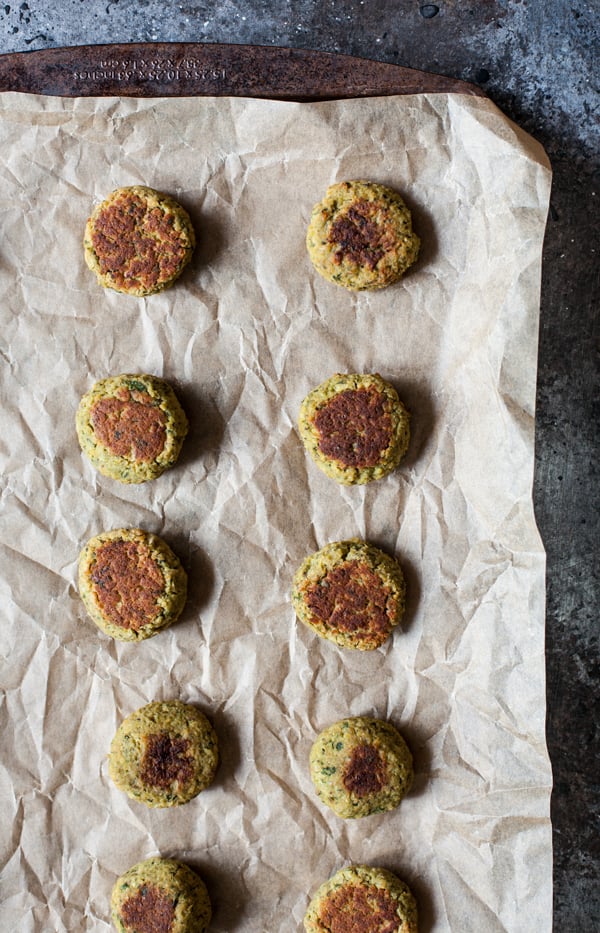 As you can see, I served these wonderful, protein-rich falafel in bowl form, pairing them with rice, steamed broccoli, baked sweet potato spears, and–the final and most flavorful addition–some simple braised red cabbage.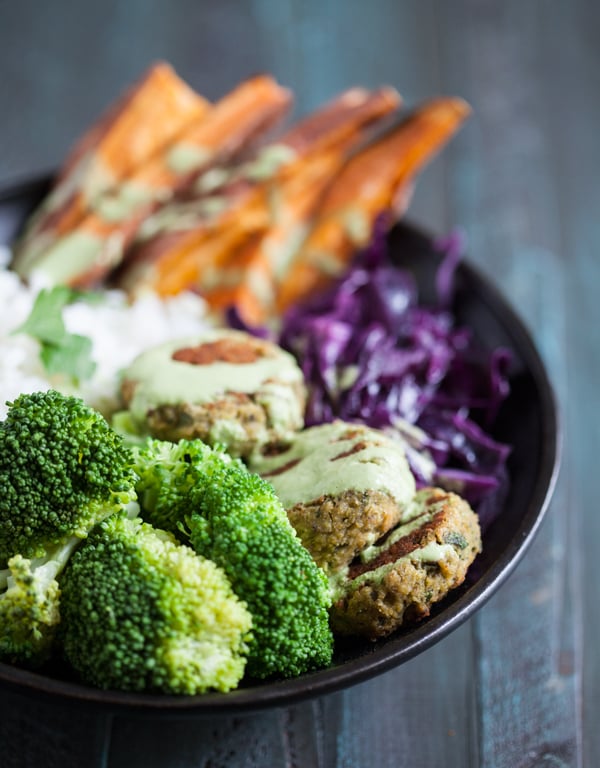 The bowl is fantastic, especially drizzled with the green tahini dressing, and I highly recommend it. You'll find the recipe for it below (along with a separate recipe for the falafel). If you want to create a bowl that includes what you've got in your fridge, go for it. I recommend some sort of whole grain as a base, as well as a flavorful dressing for drizzling.
Beyond that, make the dish your own. It's hard to go wrong with these garlicky, herb-infused flavors, and anyway, bowl meals are all about cleaning out the fridge!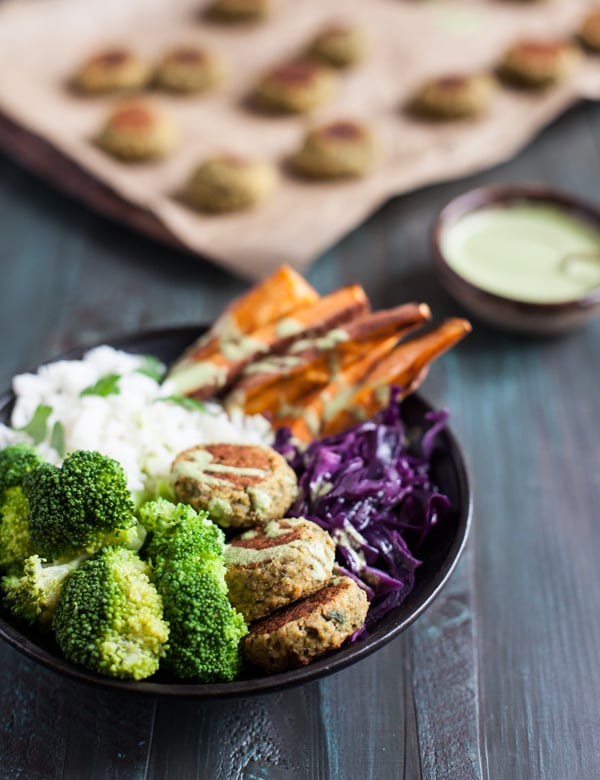 Pistachio Spinach Falafel
Author -
Yields:
15
Falafel (4-5 servings)
2

teaspoons

olive

grapeseed, or safflower oil

1

small white or yellow onion

chopped

2

cloves

garlic

minced

1 3/4

cup

cooked chickpeas

or 1 can chickpeas, drained and rinsed

1/2

cup

about 2 1/2 ounces shelled pistachios

1/2

teaspoon

salt

1/2

teaspoon

ground cumin

Pinch

black pepper

1/4

cup

tightly packed parsley leaves

1

cup

unpacked spinach leaves

1

tablespoon

lemon juice

1/4

cup

chickpea flour
Preheat oven to 350F. Line a baking sheet with parchment paper.

Heat the oil in a medium sized skillet over medium heat. Add the onion and give it a nice sprinkle of salt. Cook the onion for about five minutes, or until it's clear. Add the garlic and cook another 3 minutes, stirring frequently. Add the chickpeas and combine everything well.

Place the pistachios, salt, black pepper and cumin into a food processor fitted with the S blade. Process till the mixture is a coarse meal. Add the warm chickpea mixture, the parsley, and the spinach. Pulse to combine everything and chop down the greens. Stop and scrape the sides of the bowl down, then add the lemon and the chickpea flour. Keep pulsing until the mixture is uniform, but retains some coarse texture.

Using clean hands, shape the mixture into 2-inch balls. (If the mixture is too sticky to shape, stir in another tablespoon of chickpea flour, but keep in mind that the falafel balls will firm up considerably as they bake, so a soft mixture is OK.) Place them onto the lined baking sheet and press down gently to flatten slightly. Bake for 20 minutes, flipping over halfway through. Serve with

delightfully green tahini dressing

or your dressing/sauce of choice!
Leftover falafel should be stored in an airtight container in the fridge for up to five days. They can be frozen for up to one month.
Pistachio Spinach Falafel Bowls
Author:
Prep time:
Cook time:
Total time:
For the bowls:
3 cups cooked brown or white jasmine rice
3 cups steamed broccoli florets
2 small sweet potatoes, cut into spear shapes and baked at 400 till tender (about 20 minutes)
2 cups braised red cabbage (recipe below)
15 pistachio spinach falafel
1 recipe delightfully [url href="https://www.thefullhelping.com/delightfully-green-tahini-dressing/" target="_blank"]green tahini dressing[/url]
For the braised red cabbage:
2 teaspoons olive oil
1 white or yellow onion, sliced thinly
3/4 lb shredded red cabbage
2 tablespoons apple cider vinegar
1 tablespoon brown sugar
Salt and pepper to taste
1/3 cup water
To prepare the cabbage, heat the olive oil in a medium skillet over medium heat. Add the onion. Salt the onion lightly and cook for 8-10 minutes, or until it's brown, soft, and partially caramelized. Add the cabbage, vinegar, sugar, a generous pinch of salt, black pepper to taste, and the water. Bring to a boil and reduce to a simmer. Simmer for for 15-20 minutes, or until the cabbage is tender and tart/sweet. Add seasoning to taste, and serve (or set aside for your bowls!).
To assemble the bowls, divide the rice, sweet potatoes, broccoli, falafel, and cabbage into four bowls. Top generously with the [url href="https://www.thefullhelping.com/delightfully-green-tahini-dressing/" target="_blank"]green tahini dressing[/url]. Serve.
There's nothing I love more than a great bowl: such a perfect opportunity to get multiple flavors, textures, nutrients, and tastes in one tasty package. But of course, these falafel are perfect for the traditional pita preparation. You can even serve them as an easy appetizer, with lettuce leaves or toothpicks.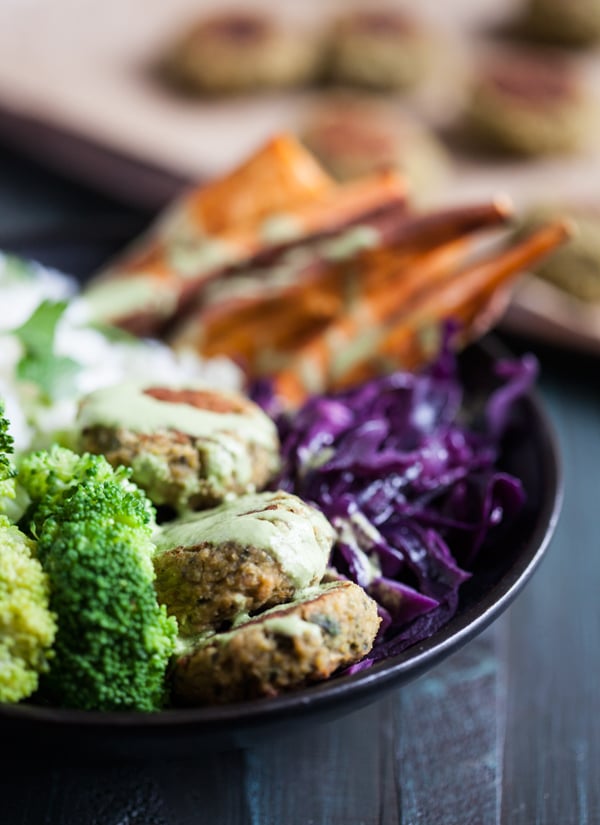 Hope you love the falafel as much as I do. Let me know what you think!
Before I go, a quick announcement: I'm happy to say that I've signed up again to host Spright's vegan class for January.
There was a ton of interest in the class last time I coached it, in November, and unfortunately, the classes filled up before everyone could have a chance to participate. This time, there's no limit on signups, and I'd love to see a lot of new (or returning) faces.
Once again, the class is a fun, low-key opportunity to explore veganism in a supportive group environment. It'll have some new features, like daily challenges, tons of informative curriculum, including a rundown of sourcing nutrients and cooking tips, and inspiring email and message blasts, tips, and supportive guidance from yours truly. You'll have the opportunity not only to engage with the group, but also do direct message me with burning questions–or if you simply want to share your latest culinary creation!
Read more about the challenge on the Spright website. The class is a one-time payment of $19.95, which covers the whole month of support and engagement. January is a really powerful time to make dietary changes or explore a new way of eating, and Spright offers a very supportive, enthusiastic interface in which to do it. If you sign up, be sure to mention that I referred you, so that you end up in my class!
OK, that's it for today. Happy falafel bowls, and I'll be back on Thursday with a festive new dessert 🙂
xo