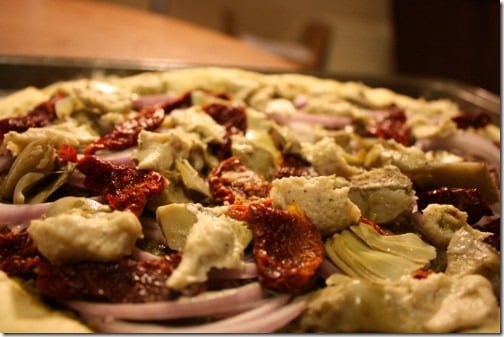 If you caught yesterday's sweet potato hummus post, you may have heard me mention the fact that Saturday was Vegan Pizza Day. A momentous occasion, if ever there was one. M and I spent ours at Cafe Viva on the Upper West Side, ogling the many vegan options: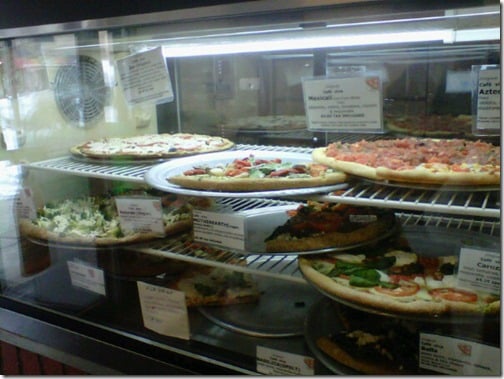 By the end of the weekend, I'd had two of Viva's famous varieties. First, I had my favorite, the "Zen," which is green tea herbed miso-tofu, green tea basil pesto, shitake mushrooms, maitake mushrooms, caramelized onions, sundried tomato, roasted garlic on a green tea herbed spelt crust. (I've never tasted the tea part, and I think that's a good thing.) I also had a slice of the "naturale," which is organic tomato sauce, tofu marinated in miso, eggplant zucchini, red pepper & spinach. Both slices were amazing, and they made me think back to a wonderful dinner a few weeks ago that I've yet to post: pizza night in D.C..
Once upon a time, I, like other cooks I know, was pretty terrified of making homemade pizza. I've never been a whiz kid with bread-making, and so the idea of homemade crust was just a bit more than I thought I'd be able to handle. What if I burnt it? What if it didn't rise correctly? What does "kneading" really mean, anyway? How the heck do I choose my toppings? Do I cook the crust and then put toppings on, or vice versa?
You get the idea.
When I made my first homemade, all-from-scratch, 100% vegan pizza pie a few years ago, I could not possibly have been prouder. And what stuck with me most was how incredibly easy the process was. In fact, it's a wonder I don't make pizza more often, except that I just don't happen to love the stuff as much as most people do. Every time I do make it, though, I'm delighted with the process, and I resolve to make it more often. Now that I have a boyfriend who appreciates a good vegan slice, it's all the more reason to get creative.
This post, though, isn't just about getting creative. It's about matching the creative with the classic. One of the things I like most about Viva is that they have both wacky and super-healthy pizza slices (like the Zen), but they also have traditional style pizza: just good dough, good sauce, and the magic of Daiya. Since my regular pizza crust recipe yields two crusts, not one, and since I made this particular dinner on a night when I was on vacation and feeling ambitious in the kitchen, I decided to follow Viva's model and make both a non-traditional and a traditional pie. Lucky for you, I'm sharing recipes for both.
Let's start with crust. This is my basic pizza crust recipe, and I rarely wander from it. Follow it closely, and there's truly nothing to fear from your pizza-making adventure:
Basic Herbed Pizza Dough (Vegan)
Yields approx. 2 pizza crusts
1 1/2 cups warm water (I used to mess up every homemade bread by using water that was too hot and killing my yeast. You want this just at about 100 or 105 – take the temperature if you have to)
1 package (2 1/4 teaspoons) of active dry yeast (check the expiration date on the package–if it's expired, you'll be in trouble)
3 1/2 cups all purpose flour (you can use bread flour too, for even better results, but I usually use all purpose)
2 Tbsp olive oil
1 1/2 teaspoons salt
1 1/2 teaspoons sugar
2 teaspoons Herbes de Provence (optional)
1) Place water in a bowl. Sprinkle on the yeast and let it sit for five minutes or so, or until it looks as though it's dissolved.
2) In a large mixing bowl, stir together 1/2 of the flour, the olive oil, the salt, the herbs, and the sugar. Add the warm water and yeast, and begin to mix it all together with your hands. It will be sticky and wet. Add the remaining flour, continue to mix by hand until it's all incorporated.
3) Turn dough out onto a lightly floured surface that's very clean. Knead for about five full minutes, until the dough is smooth and stretchy. You may need to add a little flour as you go (if the dough is too sticky), and you may need to knead it for an extra minute or two; use your kitchen intuition, guys!
4) Place dough into a well oiled bowl and turn it to coat. Cover it with something (I used a clean dishtowel, but plastic wrap will work well) and leave it someplace warm to rise for 1 1/2 hours (longer is OK). It should double in size; if it doesn't, that means your yeast was either dead or only half-alive. Bummer. The dough will still work, but it won't be as light and airy as you may wish.
5) After the rise, go ahead and punch the dough down (it's fun). Divide it in two. At this point, you can freeze your dough in an airtight container for up to two weeks, or you can get ready to rock!
Pizza Prep:
1) Prep all of your toppings (my two particular recipes follow).
2) Preheat your oven to 475 or 500 degrees (this accounts for the fact that ovens vary; if yours runs hot, use 475, but if it runs cool, use 500). Let the oven pre-heat for a good long time — I gave M's about 30 minutes, or as much time as it took for his apartment to transform itself into a sauna.
3) Using clean hands, start to flatten each ball of dough into a round that's about 1/2 inch thick and even. You can do this on a clean surface and then transfer it to a baking dish, but I like to do it right in the pan or tray I'm baking with.
It'll take some patience and a good sense of humor–I always end up with thin spots in my pizza dough! Relax. This isn't the SATs. If you have slightly lumpy crust, no one will care. I recommend starting in the center of the dough and working outward with flat palms.
Once the dough has been flattened, you may want to let it "rest" (and rise) for about five minutes. Then, begin stretching and flattening the dough again.
4) Keep working diligently until you have a large circle that's about 1/2 inch thick and about 10 or 12 inches in diameter (Ack! School word. That's 10 or 12 inches across). Using your fingertips, pinch the edges of the dough to form a little "lip" that goes all around the circumference (Drat! I did it again! I mean the edge) of the circle.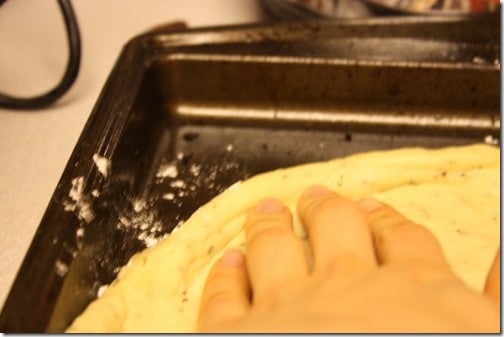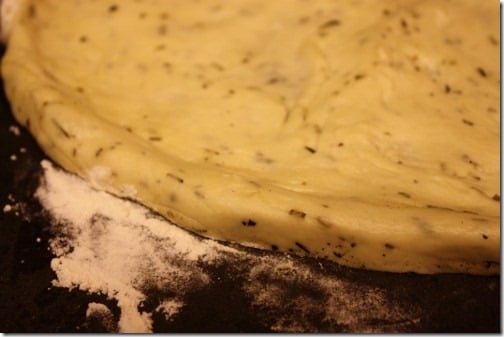 5) Make little dents in the dough with your fingertips (this can prevent bubbles). Brush the dough very lightly with olive oil, and you're ready to make pizza.
6) If you haven't been shaping the dough on your baking surface so far, now is the time to fold it gently in half and gingerly transfer it. Place your dough on a pizza stone that's been dusted with cornmeal, if you're lucky enough to have one, or an oven that fits one. But guess what? This New Yorker doesn't. This means that I usually squeeze my pizzas onto two regular baking trays that I've dusted with cornmeal. It's never easy, but it always works just fine. See?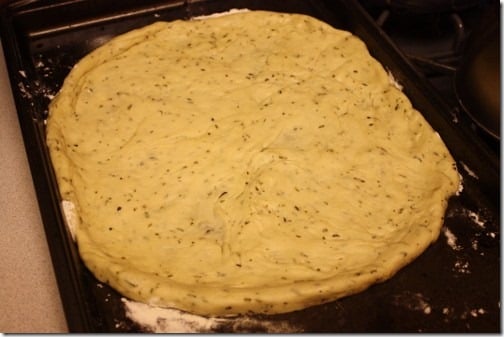 Layer your dough with sauce and toppings, and bake for about 15-18 minutes, or until it's crisp and browning on top.
Obviously, what I've just described will work for most any toppings, though if you intend to top your pie with something slow-cooking (for example, sweet potatoes), then I suggest pre-cooking them. For all watery vegetables (broccoli, spinach, onions, peppers, zucchini, tomatoes, etc.) don't bother cooking your toppings beforehand. If you're short on ideas, try one of these two babies.
Artichoke, Onion, and Sun-dried Tomato Pizza with Cashew Cheese (Vegan, Soy Free)
Makes 1 10-12 inch pizza
1 recipe Sun-dried Tomato and Walnut Pesto (below)
1 9 oz package of frozen artichoke hearts, thawed, or a package of fresh ones (some companies are doing this now)
1/2 large red onion, sliced thinly
8-12 sun-dried tomatoes, cut in half
1/2 cup cashew "goat cheese"
1) Spread the sun-dried tomato pesto in a thick layer on the crust. You'll have a bit leftover, but not too much.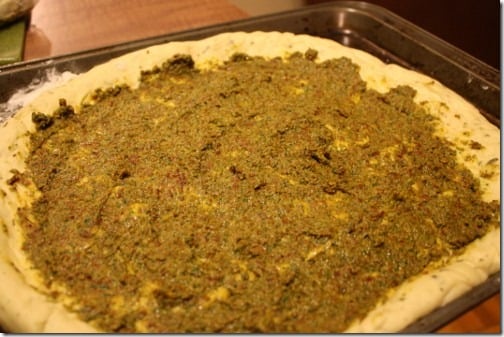 2) Spread the pesto with artichokes, tomatoes and thinly sliced red onions.
3) Dot the pesto and veggies with the cashew cheese, and bake at 475 or 500 degrees for about 15 minutes, according to instructions above.
Sun-dried Tomato and Walnut Pesto (Vegan, Raw, Gluten Free, Soy Free)
Yields Approximately 1 1/4 cups
1 cup tightly packed, fresh basil
1 small clove garlic, minced
1/3 cup walnuts
10 sun-dried tomatoes, soaked for ten minutes in warm water, drained, and roughly chopped
1 tsp lemon zest
1 tbsp lemon juice
½ teaspoon salt
Freshly ground black pepper
1/3 cup extra virgin olive oil
Combine all ingredients but the oil in a food processor, and pulse to turn into a meal.
Add oil in a thin stream till the mixture is getting thick and smooth. Add more oil as needed, until the texture is perfect.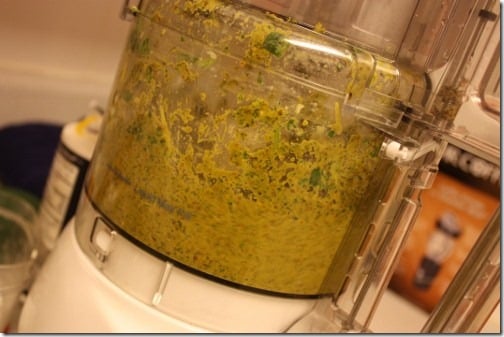 This pizza is truly divine: salty, savory, and bursting with flavor. I could have eaten leftovers for days.
And I did.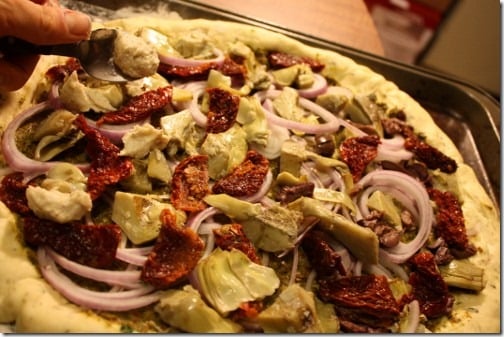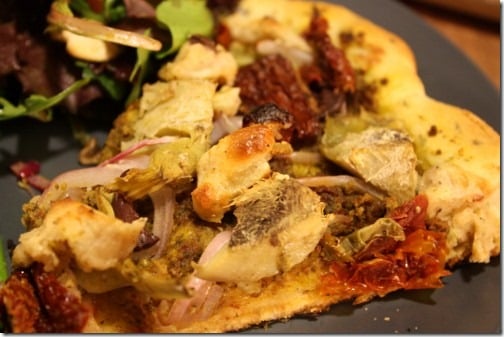 See how browned and delicious the cashew cheese gets? Incredible stuff.
Sometimes, though, we don't want cashew cheese. Sometimes we want hot tomato sauce and cheese that melts—just the way we remember most pizza of yore. Which is when the following recipe comes in handy.
Classic Mushroom Pizza (Vegan, Soy-Free)
Yields 1 10-12 inch pizza
1 package sliced button mushrooms
1 cup tomato sauce of choice mixed with 2 tbsp tomato paste (I use Muir Glen everything)
1 package Daiya mozzarella style cheese (you may not use it all, but have it around)
Optional: 9 oz artichoke hearts, thawed (I didn't intend to use them here, but I had leftover from the other pizza, and they worked nicely!)
1) Prepare pizza crust according to instructions above.
2) Layer crust with tomato sauce. Sprinkle it with Daiya to taste–M and I love our pizza cheese, but we've been known to, um, smother it a little, so try to eyeball it smartly. I'd say that 1 or 1 1/2 cups is about right.
3) Top the cheese with mushrooms. Bake at 475 or 500 for 15 minutes, and enjoy!
Of the two pizzas I made on this particular evening, I have to admit that I thought M would like this one better than my other pizza. Cashew cheese? Artichokes? It all seemed a little…out there. In the end, though, although we both loved the Daiya treatment (and agreed that it was pretty awesome as cold leftovers), we both preferred the artichoke, red onion, and pesto pie. I'd keep the Daiya variety around for a humdrum night, and save the artichoke and red onion pizza for a special night!
So that's it, friends. All the proof you need that pizza making is much more fun, and much less freaky, than you think. I'd love for you all to give it a shot, and to tell me what you make. In return, pizza lovers, I swear that I'll come up with more combos—both traditional and wacky—in the months ahead.
But for now, it's off to a chem quiz. Happy Monday!
xo