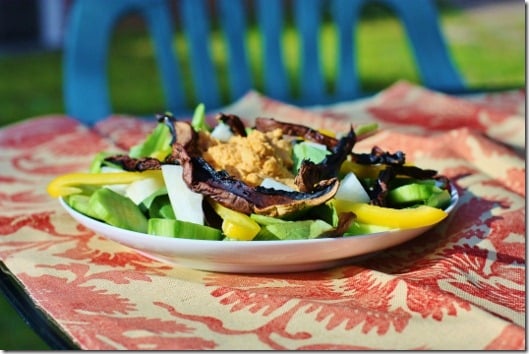 If there's one thing you learn right away when you go vegan (or vegetarian), it's that Portobello mushrooms make for a good "meaty" substitute. If you don't happen to figure this out on your own, any number of restaurants nationwide will show you: grilled Portobello "steak" is often offered as a substitute for chicken, fish, or meat on salads and in other entrée dishes. Though I do know a number of veg*ns who don't care for Portobellos—they find the texture off-putting—most plant-based eaters I know are delighted to use this mighty mushroom as a satisfying centerpiece in any number of special meals.
Recently, I was reminded of how much I like to use Portobello caps when I whipped up an old favorite for dinner: my raw, vegan "steak and potatoes":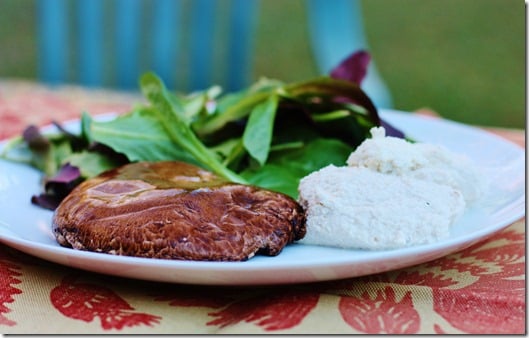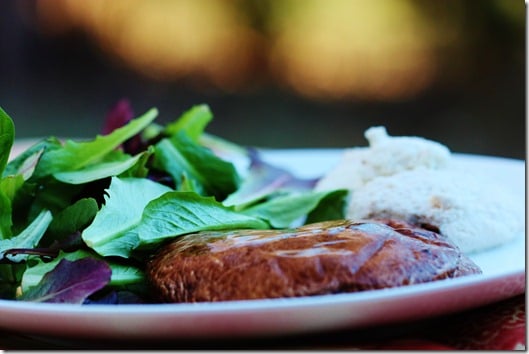 Recipe is here. This is raw comfort food at its finest—let remind you all that Chloe's husband, who is a lover of traditional meat and potatoes, goes a little crazy for my raw mashed potatoes!
Today, I'm taking a slightly different spin on raw Portobello. Instead of eating it whole, like the proverbial "meat" of a dish, I decided this week to slice it up, marinate it, and create a high raw vegan's version of "jerky." Part of the inspiration, naturally, was my eggplant bacon: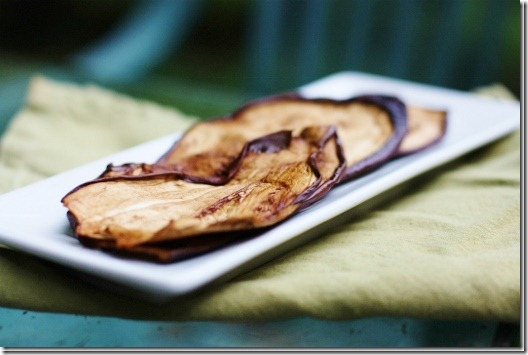 And in fact, this recipe uses the very same marinade. The results, though, are slightly different: the "jerky" has more chew, and I actually found it more accessible tasting than the eggplant bacon.
It's salty, smoky, and absolutely delicious. It's also an ideal way for students and other busy folk to get veggies in on-the-go. Which means it'll be a true staple this semester!
Raw, Vegan Portobello Mushroom "Jerky" (raw, vegan, gluten free)
Makes about 2 snack sized portions
2 Portobello mushroom caps, sliced into strips about 3/4 inch thick
For the marinade:
3 tbsp tamari
2 tbsp maple syrup
2 tbsp apple cider vinegar
1 tsp chili powder
3-5 drops liquid smoke OR 1/4 tsp smoked paprika (omit to make 100% raw)
Black pepper to taste
1) Soak the mushrooms in the marinade for about 4 hours or more (overnight is good).
2) Dehydrate at 115 degrees for about 4-6 hours, or until mushrooms are dried out but still chewy (not crunchy). Dehyrating time will vary according to how much liquid the mushrooms absorbed, so check them and adjust time accordingly.
A very typical snack for me when I come home in the afternoon after class is a small plate of greens and veggies, some raw crackers, and 1/4 cup homemade hummus. Below you'll see a snack plate featuring the "jerky":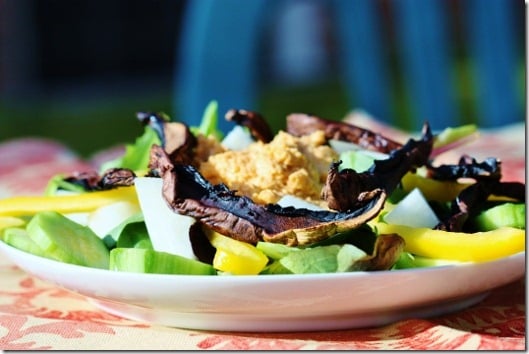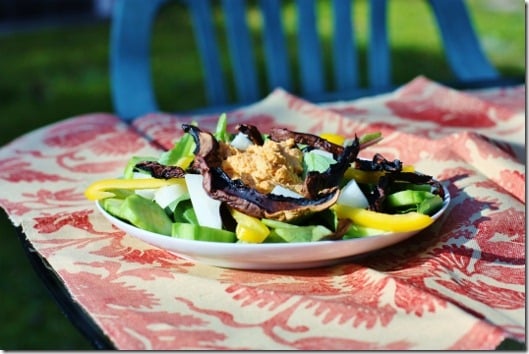 The whole point of this recipe is ease. So if you don't have time to throw together a little plate like that, just pack up the jerky along with some fruit or crackers or almonds, and munch on-the-go!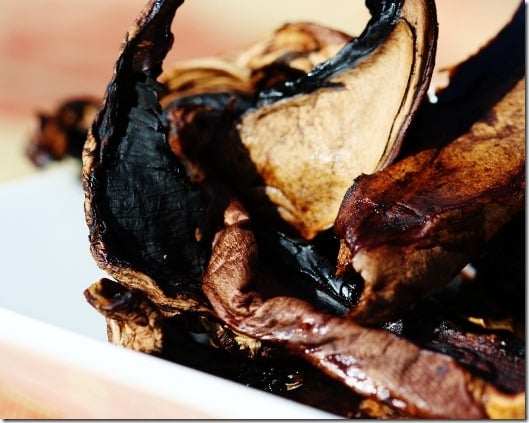 Yum.
Hope this inspires you all to add more veggie power into your snacking routine!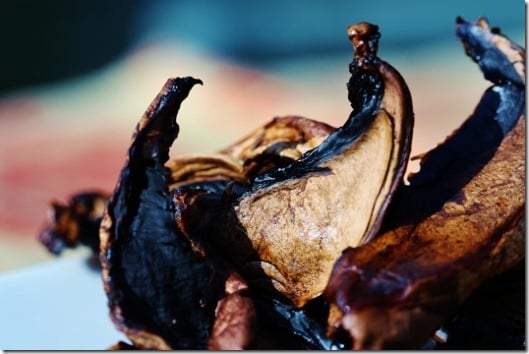 Mushrooms are powerful sources of antioxidants and phytochemicals. Note that their nutrition power is best harnessed through eating a mix of raw and cooked 'shrooms. This fills the raw quota very nicely

Happy MLK day, everyone: I hope you're commemorating in a special way.
xo