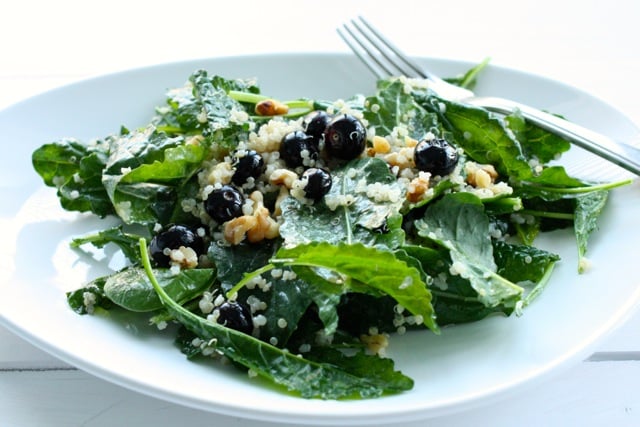 On Sunday, amid 82 degree weather and the first few whispers of DC summer humidity, nothing could have felt more right than this bright, flavorful, and green salad. It features lots of my favorite things, including blueberries, toasted walnuts, and tender baby kale.
The kale in this case was brought to me by the folks at Dole®, who recently offered me a chance to try some of their new Power Up Greens™ blends. These feature dark, nutrient dense lettuces that are ready to eat. I got three boxes: baby kale, baby kale & greens, and spring mix & greens. I enjoyed them all, but it was the two baby kale mixes I liked most; I was especially into the baby kale & greens mix, which features baby kale, baby spinach, baby green chard, and baby red chard. We all know the value of these greens–Vitamin K, A, C, manganese, calcium, antioxidants–but it can be hard to squeeze them in when schedules get crowded and kitchen time is cut short. Baby green blends, and the salads they create, make it easy.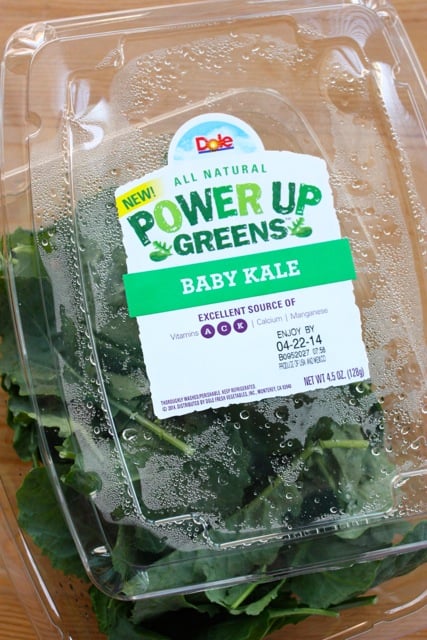 I was really pleased with how sweet and palatable the greens were; I've definitely had baby kale that was slightly bitter. I threw them into a couple of smoothies and a couple of salads through the week. In the end, this salad was my favorite. I decided to stick with the "power" theme, and I threw in some of my favorite everyday superfoods: walnuts, quinoa, and blueberries, which aren't in season yet, but so help me, I couldn't resist. A simple, lemony vinaigrette brought it all together. I could eat lunches like this every day, and be happy.
Power Up Salad with Baby Kale, Quinoa, Blueberries and Walnuts
Author -
1

package DOLE® Power Up Greens™

or 6 oz. baby kale or baby spinach

2

cups

cooked quinoa

1

cup

blueberries

1/2

cup

toasted walnuts

1/2

tablespoon

Dijon mustard

2

tablespoons

lemon juice

1/4

cup

extra-virgin olive oil

1

teaspoon

agave or maple syrup

Salt and pepper to taste
1. Place the greens, quinoa, blueberries, and walnuts in a large mixing bowl and combine them.

2. Whisk together the mustard, lemon, olive oil, agave, salt, and pepper. Toss the dressing over the greens and coat everything well. Serve.
Of course and as always, I would encourage you to modify the recipe to suit your tastes.
Just as a little bonus, the folks at Dole are letting me share a recipe for baby kale chips–no dehydrator required! There are a bunch of kale chip recipes on this site, but this is my first time sharing a simpler, oven-ready version. Using the baby kale makes it all the simpler.
DOLE® Power Up Greens™ Baby Kale Chips
6 cups DOLE® Power Up Greens™ Baby Kale
2 tablespoons nutritional yeast
4 teaspoons olive oil
1/4 teaspoon freshly ground black pepper
Sea salt, to taste
Directions
Preheat oven to 325°F.
1. Toss together DOLE® Power Up Greens™ Baby Kale, nooch, olive oil and pepper to coat. Arrange kale in a single layer on two nonstick baking sheets. Bake 10 to 12 minutes or until crisp and just starting to brown around the edges.
2. Cool kale chips completely before gently removing them from the baking sheets. Sprinkle with sea salt and serve or keep fresh in an airtight container.
There are endless variations for seasoning the kale for these tasty little chips. Try using a tablespoon of Asian sesame oil and a tablespoon of sesame seeds OR a tablespoon of walnut oil with a teaspoon of grated lemon zest.
Check out the Power Up Greens™ for yourself, friends, or just use these recipes as inspiration to start taking advantage of spring's fine crop of tender baby greens. I'll be back here tomorrow with some special news–so, till soon!
xo
This post was sponsored by Dole®. All opinions expressed in the post are my own.