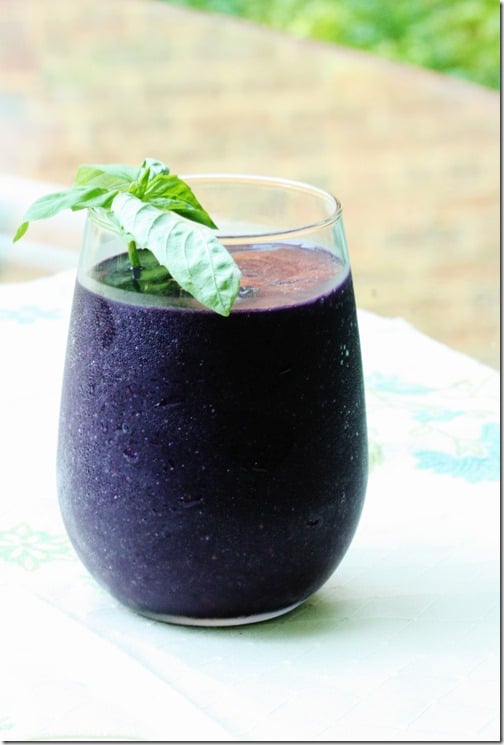 Sorry for the interruption in our regularly scheduled CR programming, folks! If you're in the DC/ NOVA area, then you know that an epic rain, wind, and lightening storm on Friday night left a ton of folks—myself included, at least for part of today—without power, internet, or proper cell reception. For people like me, who are remorselessly internet dependent, these hours are difficult. Thankfully, my Mom was visiting, so any anxiety related to the power outage was channeled into making her feel comfortable and not stressed out. How, you ask?
Well, there were pancakes:
And there was tea and conversation in the Hobbit garden.
On Friday afternoon, before my Mom arrived and the apocalyptic weather began, I whipped a deep purple, beautiful, and tasty basil blackberry smoothie.
Basil and blackberry you say? Why, yes. I use fresh basil in everything during the summer, from pestos and salads to grain pilafs and slaws. I adore basil, and I'll pretty much use any chance I get to add it to my food. In the last two weeks alone, I've shown off my adoration of this herb with my parsnip rice with basil and spring peas, and, on Thursday, my lemon herb quinoa with spring peas and basil.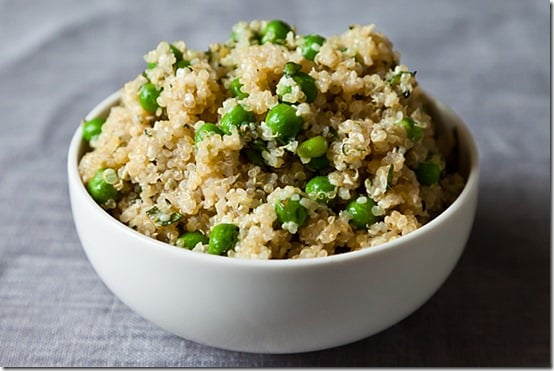 Basil may not seem like an obvious add in for a smoothie, but the other day, when I whipped up a lunch salad that included blueberries and basil, it occurred to me that the same kind of combination would be great in a smoothie. Lo and behold, a little googling revealed that I'm not, in fact, crazy (or if I am, it isn't because such a smoothie sounded good). Blackberry and basil is a tried and true combination, and if it weren't, I'd be telling you to try it anyway. It's absolutely delicious; sweet, surprising, and summery.
Blackerry and Basil Smoothie (raw, vegan, gluten and soy free)
Makes 1 large or 2 mini portions
1 cup blackberries
1 medium or large frozen banana
1 scant cup almond milk
1/2 tsp vanilla extract
1 small handful basil leaves, washed
Blend all ingredients together till smooth and creamy. Serve with a sprig of basil!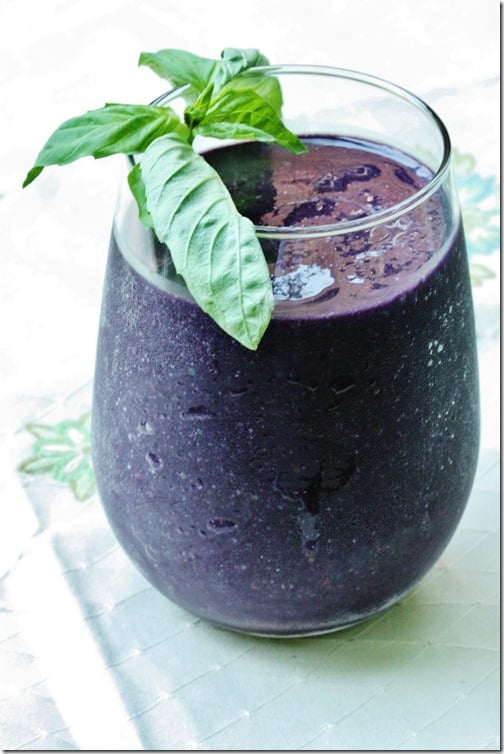 Power outages aside, it's piping hot here in the district. More and more, cold, blended drinks are becoming a daily part of my routine; either a really nutrient dense smoothie (with hempseeds or chia seeds, a vegan protein powder, maybe some nut butter, greens, and the like) for breakfast on a weekend (I don't like transporting them to class, so they're not a weekday breakfast option) or a lighter, fruitier mix for late afternoon refreshment. Combinations like this remind me that something so simple—the addition of a mere herb—can make an otherwise predictable smoothie sing.
What was the last unexpected smoothie combination you tried?
With that, I'm getting back into the swing of things with some late afternoon work and focus. I hope you all enjoyed your weekends, and I'll see you back here tomorrow! On the menu this week:
A new pancake recipe (Mom approved)
A new cookbook review
A simple, summery potato salad
And more. Till soon!
xo
NB: I'm submitting this recipe to Ricki's Wellness Weekend!