Happy Sunday!
As promised, I'm here with a full recap of what was a lovely pre-birthday celebration yesterday: first, a juice date with my buddy Kristen, and then a full blown dinner extravaganza at Pure!
After waking up to a grayish morning jog, I was delighted when the clouds parted and I was able to meet up with Kristen – who's in town for a nice long trip, and conveniently staying right near my apartment – for a juice date at one of my favorite vegan joints, Blossom. Blossom has a terrific juice menu, and while the fabulous manager, Craig, is always kind enough to make me my special blend (cucumber, spinach, celery, parsley, green apple and ginger), one wasn't enough: Kristen and I also got the oh-so-delicious pink lady, which is a combo of apple, pear, pineapple, beet, and ginger. Here we are with our juices:
It was so delightful getting to know Kristen and her husband; I've read Kristen's blog for a while now, and learned a great deal from her, and I'm happy to say that she's every bit as sunny and sweet as she seems in print.
Later in the day, I headed downtown to my favorite dining destination, Pure Food and Wine, where Kristen was actually having drinks with another one of my favorite raw peeps, the wonderful Dhrumil of We Like it Raw. It was fun to catch up with Dhru, if briefly. Soon, my friends Cassie and Amy arrived, and it was time for us ladies to dig into what is one of the best meals I've ever had.
I do not throw superlatives around when it comes to restaurant dining. I'm sort of a kitchen snob: like Heather, I like to make the food I like on my own. As anathema as it may be for a New Yorker to dislike dining out, I really don't love it. With the exception of a few restaurants, I often find that eating out means paying money to have disappointing, mini-sized salads or dishes that I know I could make more to my liking at home. Eating at Pure, though, is quite the opposite: I could never muster up the patience or time or expertise that goes into a meal prepared in the Pure kitchen, which is why I'm always thrilled to eat there. Last night, with its VIP service and amazing selection of food, was my best Pure experience to date!
We started with three appetizers. Cassie ordered the Caesar salad, which I love and have ordered many times:

Amy got the Spicy Thai Lettuce Wraps, which I also really love, and often make at home:
And I got to sample the incredible chili lime tortilla wraps. As they say in the blogosphere, holy yum! This was my first time tasting these (shockingly, since they're stuffed with the same guacamole that I often devour at Pure's takeaway spot), and it will not be my last! This might be habit-forming :):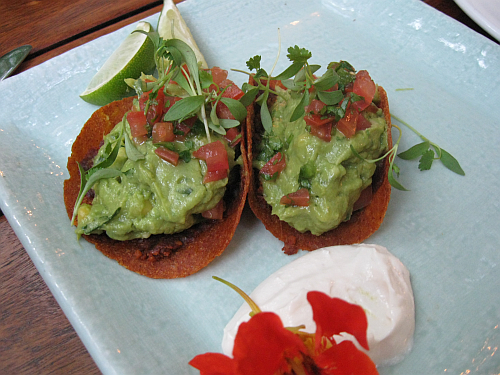 For our entrees, Cassie had the white corn tamales with raw cacao mole. Oddly, though this is many people's favorite Pure dish, I have yet to fall in love, but it got rave reviews from Cassie and Amy.
Amy got the beet ravioli with pignoli cheese, which I made for Christmas dinner this year, to rave reviews from my Mom:
And I got my old standby, the asparagus sushi rolls:
Finally, dessert. As you all know, I'm not much of a dessert chef. So when I go out to eat, I tend to let the experts dazzle me. And dazzle they did. My birthday treat was Pure's new strawberry shortcake Napoleon. It was a-m-a-z-i-n-g: I kid you not when I say that utterances of "this is the best thing I have ever eaten in my life" were being hurled around the table. Here I am, blowing out the candle: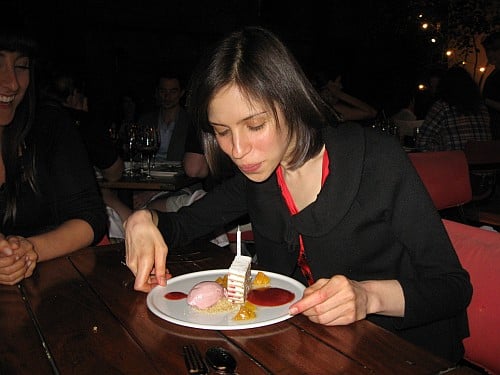 And the staff at Pure was kind enough to bring us yet another incredible dessert: the peach cobbler with aged maple syrup and vanilla ice cream. This was also delicious.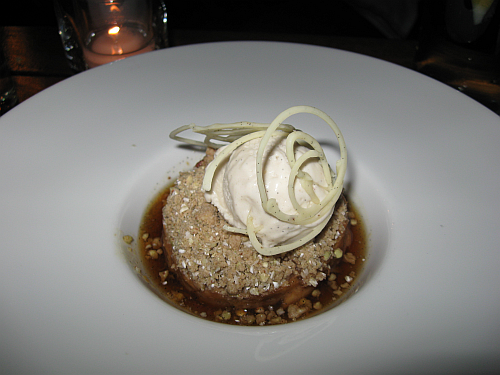 This was one of those meals that reminds one of what restaurant dining at its very best can be. I love to keep it simple most of the time, but there's nothing quite like a big, intricately and lovingly prepared meal, and I am so grateful to Sarma and her incredible staff of chefs and servers for this night. Here's a shot of me and Cassie — before we were stuffed to the gills!
On the birthday agenda today:
A run/walk in the park
Movie (yes, I'm seeing The Hangover)
Manicures with friends
Massage for me (my yearly birthday treat to myself)
Birthday Dinner at Candle 79 with my wonderful Mom
I don't put much stock into birthdays, on the whole: I'm not a person who frets about getting older, and for the most part, and organizing big parties has always struck me as a little stressful (not to mention a little lame at this age). I just use them as an excuse to pamper myself more than usual. But lately I do find myself devoting my birthdays to being grateful for all of the good things in my life, which seem to have accumulated by the year. This year is no exception: it's brought me many new professional endeavors and many new friends—and I had a pretty rich professional life and incredible friendships already. Long story short? I have a lot to be thankful for.
Have a beautiful day, everyone!
xo
P.S. If you haven't yet, please check out my guest post at Oh She Glows!