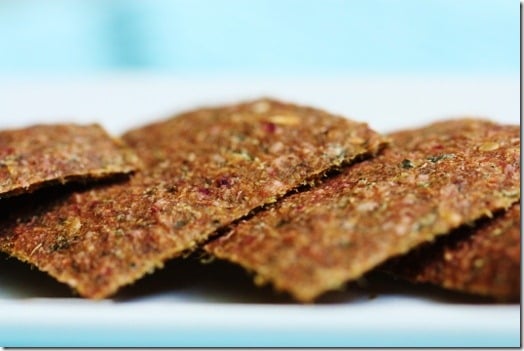 Every day, I get emails, tweets, and comments asking me how to "go raw." Since I don't tend to think of raw food in all or nothing terms, I find the language of "going raw" a little problematic. But even if you are committed to going all raw, I'd tell you the same thing I tell everyone: add first, subtract later. And I'd add this piece of crucial advice: don't start by thinking about your favorite cooked entrée (say, lasagna) and trying to make a raw version in the dehydrator. Make every simple dish raw (soups, salads, veggie sides, dressings, dips) and cook the rest. If you get your bearings quickly and want to invest in a dehydrator, go for it, but I don't think it's the place to begin.
For this reason, I think I sometimes run the risk of sounding anti-dehydration, which isn't entirely true, either. If anything, this was the summer of Gena and her dehydrator: every week, I whipped up a batch of kale chips, crackers, raw flatbread, and apple chips at the least. For a lady who owned a dehydrator for a full five months before she even opened the box, this is a pretty impressive track record! I still don't tend to make any entrees in the dehydrator (if I want lasagna, I'll make a simple raw version, or I'll cook one with some regular old noodles), but I do use it at least 3-4 times weekly for packable snacks.
More often than not, my dehydrated goody of choice will be some variation of my juice pulp crackers. I make these again and again and again, using a variety of seasonings, flax/nut/pulp ratios, and textures. I love raw crackers (they get packed as a snack or part of my lunch every single weekday), and now that I have a couple of midday breaks in my school schedule, I can hurry home and use my juicer. More juicing (hooray!) means more organic juice pulp to take advantage of: I really hate throwing away piles of high quality veggies, even if what's left is mostly fiber.
Yesterday, I had some beets on hand, so I made my first beet/veggie juice in ages (I usually use carrots or apple for sweetness, but I should really start using beets more often). The scarlet colored pulp that was leftover from
4 beets
2 carrots
1 cucumber
3 stalks of celery
a bunch of kale
half an apple
…looked perfect for some vividly colored veggie crackers. Here's how I used it up: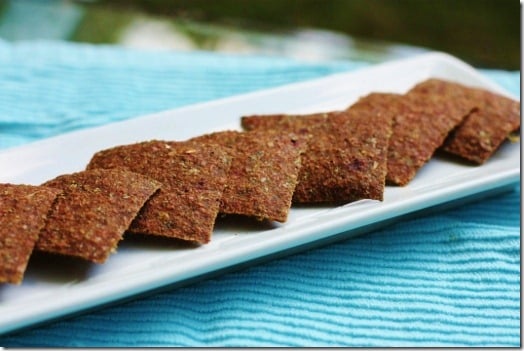 Pretty in Pink Crackers (raw, vegan, gluten and soy free)
Makes about 30 crackers
2 full cups of beet and other veggie juice pulp
1/3 cup flax or chia seed, ground
1/4 cup pumpkin seeds
1/2 tsp sea salt (add more if you'd like to)
2 tsp dried parsley OR an herb mix you like: parsley, thyme, rosemary, etc.
1 scant cup water
1) Add chia and/or flax to the pumpkin seeds and grind in your food processor (fitted with the "S" blade) till powdery.
2) Add pulp, sea salt, parsley. Run the processor and drizzle in your water, stopping to scrape sides now and then, till you have a pasty but spreadable mixture. Use your judgment: if your pulp was very "wet," you may not need a whole cup of liquid.
3) Spread onto Teflex lined dehydrator sheets and score into cracker shapes. Dehydrate at 115 degrees for 8 hours (or overnight), flip, and continue dehydrating till crispy. Enjoy!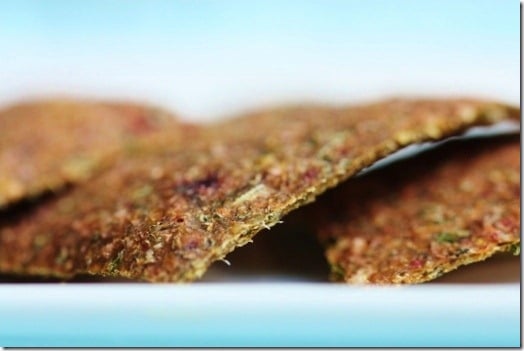 If pumpkin seeds (also known as pepitas) aren't your thing, feel free to use almonds, cashews, sunflower seeds, or hemp seeds. They all work fabulously in raw crackers. And also feel free to vary your pulp: the point of this exercise is to use up all that glorious produce, so even if you don't have the beets that give my crackers their hue, you can proceed with this recipe template.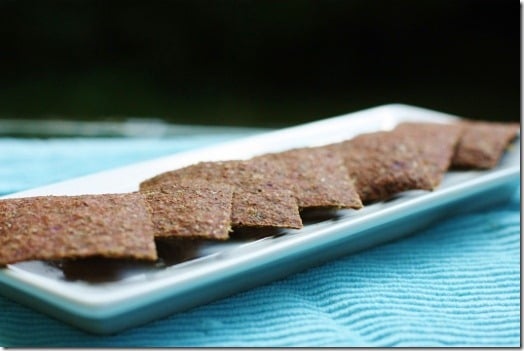 Later this week, you can expect another application for veggie pulp with beet in it. For now, I'll remind you that, if you don't have a juicer, you can always grate and then process veggies to provide the base for these kinds of raw crackers. And you can also always bake them at 350 or so for about 35 minutes. We're all about flexibility here at Choosing Raw

Speaking of flexible things, I have an organic chem model set that's begging me to build some cycloalkanes. On that note, I bid you all a good night!
xo