Yesterday, when I shared my recipe for raw "tuna salad," you may have noticed some chips in my snack plate:
They're over on the right.
These delicious treats were a gift from the kind folks at Brad's Raw Chips, who agreed to send me some of their flavors to sample. Thank you, Brad & Co.!
When I first spotted these chips online, they seemed to look a whole lot like the juice pulp crackers I make at home. I love those guys, but the thing is, my schedule hasn't allowed me to juice consistently for months now (it's pretty much a weekends only treat), and with the lack of juicing comes a lack of juice pulp with which to make crackers, falafel, etc. Brad's Chips seem to be made just like my juice pulp crackers are made: veggies, flaxseed, salt, pepper — simple! (Brad adds some buckwheat flour).  And Brad himself has a very inspiring story, from SAD diet to raw. You can imagine how excited I was to get these guys in the mail!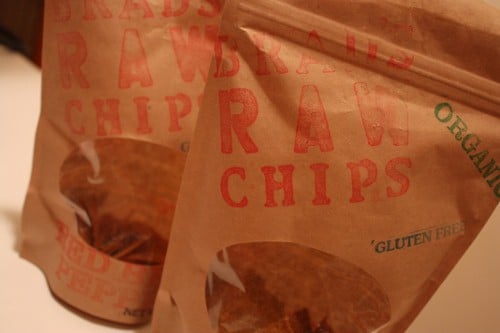 I got the kale, Indian, and red pepper flavors (the ones I wanted to try most). I dug into the kale flavor first (duh):
…and it was love at first bite. They're not too salty, not too spicy, but not bland, either. I'll admit it: my own pulp crackers are decidedly bland. I need to take a cue from Brad! Here they are, with some hummus:
Next up came the red pepper flavor, which is what I served with my "tuna" salad:
…and with a batch of my Middle Eastern cauliflower "rice":
Finally, I tasted the Indian flavor (which I didn't catch any photos of — sorry guys!). Of the three, it was my least favorite, but it would be many peoples' most favorite. It's very flavorful and quite spicy, and since I'm quite sensitive to heat, it was more than I could handle. But it would be right up a lot of other alleys.
If I had to rank my favorites, I'd say it was 1) kale, 2) red pepper, 3) Indian, but in truth, all of these chips are great. And the nutritional stats are very healthy, too! Check them out:
Plant-based nutrition on the go! They're great snacks, especially if you're craving savory foods more than sweet, and they're obviously wonderful for dips and for sprinkling over salads. They're light, too; Lydia's crackers are favorites of mine, but I'll confess that they sometimes feel a little too dense to be rightly called crackers–they're more like raw flatbreads! These guys truly are chips/crackers: they can be a part of a big meal, or they can be a little snack.
I highly recommend all of these products. Brad's a fellow who seems worthy of support, and I'd personally love to see his business grow. If you're short on kitchen time and have been thinking of investing in a raw cracker or chip as a shortcut, check these guys out — you'll be so glad you did.
xo