Early in the summer, before I headed to New York for The Seed, I got an email from the folks atCore Foods, a new bar and performance food brand. Was I interested, they asked, in trying some of their 100% vegan bars? I said yes, of course. Core Foods Defender bars are 100% vegan, raw, and organic, and they're packaged in such delectable flavors raw almond cinnamon raisin, cashew cacao, and walnut banana. (Edited to add: A reader pointed out that the "Warrior" bars, which I did not sample, are not vegan, so be mindful to select the "Defender" bars if you are vegan.)
When I arrived at the Seed, Core Foods' hardworking intern, Matt, presented me with a sample of the walnut banana flavor (as he also presented attendees with samples).
Matt's shirt said "unleash your warrior," and when I had a chance to read up on Core Foods, the message made sense within the company's larger ethos.
Core was founded by Corey Rennell, who had trained with athletes and was fascinated by the idea of creating a portable food that was made of real food, rather than sugar and artificial ingredients. The packaging of these bars pictures Hellenic athletes in motion—evidence that the company seeks to provide busy people with sensible, real food options on the go:
Core Foods bars are distinctive for two reasons. First, they are intended more as meal replacement than as snack food. Most of us rely on "snack bars" like Larabars and Pure Bars and the like, to tide us over between meals or when we're on the go. These snack bars can be used as a part of a meal replacement, sure, but they average about 210-240 kcal per bar, which alone is not sufficient energy intake to serve as lunch or dinner for most people. Unfortunately, snack bars are all too commonly used to replace meals, which can result in lingering afternoon hunger pangs.
I myself eat a ton of snack bars, but unless I'm traveling, caught off-guard at an event with zero vegan food options, or otherwise unprepared, I don't rely on them to replace meals. If I do base a meal around them, it's always with other food: hummus and veggies, a big salad, and fruit and flax crackers are all examples of things I'll eat with a snack bar to fill me up. In truth, I don't love to depend on snack bars at mealtime—they're just not interesting enough to capture my heart as lunch or dinner—but as a student and hospital volunteer, I find them incredibly useful. Between meals, I think they're invaluable options as snacks because they're so incredibly easy to transport.
The first time I saw a bar that was developed specifically as meal replacement, rather than snack food, was when ProBars hit the scene a few years ago. With calorie counts of approximately 350 kcal and plentiful amounts of dietary fat, these bars were suitable for light meal replacement for relatively sedentary people during busy days, and they could also double as substantial snacks for hiking and other outdoor activities. 350 kcal is still more modest than an average meal in my world—and it's probably less than is suitable for the average person—but it would certainly sustain one if life happened to get in the way of a regular, sit-down meal.
Core Foods bars have the same concept: they have about 350-390 kcal each and an average of 18-24 grams of fat and about 35 carbs.
This may sound like a lot to you, but consider that the bars are really intended as portable meals. They're a food you can rely on when you're traveling and can't seem to find vegan breakfast options anywhere, or for when you arrive at a morning meeting and learn that pastry is the only offering. Indeed, the bars' packaging directs you to eat the bars with water as meal replacement. The labels declare that the bars are equivalent to a bowl of oatmeal (raw oats are one of the main ingredients).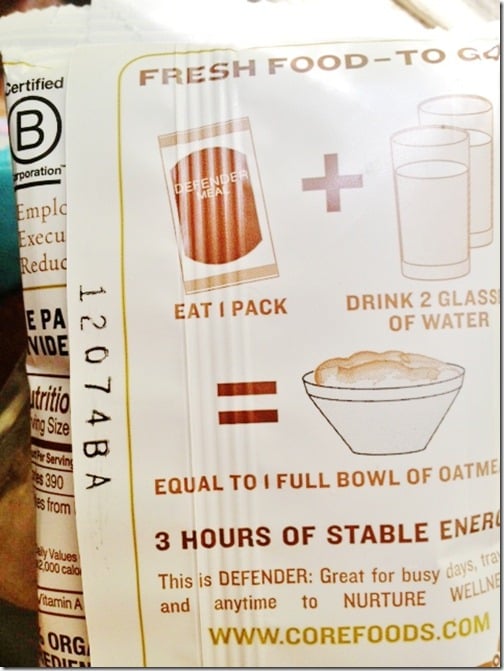 With the "bowl of oats" equivalency idea in mind, I tested a Core Bar as breakfast in class today, along with a container of fresh berries and plenty of water:
The flavor I brought was the cashew cacao, which was full of raw chocolate chunks, raw oats, and cashew nuts:
The bar did tide me over from 8:30 am till my lab let out at noon. Sure, I was a little hungrier than I usually am at that time—no avoiding that, given that the bars are so much less voluminous than a bowl of oats would be—but I wasn't uncomfortably ravenous, either. And I really liked the flavor. Who doesn't like a little cacao with breakfast?
This brings me to the second notable feature of Core Foods bars: they're not very sweet. In fact, they're barely sweet at all. The cashew cacao bar only has 6 grams of sugar, and the banana walnut only 8. Almond raisin has most, at 17 grams, but even that's not a lot by bar standards (especially given that it's a bigger than average raw bars, which can easily have about 26 grams of sugar). They have the slightest hint of sweetness when you eat them, but you'll be amazed at how relatively un-sweet they are compared to the bars you know and love already. I find a lot of bars to be delicious, but a little sugary, so I really liked this.
Then again, my mother has accused me of never making anything sweet enough (cookies, muffins, cakes), so I may have a taste for food that is less sweet. If you try Core bars yourself, I can't promise you that you'll love the lack of sweetness at first, but I do promise that you'll get use to the very moderate sweetening over time. Of the three flavors I tried, the cashew cacao was definitely my favorite, and it was the least sweet; banana walnut was my next favorite, and that was next to least sweet; the sweetest bar, the almond raisin, was actually the one I liked least (though I thought it was fine). So that's proof that I didn't miss the sweet flavor I'm used to in other brands at all!
Other features of Core Foods Defender bars:
100% vegan
Raw
Organic
Gluten Free Certified
If you're looking for a very hearty bar option on the go, I think these bars are a clear winner. I can't promise that they'll be the most stimulating or fun bars you've eaten—leave that to the sweeter and more complicated bars—but I do assure you that they'll provide you with solid, lasting energy, healthy fats, protein, and carbohydrates, and 20% of your RDA of iron (which is no small feat). For nutrient density and good sense, these bars get two thumbs up from me!
How do you distinguish between meal replacement and snacking? What are some of your portable meal replacement ideas? As a busy student, I'd love to know!
xo
Disclosures: The Core Foods company contacted me and offered me samples to review for the purposes of this dedicated post. I was not compensated for this review.