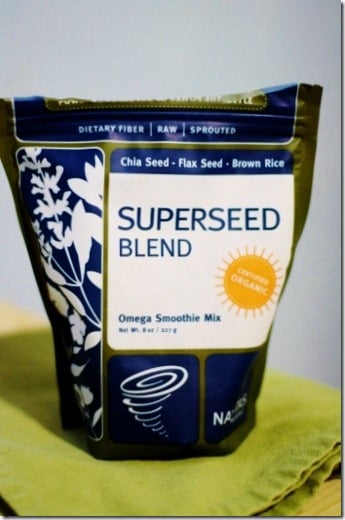 My name is Gena, and you can call me the reluctant superfoodie.
Ever since I first began writing this blog, I've shared openly my skepticism about panaceas, health "gurus", and superfoods. This is not to say that I've never enjoyed those foods—maca, spirulina, chlorella, goji berries, lucuma, yacon, acai—that are often given the label of "super." It simply means I've always wondered what the difference between these and other nutrient dense foods is, aside from a hefty price tag.
This summer, however, my skepticism was tempered by my discovery of my friend Julie's book Superfood Cuisine, which inspired me to reevaluate the unique properties of many "superfoods," and to appreciate their tastes. Now, a small love affair with superfoods is being fueled by some recent gifts from my friends at Navitas Naturals, who wanted to share a few of their new products with me:
That's yacon syrup, mesquite (a favorite of mine!!), and two of their new portable snacks:
These remind me of "chunks of energy," which many of you have probably tried at health food stores, but they're less dense and (frankly) dry. The citrus chia flavor is very bright and tasty, though if unsoaked chia bothers you, you'll want to try the goji cacao instead. Both are totally delicious, and I've been enjoying these little bursts of superfood goodness as both daytime snacks and desserts.
My favorite new Navitas offering, however, is their "superseed blend," which is an Omega 3 and 6 rich blend of flax, chia, and brown rice.
I usually alter between chia and flax in my cooking: in my juice pulp crackers, for example, I've used both flax and chia as binders and bases. In the end, I like them for different reasons: flax makes my crackers crunchier, and chia makes them a little more neutral tasting (for more of a side-by-side comparison, check out this post). With this new blend, I don't have to choose! The texture ends up someplace in between, and it's a perfect happy medium for me. Brown rice, meanwhile, adds a little heft and nutritional density.
It's often the case that foods compliment each other nutritionally: I think we all know the famous example of rice and beans pairing up to offer the full spectrum of essential amino acids. I like that Navitas is thinking synergistically lately: in this case, the combination of raw, sprouted and organic chia and flax makes for a fairly ideal EFA balance.
So far, I've used this blend in smoothies, in some raw tomato flatbread, and even as a salad topper. But my favorite application is obviously this: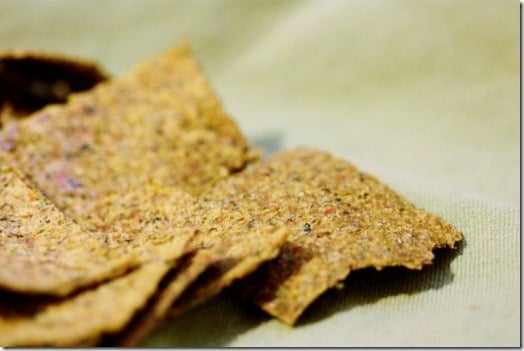 Those broccoli/carrot/beet/cucumber pulp crackers came out of the dehydrator only moments ago, and I absolutely can't wait to pack them up for school tomorrow!
If you're looking for a very easy way to incorporate more EFAs (essential fatty acids) into your diet, if you'd like a binding agent that's someplace in between chia and flax, or if you simply want a break from the usual flaxseed in your morning oats, I highly recommend this new blend! You can look for it in Whole Foods, or check out the Navitas website for more info.
Tomorrow, I return, with yet another raw nori roll to die for!
xo