It's rainy and cold today, and under normal circumstances, I'd be dismayed that April's around the corner and I'm still wearing a parka outside. Today, however, I'm not dismayed. I'm relieved, because I've had photos and a recipe for pumpkin chia seed porridge sitting in my computer for over a month, and I keep forgetting to post them, and if I don't do it soon, they'll start to seem highly out of keeping with the weather.
Recently, I received a tweet asking if I happened to have a recipe for pumpkin porridge. I wracked my brains, trying to think about whether or not I do. I have my pumpkin chia pudding, of course—that's a perennial CR fave—but porridge? I didn't think so.
Then it occurred to me: I make pumpkin porridge all the time. It's called putting canned pumpkin into warm breakfast cereal, and it's one of my favorite things to do. The only reason it didn't immediately occur to me that I'm in fact a veteran pumpkin porridge maker is that "pumpkin porridge"—the recipe title itself—sounds fancier than "I dump some organic, canned pumpkin into my oats as they cook."
But what's in a name? Foodie though I am at heart, I'm not trying to win a James Beard award here. The purpose of my blog is to present raw and vegan cuisine accessibly, so that all of my readers will be inspired to eat it. So, as I simultaneously write my pumpkin porridge an apology note for not having realized that it goes by fancier names than the ones I call it, here's my favorite wintery hot cereal.
Pumpkin Chia Porridge (vegan, gluten free if you purchase gluten free steel cut oats, soy free)
Serves 1
1/3 cup steel cut oats (or a very round, heaping 1/4 cup)
1/2 cup pumpkin, canned (organic if you can)
1 cup water
1/2 tbsp chia seeds
1 tsp cinnamon
Dash nutmeg
Stevia to taste
2 chopped, pitted dates
1 tbsp almond butter of choice (I like homemade when it's possible)
1) Bring the water to a boil, and when it boils, add the oats. Reduce heat to a simmer.
2) Add the canned pumpkin, the chia seeds, the cinnamon and nutmeg, and some stevia, if you like.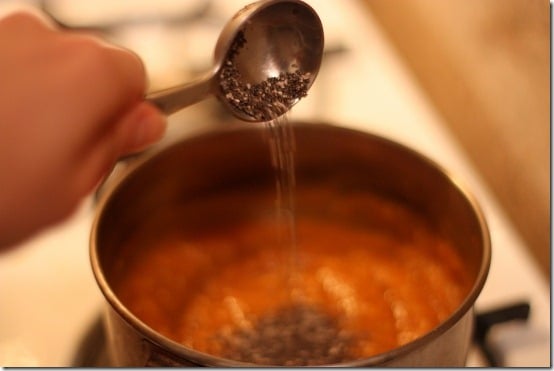 3) Cook over low heat for 12-15 minutes, or until the oats are creamy and soft. Steel cut oats have a chewy texture, but they shouldn't be hard. If you run low on liquid, keep adding water. (Alternately, you can cook the oats in almond milk.)
4) Remove oats from heat. Top with chopped dates and almond butter, and a sprinkle of cinnamon, if you like.
Chef's Notes:
1) I typically use about a called-for serving size of hot cereal, but I always use more than the suggested 1/4 cup of steel cut oats! They aren't as voluminous as other oats are, and I need the bigger portion size to sate my appetite.
2) You can absolutely use regular rolled oats or oat bran here. If you do, you'll be cooking them for a shorter time.
3) If you do want to be virtuous and use your own pumpkin purée, more power to you!
There is probably a recipe for pumpkin porridge that calls for baking sugar pumpkins and scooping out the flesh, adding it to steel cut oats that have been simmering for thirty minutes, and topping it with nuts that have been skillet toasted to perfection. This is not that recipe. Instead, it's my recipe: a recipe that reflects my lifestyle, attitude, and priorities. I'm a person who loves to do everything from scratch when I can, but I'm also a student who runs out the door bright and early. I'm a person who knows about the superiority of fresh produce over canned, but believes that canned foods (especially BPA-free canned foods) have a reasonable place in any natural foods kitchen. I'm a person who loves adding small bits of superfood ingredients—like chia seeds—to traditional recipes. And I'm a person who loves to eat—and thus delights in this generous and filling breakfast.
In the wonderful feedback to my first Green Recovery post, Katie mentioned this concern:
Now that I'm actually writing a blog and not just reading them, I definitely feel a strange pressure to have my meals or my recipes fit a certain mold. I try not to give in because obviously that's not what a food blog should be about. So many food bloggers document their every meal, and I wonder how much of an effect (whether positive or negative) that would have on recovery.
Well said, Katie. I think most bloggers have bumped up against this feeling before—the feeling that the stuff we eat is less exciting, balanced, nutritious, interesting, aesthetic, or appealing than the food we see day in and day out on other blogs. When I started blogging, I immediately realized that there were many "food styles" in the blog world. I know which ones were not my own:
My food isn't fitness-y. While I'm enough of a nutritionist to be well aware of my macronutrient balance in a broad way, I don't plan my meals around macro ratios. I don't go to great efforts to beef up my protein intake, and I've never read a traditional fitness/diet book (Brendan, you're my only guide in that department).
My food isn't always convenient or fast. Simple, yes, but not always fast. I'm more likely to spend a hot minute on a salad and dressing and dip and cracker than I am to throw together a sandwich or eat a bar. I know this tires some readers, who aren't in the mood to chop veggies all day, but I just can't help it.
My food isn't "raw gourmet." I almost never use my dehydrator. I don't know much about replicating raw meatloaf or raw pie. I tend to mess up raw bread a few times before I get it right. I love making the odd raw gourmet recipe here and there, but I never sustain that level of intricacy for long.
My food isn't traditionally "gourmet", either: I don't do reductions and coulis and soufflés. I can't make a perfect chiffonade, and I'm hopeless with pastry. I don't tend to think much about garnishes.
After I spent some time thinking about what my food style wasn't, I thought about what it was:
My food is semi raw and all vegan.
My food is nutrient-dense, but it's not a performance formula, either. It's a balance of taste and function.
My food is usually very green.
My food is more savory than sweet. But a lot of my recipes are savory/sweet. I know, I know—it's hard to keep up with me.
My food probably meets most definitions of "health food." I like to eat sprouted things, and I like ancient grains, and I like raw kale. I care a lot about the quality and health potential of what I make. At the same time, I'm not too interested in eating only things that are 100% raw, pure, toxin-free, immaculate, and godly. I like a little daiya here and there. I like Field Roast. I like whole grain bread. I like coffee. Sometimes I even like soy creamer in my coffee. It's a nice balance.
Of course, there are other tendencies that define my food style and personal taste as a cook, but these are the principle ones.
If you're a new blogger, I encourage you not to spend too much time comparing. If you're in good health and you enjoy your relationship with food, then there's no reason why you should look at anyone else's blog and think "Gee. Maybe I'm supposed to be eating like her." If you started blogging because you love to eat, then chances are you're doing a pretty great job of it already. Get inspired, sure. But don't change too much. We want you in our community because you're not exactly like us—you have a style of your own to offer! And we want to hear about it.
xo
EDITED TO ADD: New Yorkers! Are you around on Tuesday night? Would you like to hear some side-splitting jokes, eat a delicious vegan meal, indulge with some mind-blowing vegan desserts, and raise money for Woodstock Farm Animal Sanctuary? You can do all of that–and hang out with me–by attending Woodstock FAS's annual Comedy for Karma benefit at Gotham Comedy Club. Tickets are 50$, but for a terrific meal and a donation to a great cause, I happen to think that's a steal.
If you decide to attend, let me know! I'll be there with my camera, and I'll be excited to meet you. Details here.