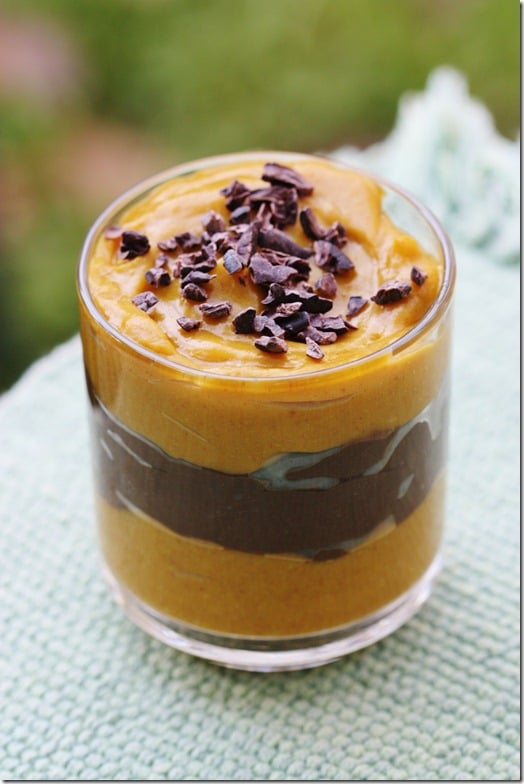 I'm such a tease. First I allude to a Halloween-themed sweet treat, then I deliver it not only a day later than promised, but also two days after Halloween itself. I'm sorry to make you wait, folks, but hopefully the pleasures of this recipe—a mouthwatering chocolate and pumpkin parfait–will make it all worth it.
This has been a season of pumpkin pudding: a few weeks ago, I shared two recipes, one using silken tofu, and the other using cashews. Only a few days later, I shared a recipe for pumpkin cream sauce that doubles as a pudding, and contains neither tree nuts nor soy, and is thus very appropriate for my allergy-conscious readers. All of these have been big hits!
This week, I decided to challenge myself one step further, and create a pumpkin pudding that was allergy-friendly, not excessively high in fat, and impossibly rich and creamy. And I wanted to do it all without xanthan gum, which is a fantastic shortcut ingredient if you're making a pudding in a pinch, but which can cause some minor stomach upset, especially if it's eaten too often.
My solution? This stuff.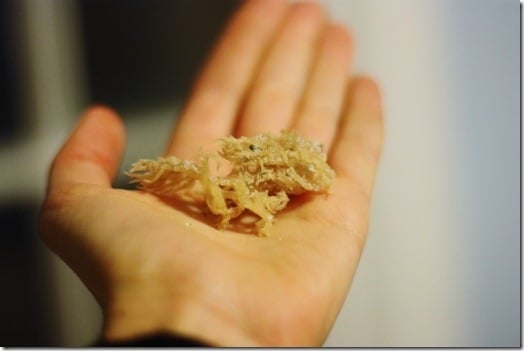 That, my friends, is Irish moss. It is an algae, and it has superpowers as a thickening agent in all kinds of recipes. I have avoided Irish moss in the over four years I've been eating raw, for good reason: it demands a great deal of washing and soaking, it has an unpleasant, fishy odor (OK, we'll call it an oceanic odor) and it is very, very sandy (you can even see little grains of sand on my hand in that photo).
In spite of my fears, I've also always been curious about the stuff, which I know is very popular among raw dessert aficionados. I often find myself trying to thicken raw smoothies and puddings without excessive use of either nuts, which can be overly heavy in some recipes, or soy lecithin and xanthan gum, both of which are a little too artificial for my liking. It's not easy. Irish moss is a powerful thickener, but it's also allergen-free, fat free, and, if you handle it properly, essentially tasteless. For that reason, it's a pretty brilliant ingredient, and now that I've gotten over my initial squeamishness, I suspect I'll be using it often.
I credit my friend Ela with encouraging me to give Irish moss a chance: when I originally posted my pumpkin pudding recipes, she reminded me that Irish moss would work well in either. I took her advice, along with some of her instructions for using the stuff. The best way to approach Irish moss, I think, is to create a "gel" with it, and store the gel in the fridge. It will keep for a week, and you can use it to thicken recipes as you please. This all sounds like a lot of effort, but I can assure you that it was very little hassle for me. Here's the method I used to make it happen.
Basic Instructions for Using Irish Moss
Remove approximately 1 cup (or about 2 oz) of Irish moss from packaging. Rinse and wash in cold water thoroughly: Ela recommends soaking and washing it at least four times. I probably soaked and washed it two times, but I did take meticulous care to get every bit of sand off of it.
Place Irish moss in fresh, cold water, and soak overnight (you can do this in your fridge).
In the morning, rinse the Irish Moss and place it in your Vitamix or blender with 1 cup fresh water. Blend well. At first, the moss will seem to simply get broken up in the water, but as you continue blending, it will start to gelatinize in the water and become thick. It'll even be hard to blend, but you can use your plunger attachment to help you. Once you have a thick, uniform "gel," stop and place the gel into an airtight container. It will keep for a week in the fridge, or you can use it right away.
As you can see, it will help you to create the thickest and most delicious of puddings, all without the use of artificial thickeners or excessive amounts of nuts: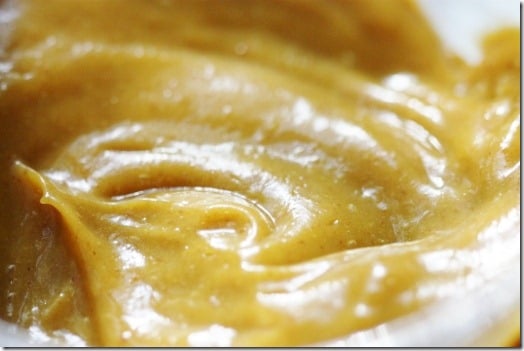 So. Let's get to that delicious recipe.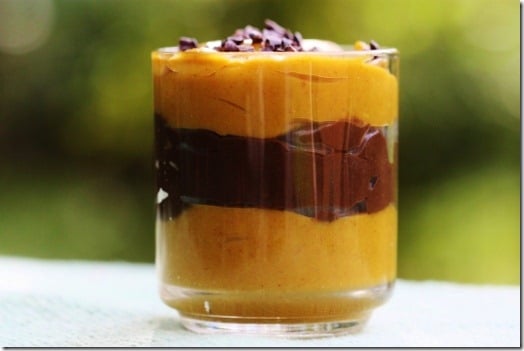 Pumpkin Pudding and Chocolate Mousse Parfait (high raw, vegan, gluten and soy free)
Serves 3-4
For the pumpkin pudding:
2 cups (or 1 can) pumpkin purree
1/2 cup Irish moss gel
2 tbsp mesquite powder (optional)
1 tsp cinnamon or pumpkin pie spice
1/2 tsp powdered ginger (or a very small piece of fresh ginger)
2 tbsp almond or cashew butter
6 dates, pitted
1 tsp vanilla extract
2/3 cup nut milk of choice
Blend all ingredients in a high speed blender till very smooth. Chill until ready to serve. If the pudding becomes overly thick after you chill it, you can always re-blend it with some additional nut milk,
For the chocolate mousse:
1 recipe of my classic or Mexican chocomole
To assemble parfait:
Layer all ingredients together in small, glass cups. Sprinkle with cacao nibs, and enjoy!!
As you can see, all of the layers of this parfait are silky smooth and delicious: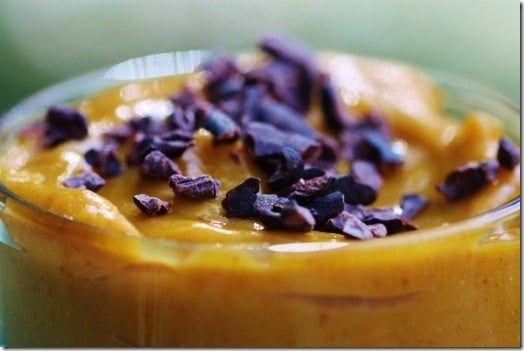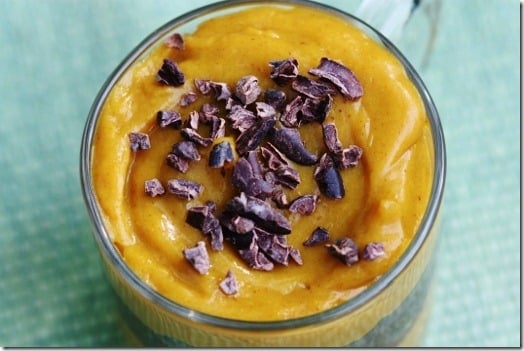 And the taste? Well, it's chocolate and pumpkin. Layered. Do I need to say more?
It's worth noting that one of my Irish moss mentors is the lovely Heathy Pace, who has some parfait ideas of her own!
My experiment with Irish moss was like so many of my hesitant experiments with raw ingredients. I was squeamish and intimidated, but realized quickly how intuitive and easy the process was. This was true of my early experiments with soaking and dehydrating buckwheat, sprouting quinoa, making green smoothies, and all sorts of other culinary forays that were new to me. Raw foodism is very good at intimidation, but don't let it be: many of the ingredients that seem foreign and strange to us are really quite accessible. And if you consider for a moment many of the artificial fillers and stabilizers we've grown accustomed to—chemical additives, gums, and so on—you may find yourself wondering how you were ever scared of a little algae.
Happy pudding-making!
xo