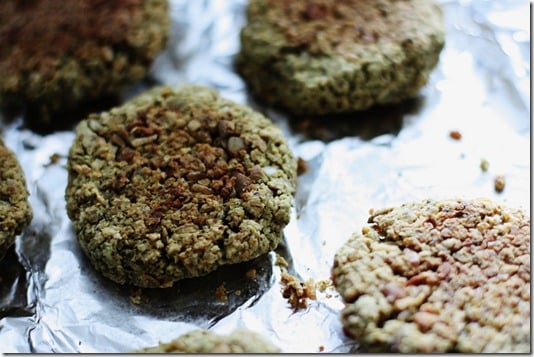 One of the first vegan cookbooks I ever bought was Eat, Drink and Be Vegan. I purchased it because a quick perusal online suggested that I'd love Dreena Burton's accessible, hearty, and healthy food. I had been vegan for a while already, but my rotation of meals was growing repetitive and dull: rice, tofu, salad, fruit smoothies (I hadn't discovered raw food yet). Thankfully, I was about to discover the work of a vegan pioneer.
Soon after I purchased the book, I realized that I was actually late to the party. Bloggers everywhere were tweeting, posting, and writing Facebook messages about "ED & BV," as it's lovingly called, along with Dreena's previous books, Vive Le Vegan (2004) and The Everyday Vegan (2001). That's right: Dreena has been publishing vegan cookbooks for over ten years now, taking breaks in between to have, and raise, three young girls. She was whipping up hummus, green smoothies, and quinoa long before I—and many of my blogging friends—knew it was cool. Throughout this sustained and successful career as a vegan chef and writer, she has stayed true to both her cooking style (which I'll get to in a moment), and to the reasons she has chosen to be vegan and raise a vegan family: health and compassion.
As I dove into the pages of Eat, Drink and Be Vegan, it seemed as though someone had taken all of my favorite kinds of foods, prepared them much more skillfully than I ever could, and published them. Here was an entire section devoted to hummus. Not one variety, not two, but pages upon pages of them. Here, too, was the first green smoothie recipe I ever made, the first raw, nut based dressing (Dreena's raw Caesar), and my first nut-based pate/dip. There were simple sandwiches and stews aplenty, along with a couple of scrumptious desserts (I'll never forget my delight the first time I made Dreena's "supercharge me" cookies, which are still a favorite).
It was also from Dreena that I learned about the ways in which vegan cuisine can be inclusive to many different eating styles. Until then, I'd found the vegan food world to be divided into factions: raw, cooked, low-fat/no-oil, gluten free, and so on. Dreena's book contained raw recipes alongside cooked ones, and though she is not a gluten or wheat free eater, she was the first person to teach me about spelt flour as an alternative to traditional wheat flour, and about gluten free flours for people with celiac. From her, in other words, I learned how to cook for friends with food intolerances, which has come in handy for me as a blogger for a long time.
Dreena's new book is called Let Them Eat Vegan!, and the celebratory title is apt. I hate to call the book a "culmination" of Dreena's work, because she'll write many more cookbooks yet, but I do think that it's her most comprehensive book thus far, and I see it as an encyclopedic resource for vegan home cooks. The book features 200 recipes, an ingredient guide, countless kitchen tips and tricks of the trade, hearty salads, an entire green smoothie guide, and whole chapter devoted to veggie burgers. Dreena's chapter titles alone—"Proud to be Saucy and Dippy," "Side Stars," and "Your Main Squeeze: Casseroles, One-Pot Wonders, and Tarts"—are ingenious.
One of Dreena's biggest strengths is to create food that is health-minded, but also satisfying and focused on flavor. For salad lovers, she offers salads that are nutrient dense enough to stand on their own. For those who like to grill, veggie burgers with perfect texture. Thirty dips, spreads, and sauces (finally, a cookbook writer who gets that a lot vegans are obsessed with mushy food–like hummus!). Gooey, delicious vegan and raw desserts (Dreena's frosted "b-rawnies" are not to be missed). I often find that vegan cookbooks are either full of recipes intended to mimic omnivorous cuisine (lots of seitan and TVP), or they're full of delicious vegetable preparations, but not always helpful for heartier, "main course" fare. Dreena knows how to make food that sticks to your ribs with legumes, grains, and veggies. Let Them Eat Vegan! is therefore a perfect resource for vegans who are feeding families, cooking for friends or partners who are transitioning into veganism, and for crowds of omnis who need to be impressed.
I've had such joy making my way through Dreena's excellent food. Favorites include her "lemon-infused Mediterranean lentils," her "raw yellow tomato sauce," her "raw orange chocolate pudding," and her "raw chai bars." Here at my Mom's, I've made some of her non-raw recipes, and Mom and I have both been impressed! This week alone, I made Dreena's "BF Blueberry Muffins" (the title is because one of her children doesn't care for blueberries, so the recipes can either include or omit them). We both adored them!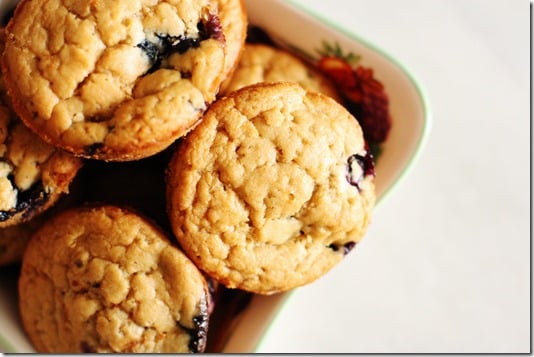 I also made Dreena's ingenious "DJ's hummus dressing"—a spin on the Trader Joe's Hummus dressing, but far tastier (I think) than the bottled version on which it's based! You can see it peeking out in this picture of my curried quinoa and aduki bean patties!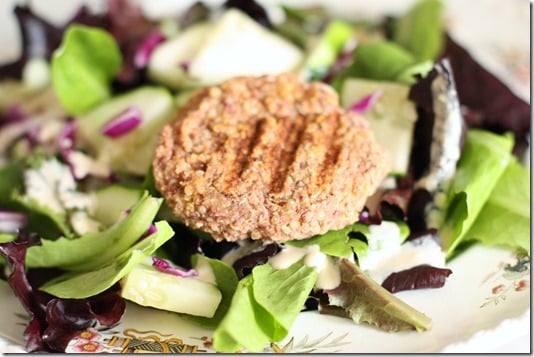 And finally, I made Dreena's wonderful chickpea and pumpkin seed burgers. Dreena has such a knack for veggie burgers, and this recipe is no exception. Only she would think to work subtle hints of basil and green onion into the recipe! And can you tell from the photo how dense they are (in a good way)?
Even my mom, who is not predisposed to veggie burgers in general, commented upon how great these smell (and taste). What impressed me most is the texture, which is really spot on. I was such a fan that I asked Dreena if she might share the recipe with the CR audience; it seemed only appropriate, given that it's still summer, we're all still grilling, and we've been on a burger kick lately! Much to my delight, she obliged! Trust me when I say that you'll love the herbs and crunch in these satisfying, plant-based, healthy burgers.
Chickpea Pumpkin Seed Burgers (optionally wheat/gluten-free)
This is another burger recipe that can be made in a jiff, and is firm enough to serve up on a bun. There's no sautéing of onions, garlic, or other seasonings; just a few simple whizzes in the food processor will do the trick! These are also kid-friendly, especially if yours enjoy Goddess Dressing (though substitutions can be made if you don't have this product).
1 can chickpeas, rinsed and drained (see note if cooking from dried)
1 medium clove garlic, roughly chopped
1/2 tsp sea salt
freshly ground black pepper to taste (optional)
2 tbsp nutritional yeast
2 tbsp Annie's Goddess Dressing (see note for substitutions: wheat/gluten-free)
1 tbsp ground white chia seed (or 1 ½ tbsp flax meal)
1 tbsp red wine vinegar (or apple cider vinegar)
2 tsp Dijon mustard
1/3 – 1/2 cup green onions, sliced (using mostly green portion, and less white)
¼ cup fresh basil leaves (see note)
1 cup cooked brown rice (preferably cooled/chilled) (see note)
½ cup raw pumpkin seeds (see note)
1 cup rolled oats
smidgen oil for panfrying (oven-baking also option)
In a food processor, combine the chickpeas, garlic, salt, nutritional yeast, Goddess Dressing (or mixture for gluten-free substitution in note below), chia seeds, vinegar, and mustard. Pulse until pureed. Add the green onions and basil, and pulse to break up and incorporate. Then add the rice, pumpkin seeds, and oats and pulse to incorporate and to break up seeds somewhat. Remove blade and shape the mixture into patties (you can refrigerate the mixture for about 30 minutes before frying, to make it firmer and easier to shape, but it's not essential). To cook, wipe a smidgen of oil around a nonstick skillet over medium or medium-high heat (see note for oven-baking). Cook the patties for 6 to 8 minutes on each side, or until golden brown, working in batches, if necessary. Serve up! Makes 5-6 patties.
Adult-Minded: For grown-ups, you can kick up the seasonings with another clove of garlic or even a dash of hot sauce, if you like.
Allergy-Free or Bust! Annie's Goddess Dressing makes a quick fix, but contains wheat. To adapt for a wheat-free or gluten-free version, replace the dressing with 2 teaspoons of tahini, 2 teaspoons of red wine vinegar (in addition to the 1 tablespoon), 1 teaspoon of tamari, and 1⁄4 teaspoon of dried oregano. Voilà—gluten-free!
If This Apron Could Talk:
1) To make these patties quick to prepare, cook the rice a day or so in advance. I typically cook larger batches of rice on any given night, so that leftovers can be refrigerated for another meal, or to use in burgers, burritos, and so on.
2) If you want to double the burger batch, you can do so. Just be sure to stop the food processor several more times to work the mixture up from the bottom of the processor bowl, as it can get heavier on the bottom and need some coaxing to incorporate the ingredients on the top and sides.
3) You can make a dinner loaf out of this recipe. Lightly oil a loaf dish (I use an ovenproof glass one), and bake in a preheated 400°F oven for 25 minutes covered, and then for another 5 to 10 uncovered, until lightly browned. Remove from the oven and let sit in pan for 5 to 10 minutes before slicing and serving.
4) If you prefer to oven-bake, place patties on a baking sheet lined with parchment. Bake at 400 degrees for about 8-10 minutes on each side. To brown a little more on the outside, set oven to broil for just a minute.
Ingredients 411: If using chickpeas you have cooked yourself from dried, use about 13⁄4 cups. You may need a tablespoon of water to moisten the mixture, as home-cooked chickpeas are sometimes are drier than canned.
Savvy Subs and Adds:
1) If you don't have fresh basil, you can substitute a small amount of dried basil. About 1 teaspoon works well; add along with chickpeas and condiments.
2) If you don't have cooked rice handy, you can substitute with another 1⁄2 cup of chickpeas (or white beans) and another 1⁄2 cup of oats.
3) No pumpkin seeds? Try sunflower!
Serving Suggestions: Try pairing with Roasted O&V Potatoes, a salad drizzled generously with Citrus Tahini Dressing or as a loaf (see note above) drizzled with Rosemary Gravy.
From the book Let Them Eat Vegan! by Dreena Burton. Excerpted by arrangement with Da Capo Lifelong, a member of the Perseus Books Group. Copyright © 2012. www.dacapopresscookbooks.com
I wish I'd have had time to showcase all of Dreena's wonderful desserts here, but I hope this little round up shows you how versatile and delicious is her food.
It's worth noting that Dreena's recipes are constructed to taste both authentic and delicious. She doesn't cut corners with herbs or spices, and she is incredibly precise with her instructions. Her recipes work, and they work well. That said, if you're a cook like me (who often wants to use shortcuts), you'll find that the recipes are strong enough to stand up to a little modification, if need be. I've swapped and traded various ingredients within reason, with no diminishment of taste.
If I had to say a final word about the virtues of this book, it would be that it is a resource both for healthy vegans and for vegan foodies. Lately, I find that these two communities seem a little divided—plant-based, health oriented vegans, and compassion-driven vegans who are focused primarily on creating taste and flavor. Dreena's work showcases the best of both worlds. Her recipes are all whole foods based and mindful of added fat and refined sugar, but they're also created for the discerning home cook. I can assure you that Dreena never sacrifices taste to be healthy; indeed, her work is proof that healthy is tasty. If you're a new vegan looking for food that is both health-minded and satisfying, a vegan parent raising vegan kids, or an omni who simply wants to taste the best of plant powered cuisine, I really recommend it. If you are interested, you can also follow Dreena on twitter (@dreenaburton) or her Facebook page (http://www.facebook.com/dreena.burton). And don't forget to check out her recipe-filled website, http://www.plantpoweredkitchen.com/!
On that note, it's good I had a cookbook review for today, because I've been out of commission for most of the day with what has either been mild food poisoning or a very vengeful stomach bug. No food to share as of yet—it's liquid and rice cakes for me right now—but by tomorrow, I hope to have at least some photos of food that has gotten me better! And later this week/weekend, you'll be getting dispatches from New Orleans. Have a good night, friends.
xo