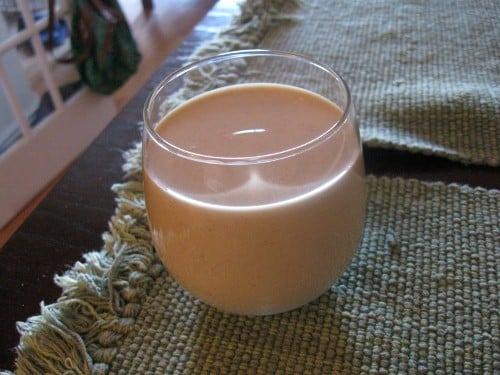 Thanks to a giant sale on raw sunflower seeds at my local health food store, this will be a month full of sunflower recipes (starting with my homemade sunshine burgers — if you haven't gotten the recipe yet, catch up!). But it's already a month full of pumpkin seeds, too, as evidenced by the wonderful pumpkin seed milk I made this past weekend. Part of my weekly planning procedures when I'm especially pressed for time include whipping up at least one nut milk each weekend to use in smoothies, oats or oat bran, raw cereal or granola combos, or chia puddings throughout the week. Usually, it's Brazil nut milk, almond milk, or sesame seed milk. This weekend, thanks to some beautiful Austrian pumpkin seeds that were also on sale, it was pumpkin seed milk. Simple recipe: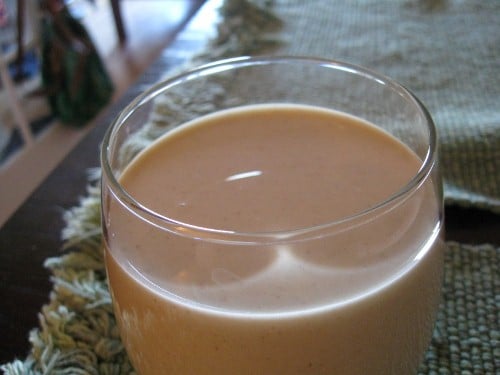 Pumpkin Seed Milk
Ingredients
1

cup

pumpkin seeds

soaked 2 or more hours and drained of soak water

4

cups

filtered water

4

pitted medjool dates

1

tsp

coconut oil

1

tsp

vanilla extract or some whole vanilla bean

optional
Instructions
Blend all ingredients together in a blender till smooth. The seed milk will keep, stored in the fridge, for up to 3 days.
When making nut milks, you can always strain them through cheesecloth, nut milk bags, or (as a reader recently pointed out to me) paint bags from a local hardware store. I enjoy the smooth texture and versatility of strained nut milks, so I almost always strain mine, but I also like to leave them as they are sometimes — unstrained milks are thick, rich, and far more decadent! When I tasted this pumpkin seed creation, I knew it was perfect just as it was, and didn't want to ruin it.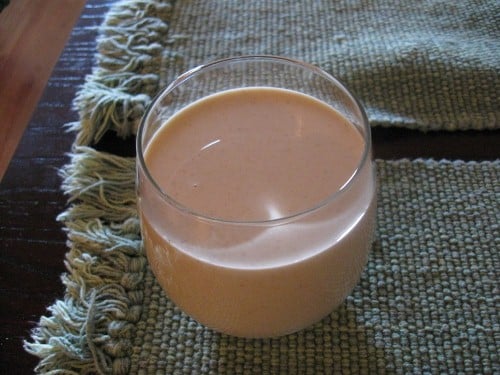 The milk is absolutely divine in hot cereal, in smoothies, or in chia pudding.
Before I go, I wanted to share a recent reader question that cannot possibly be unique. Brittany wrote,
Hi Gena!
I was wondering what your opinion is on chewing gum. Is it a really bad habit because of the artificial sweeteners found in it, or is it the sort of thing where a couple of pieces of chewing gum every day are no big deal? Thank you!
Brittany
Good question, Brittany. Back in the days when I struggled horribly with IBS, I saw quite a few GI doctors before I finally found one who was compassionate, knowledgeable, and insightful. One of the first questions he asked me during our consultation was whether or not I chewed sugar free gum. I didn't chew it very often, but I was curious as to why it was so bad: he quickly explained that the artificial sweeteners (namely sorbitol and xylitol) are very often culprits behind gas and bloating.
Beyond that, chewing gum can force us to swallow a lot of air, which in turn makes bloating worse. So it's primarily the artificial sweeteners that make it a lousy habit (for certain people), but the chewing can be problematic, too. I'd take this a step further and say that I think there's something psychologically suspect about constant chewing — it always seems to me as though lots of gum chewing suggests that there's a hunger for real food that's not being met. Food for thought, maybe 🙂
If you do want to chew gum, I'd say that xylichew, though imperfect, is probably better than a sorbitol based gum. And Glee, though it contains some sugar, is also a good alternative.
xo