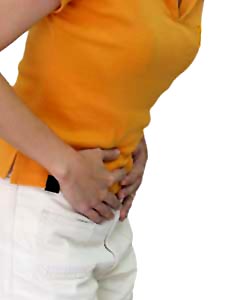 Hi guys!
Glad everyone was so into the pumpkin smoothie! It's one of my better blended creations, if I do say so myself.
I'm here tonight with one of the more commonly asked questions from raw newbies. I've seen it in countless variations, but I'm going to quote directly from reader Sarah, who recently wrote:
"Hi Gena! I love your blog. In the last couple of months, my husband and I have been transitioning into a vegan and mostly raw diet. We both feel really good — I have so much energy! — but we're having a slightly embarassing problem. I hate to be graphic, but, um, we're having gas. A lot of gas! Mine is worse, and my husband is actually teasing me about it. Also, before I ate raw, I tended to get a lot of constipation. I don't anymore, which is great, but now I'm having the opposite problem, if you know what I mean!!
I know that raw food is supposed to help with digestive issues, so I'm just a little confused. Are we doing something wrong, or is this normal? Is there anything we can do to make it better? Thanks for your help!!"
Alright, ladies (and gents). It's time to dish about digestion. Put on your armor, and listen up:
Yes, Sarah, it's totally normal to experience bloating, flatulence, mild diarrhea, and other sorts of digestive changes as you transition into raw. Sure, the diet is famous for aiding in digestive distress, and over the course of time, it will. But depending on what you were eating before — and for many, this was cheesesteak and onion rings — the movement into clean eating can be a bumpy road, so to speak.
Why? Aren't vegetables good for our bellies? The answer, of course, is yes. But vegetables are also high in fiber and alkalinity (translation: they're very cleansing). As they cleanse, they awaken a lot of old waste matter. This can mean tremendous bloating and gas, and it can also mean loose bowels (if you're lucky and all goes well, you'll have tremendous elimination without the runs). In addition, the fiber in raw foods may upset those whose stomachs aren't used to it.
Relax. This isn't going to last: it will be a period of adjustment, and it will ultimately subside as your body becomes used to all of the cleansing foods you're nourishing it with. But prepare yourself to be a bit patient.
Of course, the symptoms I mention shouldn't be acute. If you're doubled over with cramps or discomfort, if you're plagued with flatulence that moves your partner from gentle teasing to a restraining order, or if your diarrhea becomes severe, something is up, and there's a good chance that raw vegetables are only a part of the problem. In these cases, be sure to call your doctor or speak to a professional as soon as you can.
If your symptoms are obviously transitional, there are things you can do to alleviate them. These include:
1) Gravity administered colonics from a professional you trust (this is especially important if you develop constipation)
2) Probiotics and enzymes, which I discuss in this post
3) Speak to a nutritionist, dietician, naturopath, doctor, or coach with a backround in raw and vegan cuisine — like yours truly!
In the meantime, relax. If you've been eating a mainstream diet for twenty or thirty years, and a raw vegan diet for only three weeks, it stands to reason that it'll take your system some time to come into balance. So often, those who are new to raw foods develop short term memories; they want complete transformation after two weeks of salad. This simply isn't how it works: moving into a vegan or high-raw lifestyle is a process that demands patience.
And a healthy sense of humor.
Last, but definitely not least: do not go raw overnight. I've said it before, and I'll preach it like gospel for as long as I have to! Our bodies exist in a delicate balance, and forcing them to move from a standard diet to a raw (or almost raw) one is not only unnecessary, but dangerous.
Remember: you have all the time in the world to move towards veganism and raw foods. The important thing is to construct a journey that will be gentle on your body. If you're experiencing true digestive trouble–and indeed, Sarah, it sounds as though you are–my best suggestion is for you to s-l-o-w d-o-w-n. Eat a combination of raw AND cooked: start with 80% cooked and 20% raw if need be, and adjust the ration in small increments. Avoid uncooked crucifers, roots, and other raw vegetables that are likely to upset your stomach, as well as an excess of dried fruit. Try food combining, and feel free to rely heavily on blended and pureed foods. Over time, as your system gets cleaner and stronger, you'll be able to rock raw kale salads and broccoli like it's your job. Promise.
Take it easy, Sarah, and good luck!
Have a great night, all.
xo