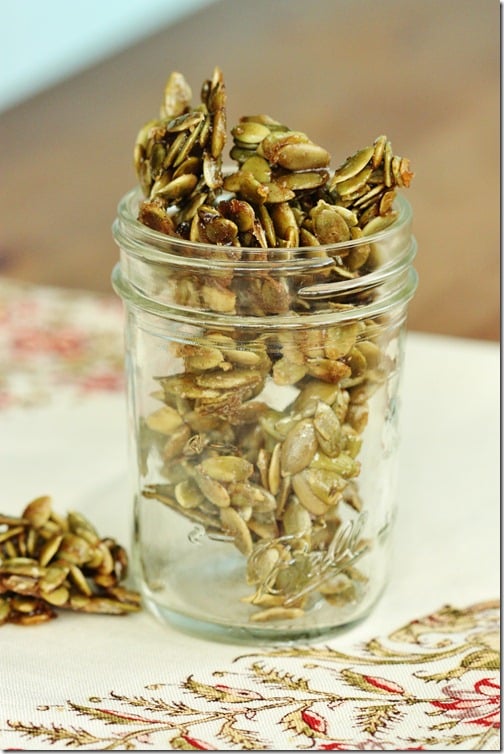 Hey all. I'm wrapping up yet another absurdly studious weekend over here. I've got a big final presentation and paper for genetics due tomorrow, as well as a lab (you're right, Melissa, the class has gotten downright cruel), as well as the usual reading and MCAT stuff, so I haven't done much for the last few days. I have, however, made a quick and easy snack or dessert that even the absurdly busy among you can handle—promise. Prepare yourself to be charmed by maple cinnamon pumpkin seeds—candied pumpkin seeds, if you prefer—in no time at all.
OK, that's not entirely fair. There is some time involved with making these tasty little treats, and that's the time they spend in the dehydrator. That said, I count a recipe's difficulty by the time it takes me to prepare it, not by the time it spends inertly drying while I can go out and do other things. I think I've said it before, but it bears repeating, that although my dehydrator is probably the appliance I rely on least (and I don't think it's necessary to enjoy raw food), it comes in handy in my new life as a perpetual student! As if by magic, snacks come together without my having to so much as be at home.
This particular snack demands only four ingredients (pumpkin seeds, sea salt, maple syrup, cinnamon) and a mixing bowl. And voila: sweet, salty seeds that you can sprinkle onto salads, munch on for a midday snack, or nibble on for dessert. Whatever your heart desires!
Raw, Vegan Maple Cinnamon Candied Pumpkin Seeds (raw, vegan, gluten free, soy free)
Makes 3 cups
1/3 cup + 2 tbsp maple syrup
1/2 tsp sea salt (or to taste taste)
2 tsp ground cinnamon
3 cups raw pumpkin seeds
1. Whisk together the syrup, salt, and cinnamon.
2. In a mixing bowl, mix the syrup and spices with the seeds. Lay seeds on a Teflex-lined dehydrator sheet and dehydrate at 115 degrees for 10 hours, or until the seeds are totally dry and crispy!
I have not tried baking these myself, but if you do, I suspect that 30-40 minutes in a 300 degree oven would work well. Use parchment or tinfoil for easy cleanup!
These guys would make for wonderful and simple holiday giving! I intend to give them to some of my family and friends, for sure.
On that note, I'm off to finish my presentation. My topic is epigenetics and obesity; and since I got some FB requests to sum it up, I'll do so tomorrow!
xo