I wasn't planning on this recipe. It happened by accident, because I'd run out of almonds and cashews and Brazil nuts and basically all of the other nuts and seeds I usually use to make homemade plant milk. (Note to self: it's time for a visit to the bulk bins.) I've used shredded coconut to make homemade coconut butter before, and I got to thinking: what if making homemade coconut milk with shredded coconut is just as easy?
As it turns out, it is every bit as easy, and it's also absolutely delicious. If you've got a powerful blender, you can whip up your own coconut milk in no time, and you may actually find that it's easier than making almond milk because you don't have to pre-soak anything.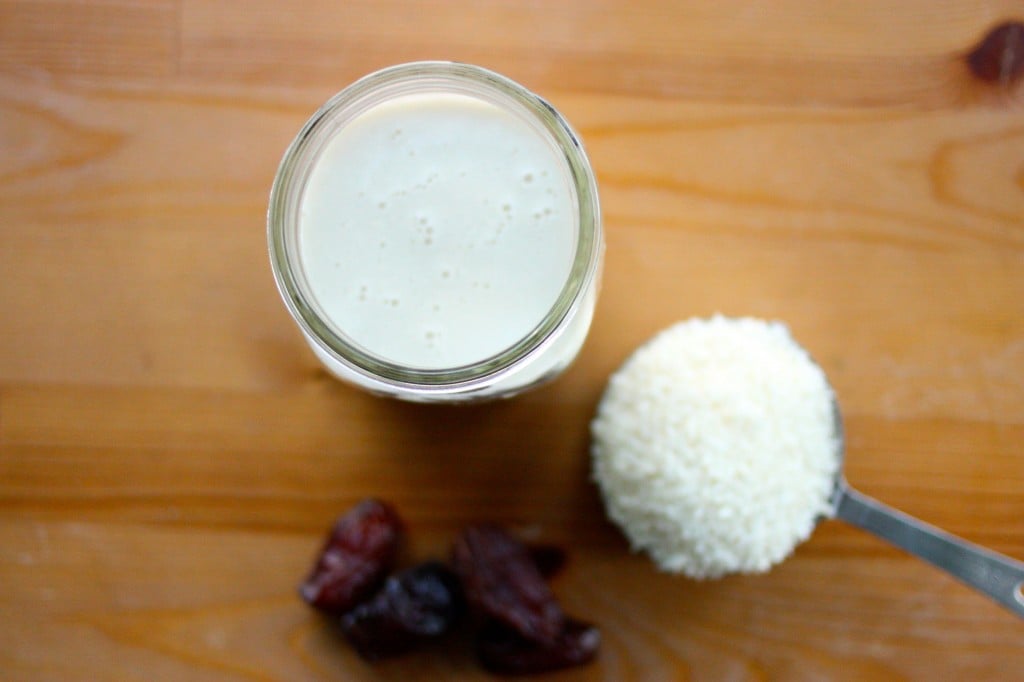 My typical formula for homemade almond milk is 4 cups water : 1 cup soaked raw almonds. Since coconut is fluffier and a bit less dense than almonds, I used a ratio of 4 cups water : 1 1/2 cups shredded, unsweetened coconut. It was perfect. If you wanted a creamier milk, you could certainly use 2 cups (I may try that next time) or skip the straining step. I don't always strain cashew milk, but otherwise, I prefer straining homemade nut milks — I just find it to be a nicer texture.
One thing I noticed as I was making this recipe and wanted to point out is that it actually took a while for things to blend up as creamily and completely as I wanted. Shredded coconut is pretty firm to begin with, and the very fine texture actually makes blending a little harder. I'm not totally sure a regular blender would work — if you do use one, be sure to blend for a good long time. You could also try soaking the coconut first (though that's not necessary for a high speed blender).
I sweetened this recipe with four pitted dates, sea salt and vanilla. You could of course use stevia, agave, maple syrup, or no sweetener at all. The coconut adds a lot of great flavor on its own.
| | | |
| --- | --- | --- |
| Quick, Easy and Delicious Homemade Coconut Milk | | Print |
Ingredients
1½ cups shredded, unsweetened coconut
4 cups water
Pinch sea salt
1 teaspoon vanilla extract or the seeds of 1 vanilla bean (tutorial on using fresh vanilla beans here)
4 pitted medjool dates
Instructions
1. Add all ingredients to a high speed blender. Begin blending on low speed, then switch to high speed. Blend for at least two minutes, or until the milk is very creamy and you no longer see pieces of shredded coconut.
2. Affix cheesecloth, a nut milk bag, or a paint bag over the mouth of a large jar or container with a rubber band. Pour the coconut milk through to strain it, collecting the pulp.
3. Keep the coconut milk in the fridge. It will last four days at least.
Makes 3½ - 4 cups.
Of course, after I made the coconut milk, I was left with coconut pulp. Though I would imagine that this would be absolutely spectacular in place of almond pulp in the almond and pumpkin breakfast porridge I recently shared, I wanted to try something new, so I went with biscotti.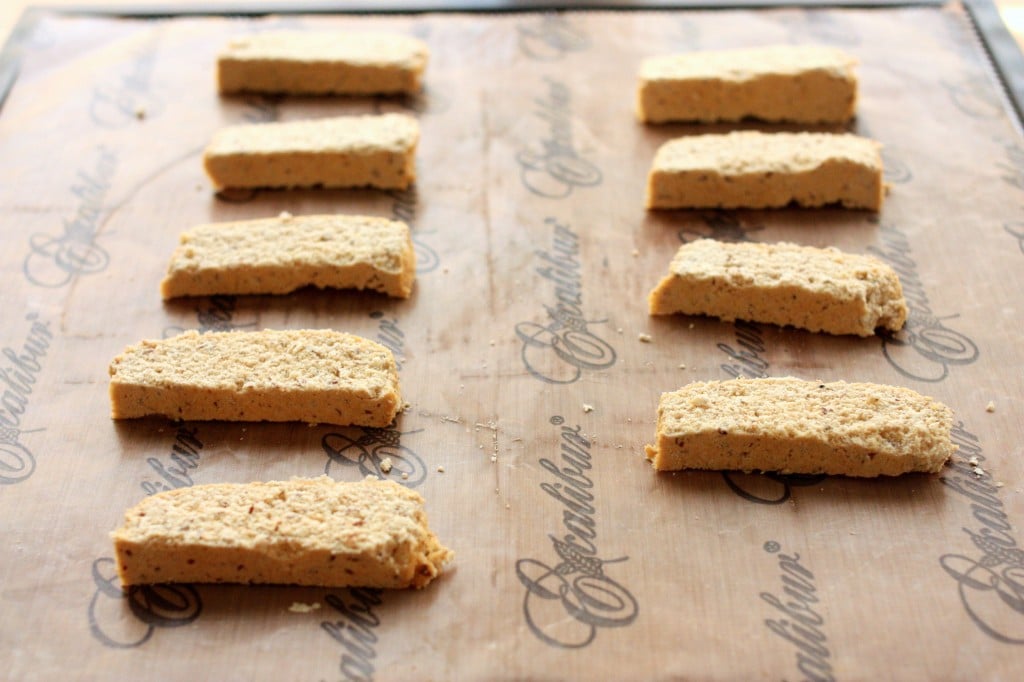 Tasty, crunchy, raw vegan biscotti! Here's how I made them.
| | | |
| --- | --- | --- |
| Raw, Vegan Coconut Biscotti | | Print |
Ingredients
⅓ cup raw almonds
1½ - 2 cups coconut pulp (from making homemade coconut milk -- your amount will vary based on how thoroughly you strained the milk, among other factors)
1 teaspoon vanilla extract or the seeds from a fresh vanilla bean (tutorial here
1 tablespoon ground flax meal
4 tablespoons coconut nectar, agave, or maple syrup
2 tablespoons coconut or almond milk
Instructions
1. Place the almonds in a food processor fitted with the S blade and grind well (not so well that they start turning into nut butter, but you want them to resemble flour). Alternately, you can use ¼ cup almond flour.
2. Add the coconut pulp, vanilla, flax, sweetener, and coconut or almond milk. Process until the mixture is totally incorporated and resembles a thick dough. If it's super sticky, add a little more coconut or almond milk.
3. Turn the dough out onto a Teflex-lined dehydrator sheet and shape into a mini loaf. Dehydrate at 115 degrees for 3 hours.
4. Cut the loaf into biscotti shaped cookies, and continue dehydrating till they are totally dry and crunchy (another 6-8 hours). Serve with tea or coffee 🙂
If you're wondering if you can make these with regular almond pulp, the answer is yes! Any pulp from any nut or seed milk will do. Unfortunately, I'm not sure how these would turn out in the oven, so I don't want to give an oven option and risk any readers having poor results. If you don't have a dehydrator, I really recommend the "porridge" idea — it's a new favorite breakfast in my home.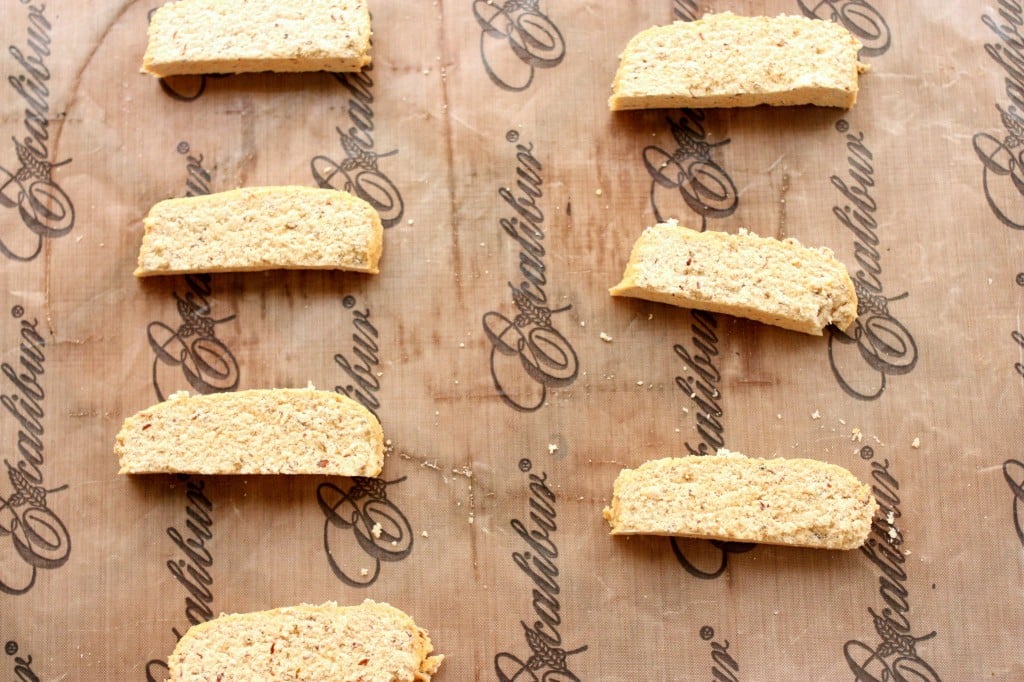 Whether you make the biscotti, I hope you give this coconut milk a try. It's not quite thick and creamy and rich the way canned coconut milk is; its texture resembles boxed coconut milk more closely. But the taste of coconut is definitely there, as well as some of the richness you'd expect from this recipe. I can't wait to make it again (and maybe put some in my coffee!).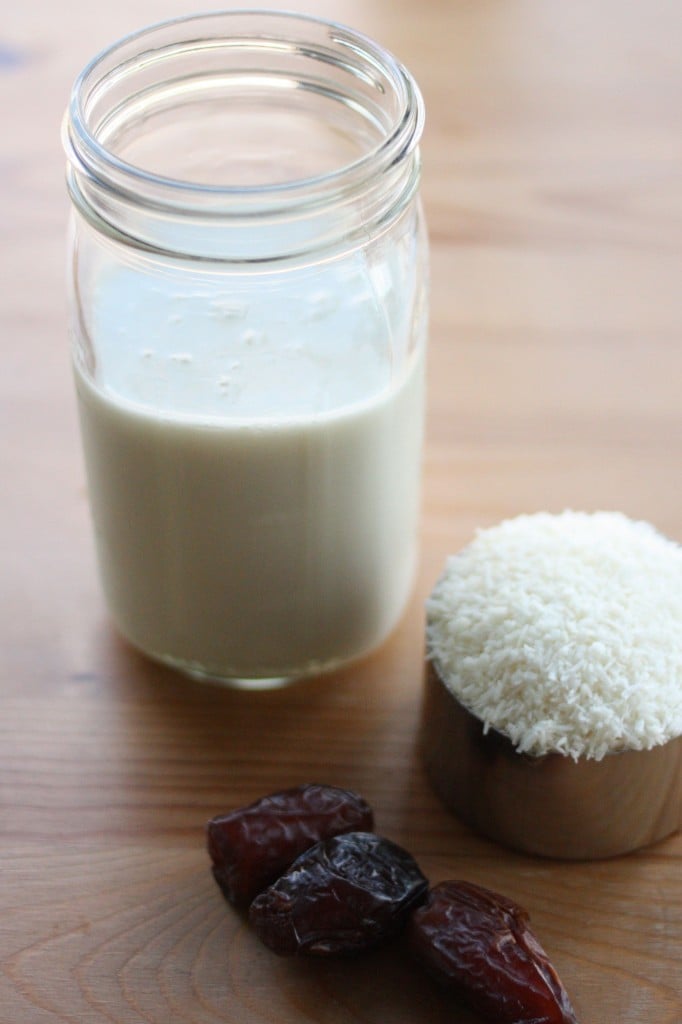 I hope the start of your week is delightful,
xo