Back when I was doing the SNAP challenge earlier this semester, one of my readers expressed surprise that a jar of peanut butter hadn't made it onto my list of allotted purchases for the week. I simply hadn't thought about it–you do a lot of picking and choosing on the challenge–because I'd been too focused on incorporating other foods into the budget. When my reader mentioned that one of her favorite, inexpensive dinners was a rice and lentil stir fry with peanut butter sauce, though, I made a mental note. It sounded tasty, healthy and fast in addition to being budget-friendly.
Nearly a month and a half later, I've made my own version of a quick, easy brown rice lentil stir fry with peanut butter sauce. I can already tell that this dish is going to make it onto the shortlist of recipes–which at the moment includes savory oats, curried chickpeas, and various bowl meals–of super fast recipes that I rely on during busy times.
In truth, the stir-fry is a humble one–just veggies, legumes, a grain, and a splash of tamari, vinegar, and ginger for flavor–but the salty, sweet peanut butter sauce is what makes it shine. You can stir the sauce into the dish as it warms in the skillet, or you can serve it alongside the stir fry and spoon it on top of the veggies and rice to your heart's content.
Now that I've made the sauce, there's a good chance I'll be serving it in and on just about everything, from chopped salads to simple grain bowls. If I had the time or inclination to make spring rolls right now–which I don't, but let's pretend–the sauce would be ideal for dipping. You can fold it into any stir fry dish or use it as a marinade for tofu or tempeh. And I'm also imagining that it would be a killer dipping sauce for baked sweet potato wedges. Yum!
But to start with, try using it as a flavor base for this easy vegan supper.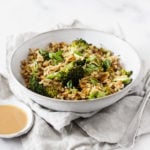 Print Recipe
Quick & Easy Brown Rice Lentil Stir Fry with Peanut Butter Sauce
Ingredients
For the sauce:
1/4

cup

peanut butter

1

tablespoon

tamari or soy sauce

2

teaspoons

agave or maple syrup

1

tablespoon

unseasoned rice vinegar

1

teaspoon

toasted sesame oil

3

tablespoons

hot water
For the stir fry:
1

tablespoon

toasted sesame oil

2

teaspoons

minced or grated ginger

3

green onions or scallions

white parts and tops, chopped

1

clove

garlic

crushed

1

cup

broccoli florets

or stems and florets, chopped

2

heaping cups shredded cabbage

green, purple, napa, savoy, or a mix

1

cup

grated carrot

1

tablespoon

tamari or soy sauce

Splash of unseasoned rice vinegar

3

cups

cooked brown rice

to make this recipe extra quick and easy, batch cook the rice over the weekend so that it's ready to go, or you can even pick up cooked and frozen brown rice at some health food stores

1 1/2

cups

cooked black

brown, or green lentils (1 can lentils, drained and rinsed)
Instructions
Whisk together the sauce ingredients. If the sauce is too thick for your liking, add 1 extra tablespoon warm water.

To prepare the stir fry, heat the sesame oil in a large skillet (or wok). Add the ginger and the white parts of the green onions/scallions. Cook, stirring constantly, for 2 minutes, or until the onions are softened. Add the garlic and cook, continuing to stir, for about 30 seconds. Add the broccoli, cabbage, and carrot. Cook the vegetables, stirring frequently, for 5-8 minutes, or until they're softened but still a little crispy. Stir in the tamari and the splash of vinegar.

Add the cooked rice and lentils to the skillet. Mix everything well and heat for a minute or two, or until the rice and lentils are warm. Give the mixture a quick taste and add a little vinegar or tamari as desired, keeping in mind that you'll be adding more flavor to the dish with the peanut sauce.

To serve, you can stir in the peanut sauce while the stir fry is still in the skillet, heating through, or you can divide the stir fry onto plates and have everyone top his or her stir-fry with a few spoonfuls of the sauce. Top the plates with some chopped green onion tops and enjoy.
Notes
Stir fry leftovers will keep for up to two days. Leftover peanut sauce can be stored separately and will keep for up to a week.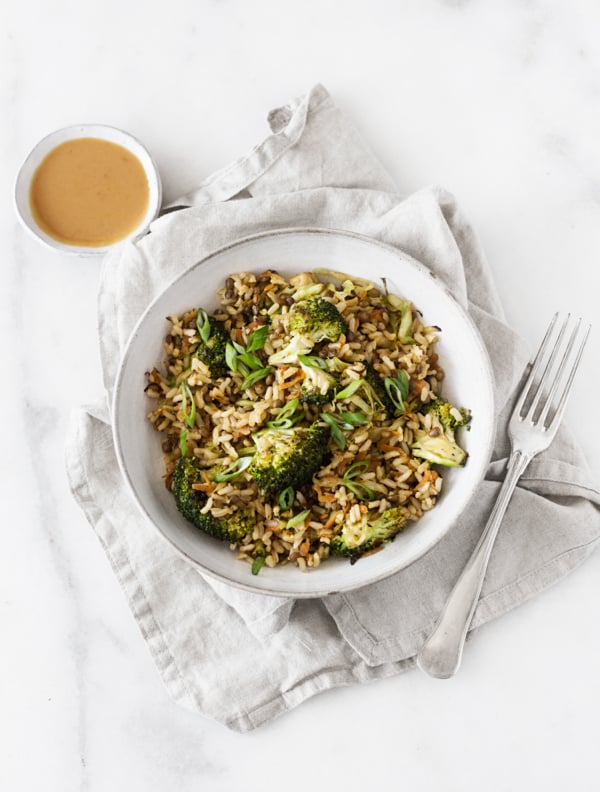 This is one of those dishes that's more than the sum of its parts. Taken individually, all of the components are so simple, but somehow when they come together the result is really great. Even Steven, who has expressed a strong dislike of stir fry in the past, admitted that if it always tasted like this dish, he'd never mind eating it.
So, it's worth a try. Especially if you find yourself struggling to get something on the table quickly these days. I hope you'll find it as easy and satisfying as we did.
I had every intention of getting a menu plan Monday post up yesterday, but it just wasn't in the cards. I'm hoping to settle back into a clearer plan next week, but for the rest of this week, I'm just winging it (and looking forward to celebrating Passover with friends and family this coming weekend). In the meantime, I have another super simple recipe planned for Thursday–another bowl!–and I hope to see you then 🙂
xo